The king tide last weekend was one of the largest in quite a while.
While this came with water spilling onto motorways at high tide, it was also a great opportunity to visit some usually "not accessible without a boat" spots at the low tide.
It is one of the many things I am celebrating this week as part of the Celebrate the Small Things blog hop hosted by Viklit of Scribblings of an Aspiring Author.
I missed last week, so here are my last two weeks' celebrations:
Our photography group headed out to a wild west coast beach to look for starfish in an area that is normally under water.
Laugh Quotes is now a recommended expat blog on InterNations.  With over 1 million members, they are the largest social network catering to expats working, and living abroad.  My interview includes a photo of me taken my daughter, Sarah, at the low tide photo shoot.  Plus I got a shiny new badge which is somewhere in the sidebar —>
As a family, we are enjoying the winter Olympics.  It is extra fun as we know several of the athletes this time.
My final celebration is a successful second meeting of a new writing critique group of four local women.  Now that I have critique partners, I just have to be brave enough to share a portion of my book draft for review.  I find it funny how easily I can blog, yet how nervous I am about asking for a critique.  Hopefully by next month's installment of Insecure Writers Support Group I will be sharing how wonderful it is to have feedback, both good (hopefully) and bad on my writing.  Feel free to help me practice taking criticism.  I would like to start with positive feedback please.
Here are some of my starfish photos from our king low tide shoot at Maori Bay, Muriwai, New Zealand (more photos of other sites on the shoot next week):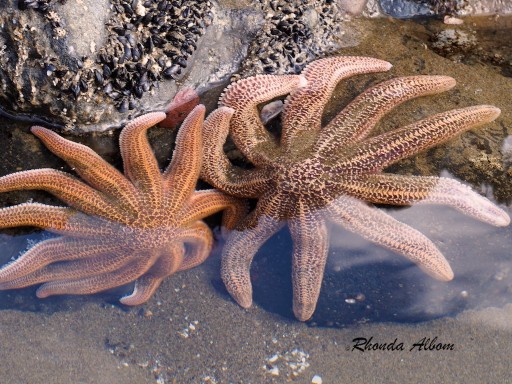 What are you celebrating this week?  Have you seen starfish on the beach? Was there a king tide where you live? Have you heard of InterNations?
Related Links: