As we looked out on Plaza del Pilar, we instantly knew that we hadn't allocated enough time to explore Saragossa. Like many visitors, we came to this Spanish town to see El Pilar, but even the plaza had so much more to offer. Saragossa (spelt Zaragoza in Spanish), is a city of significant religious importance.
Local legend tells us that Saint James the Apostle came to Saragossa to spread Christianity. As he prayed one day in 40 AD, an apparition of the Virgin Mary appeared to him. She gave him a 39 cm tall statue of herself and a pillar made of jasper. Following her instructions, he built a small chapel on the spot, thus creating the first church dedicated to the Virgin Mary. The church has been rebuilt many times, each time increasing in grandeur. The current Basilica of Our Lady of the Pillar (or just El Pilar) was designed in 1681 and remodelled in the 18th century, with the towers completed in the early 20th century. Thousands of pilgrims make their way here every year to kiss the small statue.
Also in the plaza are a variety of statues, fountains, museums, and another major cathedral.
More Information:
Located inland in the northeast portion of the country, Saragossa is the capital of Spain's Aragon region.
El Pilar is the second-most visited pilgrimage destination in Spain after Santiago de Compostela.
The nine-day annual Fiesta del Pilar is one of the most celebrated festivals in Spain.
The Basilica of Our Lady of the Pillar, La Seo Cathedral, and the Aljafería Palace (we didn't visit here) are part of the Mudéjar Architecture of Aragon, a UNESCO World Heritage Site.
This post is a continuation of my throwback series encouraged by moving 40,000 photos to Lightroom. It has been updated and includes additional images.
We toured through Spain for two weeks, driving the long way between two home-exchange houses in 2012 – the first in Catalunya, the second in Galicia. Our key travel stops in Spain were Saragossa, Madrid, Segovia, Toledo, Cordoba, Granada, and Vigo. In Portugal, we visited Evora, Sintra, Obidos, and Alcobaca.
Have you been to Saragossa?
Posted for Weekend Travel Inspiration:

1. Link one of your inspirational travel photos or stories to this post by adding your info below.
2. Copy and paste our badge and a link to this page.
3. Please visit some of the other wonderful travel bloggers, read their posts, and leave a comment.
4. Please include the hashtag #wkendtravelinspiration if you share on Twitter.

Loading InLinkz ...
Please share this article on social media, including Pinterest: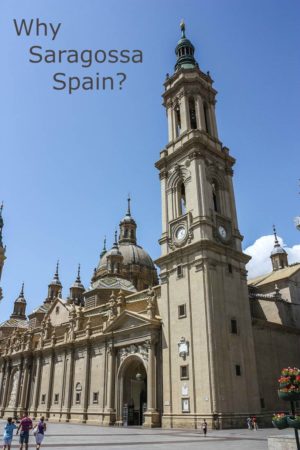 This post is linked at The Weekly Postcard, Weekend Wanderlust, Travel Photo Thursday, Lovin Life, and Outdoor Wednesday. More link ups here.