Whale Watching in Hoonah will probably be the highlight of this 2 week Alaska adventure we are enjoying. I know everyone who takes a whale watching trip here in Icy Straight Point will see whales, but I really believe our trip with Hoonah Travel Adventures gave us far better opportunity than those who chose an excursion offered by the cruise ship.
Owner / Captain Paul and his son Joe were experts at spotting whales and fascinating story tellers. A picture is worth 1000 words: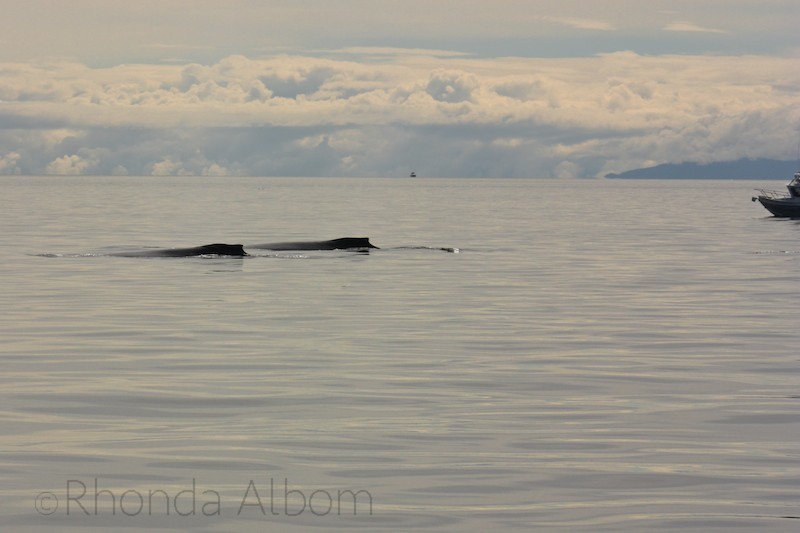 "Hoonah Bound," the boat we were on, was well equipped for whale watching, with huge windows which easily opened and open decks in both the front and back. It even had a toilet. With a maximum of 18 persons on board, there was never a lack of great view spots.
In contrast, we saw the whale watching excursion from the ship, looks a bit too crowded for my taste:
It was more than just the whales that made our Hoonah Travel Adventures trip a great tour. Captain Paul is so knowledgeable and interesting. We learned about local history and the Tlingit people. He pointed out the Eagle Clan cemetery that we had passed on our way to the boat, reinforcing what we had learned at the Native Heritage Center last week. All Tlingit people are either Eagle or Raven clan matching their mother. Eagles marry ravens, ravens marry eagles. Similarly, they bury each other.
In addition, he told personal stories of his son's bear encounter and to look at the eyes of animals to see if they reflect red (this is a predator) or green (prey). We learned that Chichagof (where we were) was the 4th largest Island in the US, a location with no property tax as the homes were gifted by the US military after a fire destroyed Hoonah in 1944. And as we returned to shore, he made a few amazing suggestions for the rest of our time in port. First, he directed us to this eagles nest: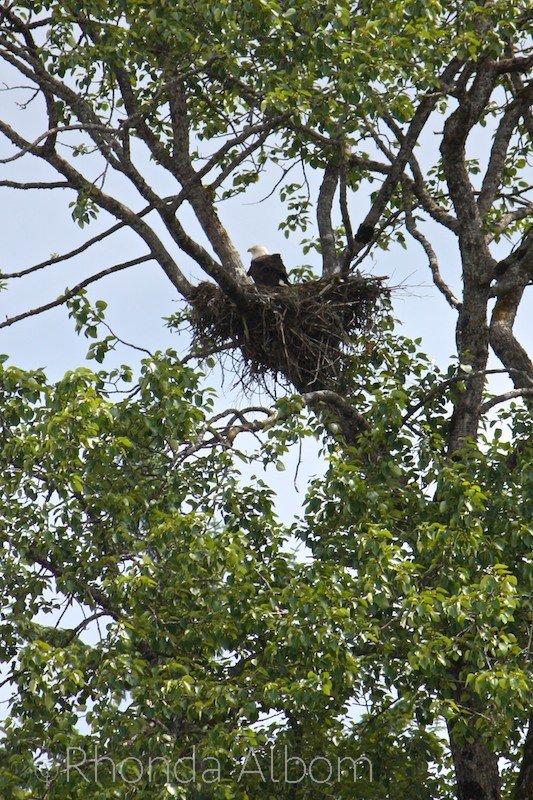 Then he suggested we go to the back door of the building next to Chipper Fish where we were welcomed into another world. Here a group of native people have been commissioned to carve totem poles and the back panel for a Tlingit clan house to built soon.
All photos on this page ©Rhonda Albom 2013. All Rights Reserved.
Finally, we ate the most delicious salmon bites, tater tots and potato salad at Chipper Fish – another recommendation by Captain Paul. Best food we have had so far in Alaska!
What we didn't do in Icy Strait Point – It's home to the world's longest zip line.
While in Alaska, we also went whale watching in our next port, Juneau, the capital of Alaska, plus we have been whale and dolphin watching Auckland, New Zealand.
Have you been Whale Watching in Hoonah, or anywhere?
If you enjoyed this post, please pin:
Disclaimer: Our family is frequently provided entrance, however, the opinions expressed here are my own. Thank you, Angie, for arranging our whale watching tour with Hoonah Travel Adventures.
Seven ridiculously simple tips that WILL improve your photos
Whether you shoot with a phone or a DSLR, let me share my secrets.
Subscribe to Albom Adventure's Travel Tips newsletter and download our free ebook: Take Better Travel Photos By Rhonda Albom