We were ready for an outdoor adventure as our Alaska cruise ship entered the inside passage and we sailed into port at Icy Strait Point. Presented with two fantastic options, we knew we couldn't go wrong. Did we want to enjoy some Icy Strait Point whale watching or head inland for some bear viewing Alaska style?
Chichagof Island is the fourth largest island in the United States. It is home to the popular cruise port of Icy Strait Point and the nearby town of Hoonah. It has been nicknamed "Bear Island" by National Geographic as it has the highest concentration of brown bears in the world. Icy Strait Alaska is also the waters that the humpback whales return to each summer (Alaska whale watching season is May to September).
Icy Strait Point Whale Watching
This site contains affiliate links to products and/or services. We may receive a commission for purchases made through these links at no additional cost to you.
We opted for whale watching and loved every moment of it. While our cruise ship would have us believe we needed to go with them for whale watching, we were very glad we opted for one of the Icy Strait Point independent tours. Like the Icy Strait Point excursions from the cruise ship, our van was waiting for us at the dock. We all drove along the same beautiful stretch of road to get to Hoonah, keeping eyes open for bald eagles and deer.
While the cruise ship's excursion passengers piled into a crowded boat, we had a smaller, comfortable boat with viewing decks and heated cabins. More importantly, it was the expertise and knowledge of Captain Paul (also the boat owner) and his son who are experts at spotting whales as well as being fascinating storytellers. A picture is worth 1000 words:
"Hoonah Bound," the boat we were on, was well equipped for whale watching, with huge windows which easily opened and open decks in both the front and back. It even had a toilet. With a maximum of 18 persons on board, there was never a lack of great view spots. In contrast, we saw the whale watching excursion from the ship, which looks a bit too crowded for my taste:
⇒ Don't end up on the overcrowded whale watching excursion from your cruise ship. Check availability for your independent Hoonah Whale-Watching Cruise
Icy Strait Point Bear Viewing Alaska
The downside of cruising is there is never enough time in port. If there had been more time I would have joined one of the Alaska bear tours. And, if you could only pick one spot in the world for a bear search, Chichagof Island would be it. It is estimated that there are 1-2 brown bears per square mile on the island.
With a small group guided by experts and four hours to look for wildlife, chances of spotting bears are good. While I loved every moment of our whale watching, I did have to sacrifice seeing Chichagof Island bears.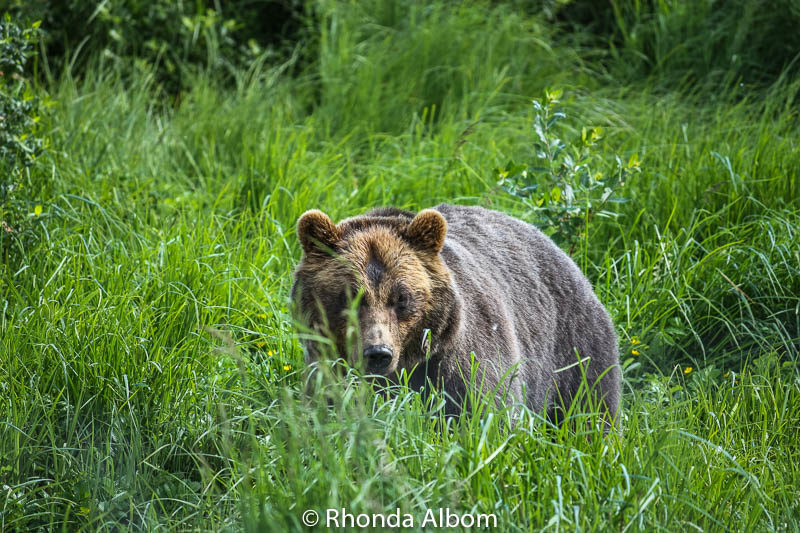 ⇒ Check availability on a Chichagof Island Brown Bear Search
Other Things to Do in Icy Strait Point and Hoonah
Look Up and Watch for Bald Eagles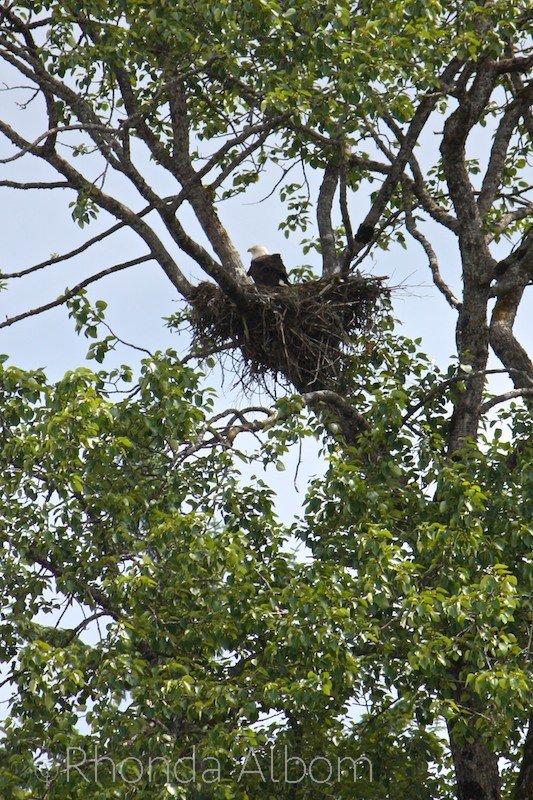 Take a Hoonah City Tour that Concludes with a Beer Tasting
Enjoy a tour of this local fishing village that serves as the largest Tlingit settlement in Alaska. Then head to Icy Straight Brewing for an Alaskan beer tasting.
⇒ Check pricing on City Tour and Tastes of Hoonah
Fly on the World's Longest Zipline
While Icy Strait Point is home to the world's longest zipline, we opted to have a wildlife adventure. However, back on board our cruise ship, we talked to several people who enjoyed their zipline experience.
Stop by "The Office" for a drink
Hoonah is a town with a sense of humor and the perfect excuse for being home late, "I was at the office."
Enjoy Seafood at The Fisherman's Daughter
Rated as the place to eat in Hoonah, The Fisherman's Daughter is best known for their salmon tacos.
Watch Totem Pole Carving
Sometimes we need to trust people on blind faith. This was one of those times. We were told to enter the back door of the building next to The Fisherman's Daughter. A large unlabelled workshop, we entered to find a group of people who had been commissioned to carve totem poles and the back panel for a Tlingit clan house soon to be built.
Talk a walk back from Hoonah to Icy Strait Point
It took us about 35 minutes to leisurely walk back to the ship along the beautiful coastal road. (We had the option of being brought back after our whale watching tour, but we had time to enjoy the town and have some lunch. We watched kids jumping off a pier, saw fishing boats docked and unloading, and enjoyed lovely coastal views.
Learn a Bit about Hoonah and Chichagof Island
Captain Paul (Hoonah Travel Adventures) told captivating stories and shared interesting information about Hoonah and Chichagof Island. Three of my favorite tidbits include:
Chichagof Island has no property tax as the homes were gifted by the US military after a fire destroyed Hoonah in 1944.
In addition, Paul told a personal story of his son's bear encounter. He taught us to look at the eyes of animals to see if they reflect red (this is a predator) or green (prey).
All Tlingit people are either Eagle or Raven clan matching their mother. Eagles marry ravens, ravens marry eagles. Similarly, they bury each other. We passed the Eagle Clan cemetery on the road between Hoonah and Icy Strait Point, thus reinforcing what we had learned at the Native Heritage Center last week.
It is quite different from other places we have visited in the USA.
Read Next: Alaska Cruise Tips: Know Before You Sail
Please share
If you enjoyed this post, please pin: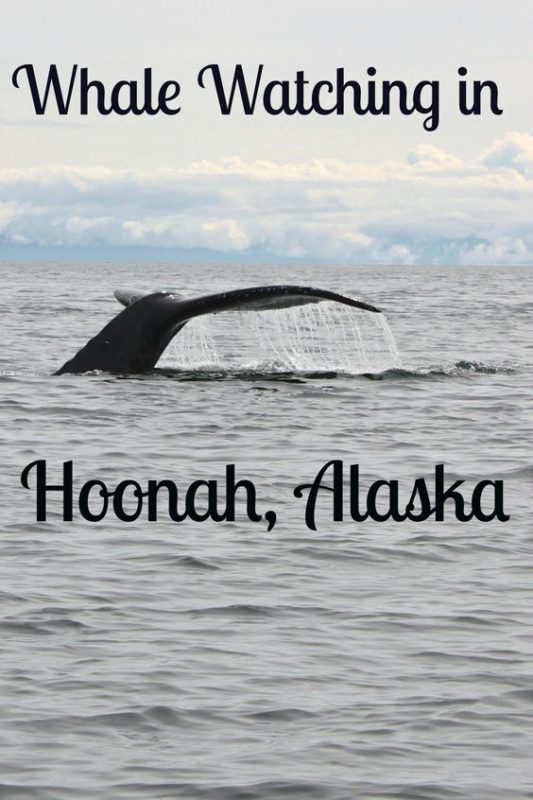 Will you choose Icy Strait Point whale watching, bear viewing Alaska style, or something else when in Hoonah?
Disclaimer: We were provided with media rates for the whale watching tour for the purpose of this review. However, the opinions expressed here are our own.