Sometimes it is the unexpected that turns out to be the most fun. We headed up to MOTAT to see the da Vinci Machines exhibit, and our timing worked out that it was also a MOTAT Live Day, a family friendly event bringing the Museum of Transport and Technology to life. For us, it was an opportunity to get on board several not very common modes of transportation and discover some interesting bits of aviation history.
We opted to start our adventure at the Aviation Display Hall, as it is generally easier to find parking there. Aside from enjoying the aircraft normally on display, we also had Live Day opportunities to ride on a steam train, examine and ride on a military armoured personnel carrier (APC), and peek into the workshops where volunteers restore a wide variety of planes to their original appearance.
Shop related products on Amazon
Price: $12.88

Was: $18.95

Price: $16.99

Was: $24.99

-35%

Price: $16.97

Was: $25.99
‹
›
Believe it or not, this was not my first opportunity to ride in a military vehicle. During my student exchange (many years ago), the German army took us on a tank. (It was a real tank, but nothing like the ICBM carrier we saw in Moscow).
We took the tram to the main museum where our primary motivation for the day was to visit the incredible Leonardo da Vinci Machines exhibit that is at MOTAT until October 16, 2016. While there we enjoyed several of the Live Day benefits including a horse and carriage ride, lolly making demonstration, Penny Farthing rider, and the pump house that was in operation.
Also at live day (but not photographed here):
Printing press workshop demonstrations
Road Transport and Tram workshops
Blacksmith working in the Forge
Practical Information:
MOTAT is open daily from 10 am – 5 pm (excluding Christmas).
The third Sunday of each month is usually a Live Day.
The main MOTAT museum is located at 805 Great North Road in Auckland. The Aviation Display Hall is located nearby on Meola Rd, and the Western Springs tram transports visitors between the two. Live Day activities are included with the entry fee along with both museum locations and the tram.
Have you been on an APC? Which of these MOTAT Live Day events would you enjoy the most?
If you enjoyed this post, please share it on social media including Pinterest: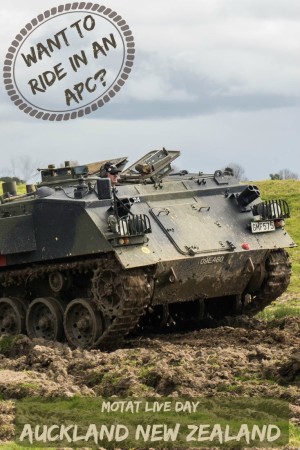 Disclaimer: I was provided with a media pass to this event. The opinions expressed here are strictly my own.