Departing from our usual travel mode, we enjoyed a week long vacation in Samoa, a South Pacific tropical island paradise. We adapted easily to relaxation, pampering, and the resort life style at Saletoga Sands. It is a far cry from our usual do-it-yourself travels or a home exchange.
Arriving close to 10 pm, we were instantly enveloped in the warm, fragrant, tropical air and quickly lulled to sleep by the gentle sound of the surf.
Our ocean view family villa is large and spacious, with a big bed on one side, a wicker couch and fridge on the other.  French doors open to a smaller room with single beds for our teens. Turning on the overhead fans, I open the floor to ceiling louvres. The warm tropical air circulates through the screens that keep the mosquitoes out while allowing in the sounds of the sea. The girls prefer to close the louvres and turn on the air conditioning, as it is hot in Samoa. Timber columns accented the room. The columns are tied together with "afa", a traditional Samoan rope made from coconut fibre.
Our days at the resort include snorkelling, kayaking, swimming, relaxing on a lounge chair or at the bar, eating, cultural activities, spa days, and even a Fiafia show complete with fafahini. My favourite feature of the huge pool is the swim-up bar. We never figured out the pool bartender schedule. However, when closed the staff brought drinks from the cafe bar.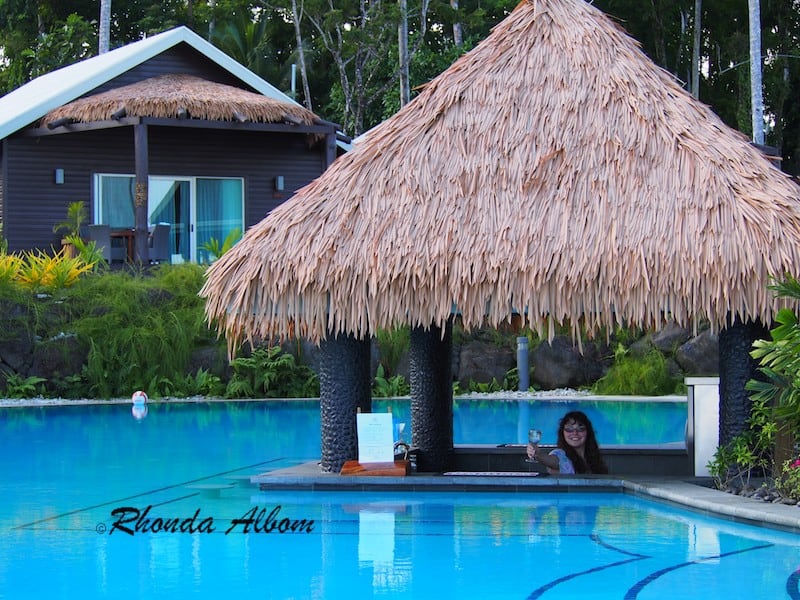 Stepping out of the far side of the pool, we walk straight ahead into the sea.  We are glad to have our reef shoes as we can see the broken bits of coral from the tsunami that wiped out nearly everything on these shores only five years ago.
Even the tropical rains which dominate the weather for the first few days couldn't dissuade us from enjoyment. Cold rain certainly makes the outdoor shower more invigorating (there is an indoor shower too, but I like the novelty). And the resort never missed a beat, providing umbrellas and altering their tour options to accommodate the weather. Personally, I find the rain a perfect time to get a massage, or two.
We purchased a meal plan which includes lunch and a massive three-course dinner.  Financially, it is a good value. However, we ate more on the plan than we would have without it.  we may have eaten less without it.  The menu offers a variety of local and familiar foods, both meat and vegetarian, plus fresh coconut. The chef went out of his way to accommodate our teen's allergies. The one thing that really got under my skin, they charge WST $1 (about 50c) for a glass of water at meal time. I found it especially odd as all the resort water is filtered and drinkable. Like many other guests, we filled up in our room and brought water bottles to meals.
Saving the best for last, it is the people who make Saletoga Sands so special.  Kiwi owners Gavin and Lou, along with manager Karen and tour director Kelvin are so approachable I feel like I have left behind long lost friends.  The outdoor environment, coupled with their warm, easy-going personalities gives a family feel that I never thought I could find at a resort or luxury accommodation.
For more information, check out the resort's official website. And when you are ready to book, don't forget to check for best prices at Booking.com.
We did leave the resort a few times, once for a tour on a rainy day, once in our own rental car, and one rather amusing trip to the hospital. Samoa is an adventure filled with laughter, colourful open air fales (houses), dogs, pigs, waterfalls, lava caves, and plenty of things to do once you leave the resort's isolated luxury. As expected, Sarah has some amazing photos of the resort and of dancers show.
Do you prefer travelling or resort life?  Do you feel tempted by Samoa? Will you stay at Saletoga Sands Resort?
Disclaimer: Saletoga Sands Resort partially sponsored our travels, however, the opinions expressed here are strictly my own.