First discovered in the 17th century Newgrange is one of three large passage tombs located near the River Boyne in Ireland. To date, 37 smaller tombs have also been discovered in the region. Newgrange is an over 5,000 year old passage tomb built in 3200BC. It is an UNESCO World Heritage Site that is older either the great Pyramids of Giza or Stonehenge.
There is one entrance to the mound, and inside is a single tomb. It consists of a long passage and a cross-shaped chamber. Many of the stones on the exterior have interesting carvings. While I was intrigued by these carvings, the most interesting thing about Newgrange is it's alignment with the winter solstice. There is a roof-box above the main passage which lets in a beam of sunlight for only 17 minutes and only on the 5 shortest days of the year.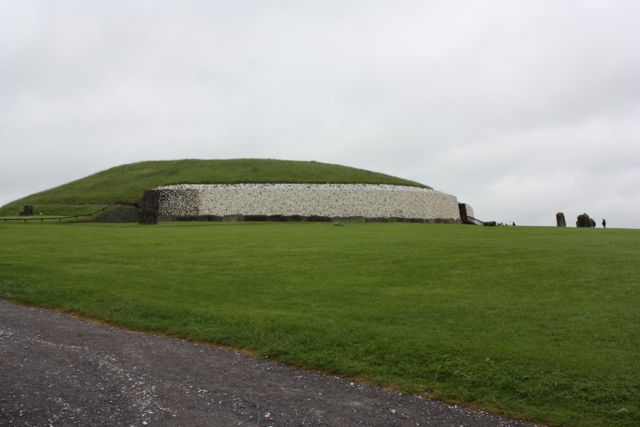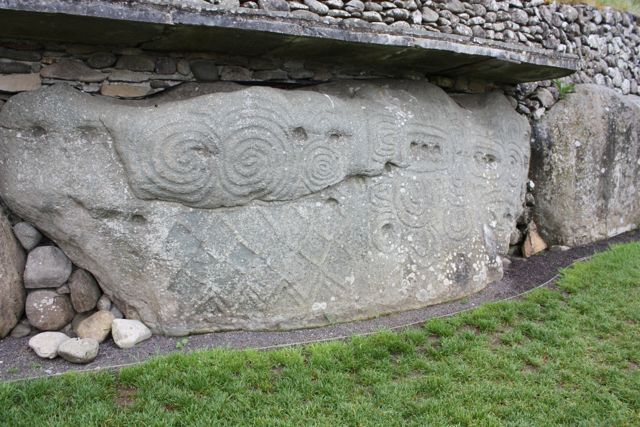 We could not take photos inside of the passage or the tomb, but there was a model in the visitors center. All tours of the three larger tombs (Newgrange, Knowth and Dowth) begin at the Brú na Bóinne visitor center. There are a limited number of people allowed to visit each day, so best recommendation is to arrive early on the day if you want to be sure to get in.
Still want more? Check out: Newgrange: Archaeology, Art and Legend
Click here for more tips for Ireland and the UK, or here for more on Dublin sites.
Note: Based on world conditions, we advise checking official channels including cancellation policies prior to booking. Also, with often reduced capacity, booking ahead becomes more important.
Have you been to Newgrange? or even heard of it before now? What's the oldest place you have been?
All photos on this page © Rhonda Albom 2012