Emergency room visits are never fun. Our visit to a hospital in Samoa was no exception. Thankfully it was nothing serious. It started with an itchy bug bite on the back of our teen's hand. After scratching it, the her hand swelled up to the point that it affected the movement in her fingers. A visit to the local hospital in Samoa was a good idea.
Note: Based on world conditions, we advise checking official channels including cancellation policies prior to booking. Also, with often reduced capacity, booking ahead becomes more important.
Finding a Hospital in Samoa
If you are looking for hospital in Samoa right now ⇒ Click here for the National Health Service of Western Samoa's national hospital directory. The hospitals, hours, phone numbers, and email addresses are listed.
Our Story: Getting to the Hospital in Samoa
The owner of the Saletoga Sands Resort where we were staying took one look at our daughter's hand and offered to take us to the hospital in Lalomanu, a 20 minutes drive away, along a beautiful coastal road. Although it is the closest hospital, he had not been here before. As we approached, he suggested to us that we "look for something which looks like a hospital."
With limited roads, the hospital was fairly easy to find, albeit different from the image of a hospital in my head.
Hospital Waiting Area
It's not a big island, and we were lucky to be the only people waiting for medical attention. The waiting area was outdoors, and despite being well shaded, was still quite warm in the tropical heat.

Stray dogs seem to be roaming everywhere in Samoa, so we really shouldn't have been surprised when one joined us in the waiting area.
Hospital Care
It was a short wait. The patient before us emerged from the treatment room, and it was our turn. This was the first time we actually had spoken with anyone at the hospital, and it was now that we were told, "The doctor is only here on Wednesday." It was Sunday, so we saw a nurse, who seemed quite knowledgeable.
She asked standard questions about medical history, allergies and immunizations. Next, she took our daughter's vitals, took a close look and feel of her hand, and then left to call the doctor in the capital city of Apia. I took this opportunity to snap photos of the room. After looking at the stained bed sheets, I was glad my daughter was able to stay in the chair while with the nurse.
Still waiting, I stepped outside the room, and just around the corner I spotted these pigs. I am fairly sure they belong to the next property on the street, but I opted not to ask about it.
Hospital in Samoa
The nurse returned informing us that the doctor thinks her hand is infected. We were given a ziplock baggie filled with antibiotics, paid a nominal fee, and we were on our way. Quick, painless, and with an option to go to Apia to see the doctor if we felt it was necessary.
Photos Along the Drive – Waterfalls and a Church
On the way back to the resort, we enjoyed the lovely scenery, even making a few photo stops. The island is beautiful and filled with active and exciting things to do. We had the sea to the south and the hills to our north. Here are a few of the highlights: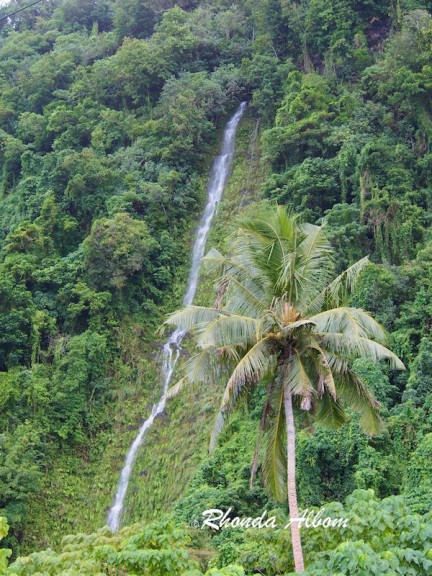 Travel Insurance Reminder
This is not the first time we have had to go to an island hospital. I got decompression sickness on Bonaire went to a hospital there. My experience was different, and much more expensive than this hospital in Samoa. We have also been to emergency rooms in Germany and Argentina. You never know what is going to happen, at home or abroad. We never leave New Zealand without Travel Insurance. Our favourite company is World Nomads. Infact, they like us too. Albom Adventures readers can Save 5% on Travel Insurance with World Nomads* when you Use this Code: ALBOMADV (*For our Canadian and US travellers, unfortunately due to financial services laws, we cannot provide a discount. This promotional code cannot be used with any other discount offer, including World Nomads Members' discount for travel insurance policyholders.)
Have you been to a hospital while travelling? Was your experience similar to our hospital in Samoa story?