We allocated about a week to see London. Seems like enough time, but somehow we each had our own agenda. Today, we focused on our tween's primary goal of searching for Harry Potter in London. Not the boy, but platform 9 3/4, a bridge, a street, the Leaky Caldron, the reptile house, Big Ben, and more.
Being a bit practical, we set out to include a few tourist destinations that were along the way, giving us bit of a mix of the classic and the modern for our day.
Obviously Hogwarts School of Witchcraft and Wizardry is high on our list, but it's well outside of London. We will be there in a few weeks, and even take broomstick flying lessons.
Being practical, our first stop was platform 9 3/4. It's at the Kings Cross station. Well technically, it's not a real platform, but it is labeled, has the magic, and we took the necessary photos . . .
As we discovered from our first set of photos, which have since been deleted, the photos look much more realistic if you fill the trolly with a few belongings, and simulate running.
Connected to Kings Cross Station is the facade of St Pancras the Weasley's car takes flight in the second movie. We opted not to go to the zoo, so we missed the reptile house.
Next we crossed the Millenium bridge from Shakespear's Globe Theatre to St. Paul's Cathedral. You can see it here in the background.
We had a map of Harry Potter in London and the rest of the UK that we downloaded from Google, but it wasn't nearly has helpful as we had hoped. The "sightings" are approximate and  often left us searching. Of course, that's all part of the fun, but it does offer an explanation as to why were so engaged in conversation with a clearly intoxicated man.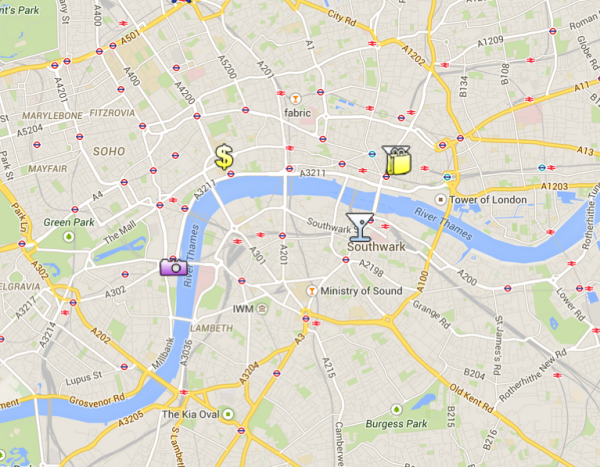 We saw the real Diagon Alley on our tour of the Harry Potter Studio just outside of London.
However, while in London we were in search of the streets used around the Leaky Caldron, marked by the two little martini glasses on the map.  We thought we had found one and as Sarah stopped to smile on a corner, a rather drunk man joined in the photo.  I told him what we were looking for and he assured us we were close, just one building off. . .
All photos on this page © Rhonda Albom 2012
If none of this means anything to you, maybe you should check out Harry Potter: The Complete 8-Film Collection
If you enjoyed this post, please pin:
Have you seen any of the sights of Harry Potter in London?
Travel Counter: We are in week 9 of our 250 day overseas adventure.