The contrast of the stark whitewashed buildings against a deep blue sky and turquoise sea caught my attention as we sailed into the port of Mykonos. We could see the famous windmills of Mykonos up on the hill, and from here everything appeared quiet and peaceful. However, like many of the Greek Islands, Mykonos harbour depends heavily on tourism, and our ship was one of several to dock here on this day. Ideal for business, but not so great for visitors.
Despite all the people, I found Mykonos to be a Mediterranean paradise, albeit too windy for the beach on the day we visited. Instead, we explored. The cobblestone streets lead us uphill into the village and to the famous windmills. The iconic whitewashed Greek houses and chapels have accents of blues, reds, or purples. Visually, Mykonos far exceeded my expectations. Take a look at the best of my Mykonos images and see if you agree:
Windmills of Mykonos
Whitewashed Greek Chapels
These small churches and chapels seemed to be around every corner. Here are a few of my favourites: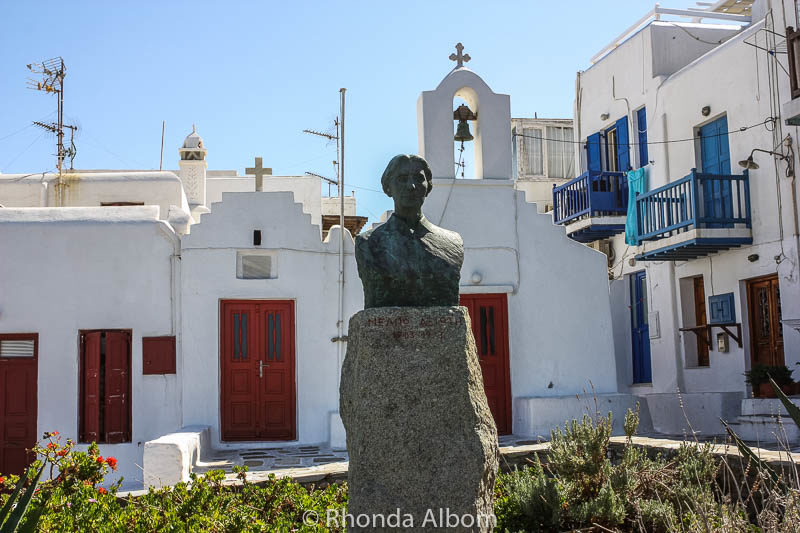 Other Whitewashed Buildings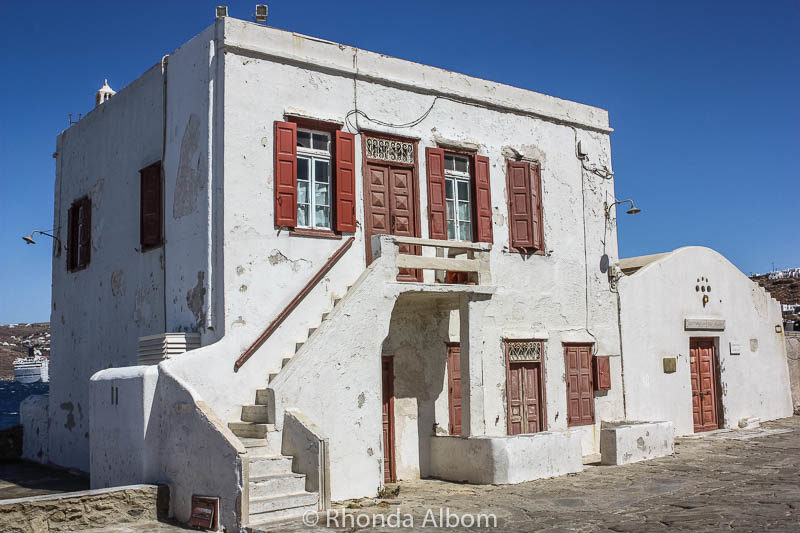 Wall of Water
More Information:
Many of my images found on the page are available for purchase at Zazzle.
Most of the windmills of Mykonos were built in the 16th century and they were primarily used to mill wheat.
By law, any new houses (since 1974), or repainted houses, on the Cyclades Islands are to be white. As the white houses boosted tourism significantly, the law has been kept intact.
Mykonos was a sharp contrast to our prior port, Greece's capital city of Athens.
This article is a continuation of my throwback series encouraged by moving 40,000 photos to Lightroom. We visited Mykonos as one of nine ports as we cruised the Mediterranean on the NCL Spirit in 2012. The ports included one port in France, four in Italy, two in Greece, and two in Turkey.
Rick Steves' Mediterranean Cruise Ports is the best book we have found whether you are doing your own shore trips, or ship excursions.
Please share this article on Pinterest:
Have you been to Mykonos or any of the Greek Islands?
This post is part of Weekend Travel Inspiration. Join us by adding a link below to one of your inspirational travel photos or stories. Please include the hashtag #wkendtravelinspiration if you share on Twitter. Twitter.

Loading InLinkz ...
Linking at Lovin'Life, The Weekly Postcard, Weekend Wanderlust, Travel Photo Thursday, and Outdoor Wednesday. More link ups here.

Grammarly proofread this article. (Try it for free)
Seven ridiculously simple tips that WILL improve your photos
Whether you shoot with a phone or a DSLR, let me share my secrets.
Subscribe to Albom Adventure's newsletter and download our free ebook: Take Better Travel Photos By Rhonda Albom