The Radiance of the Sea dropped anchor in Yorkey's Knob, just north of Cairns. There are so many opportunities here. The ship offered options of rainforest tours, trains, markets and of course, the Great Barrier Reef. We made the choice to spend the day with good friends who live here.
Similar to our last port (Brisbane), the ship was too big to dock close to town. We anchored off of Yorkey's Knob, a town to the north of Cairns and were transported to shore via tender. The rainy, cloudy morning cast shadows over the hills creating an ethereal illusion.
Note: Based on world conditions, we advise checking official channels including cancellation policies prior to booking. Also, with often reduced capacity, booking ahead becomes more important.
Sailing into Yorkey's Knob
Anchored at Yorkey's Knob
Tablelands
Our friends picked us up outside the Yorkey's Knob boat club and rather than taking us to Cairns, they took us up into the Tablelands. It's an area known to locals as a highland getaway destination. With cooler temperatures and frequent swimming holes, it is a paradise amidst this tropical Australian Queensland destination.
• Lake Eacham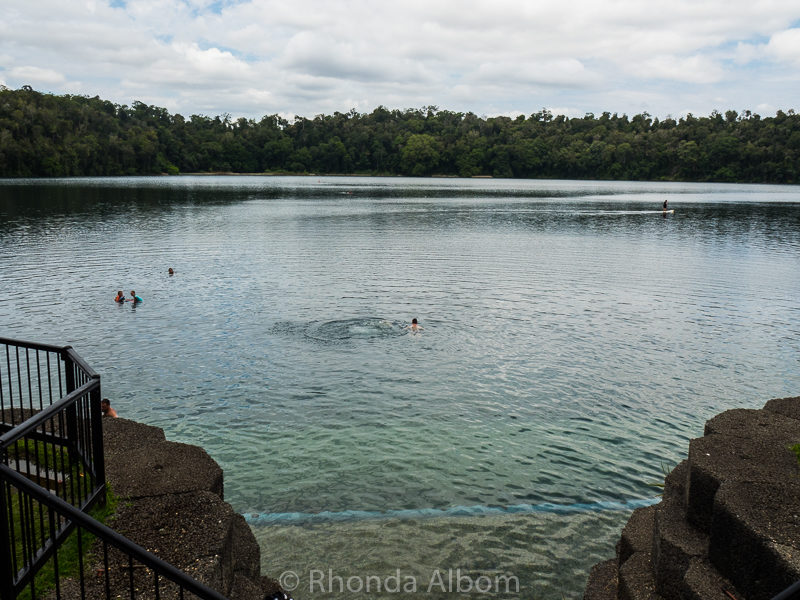 • Nerada Tea Plantation
Waterfalls Near Cairns
• Millaa Millaa Falls
• Zellie Falls
Returning to the Cruise Ship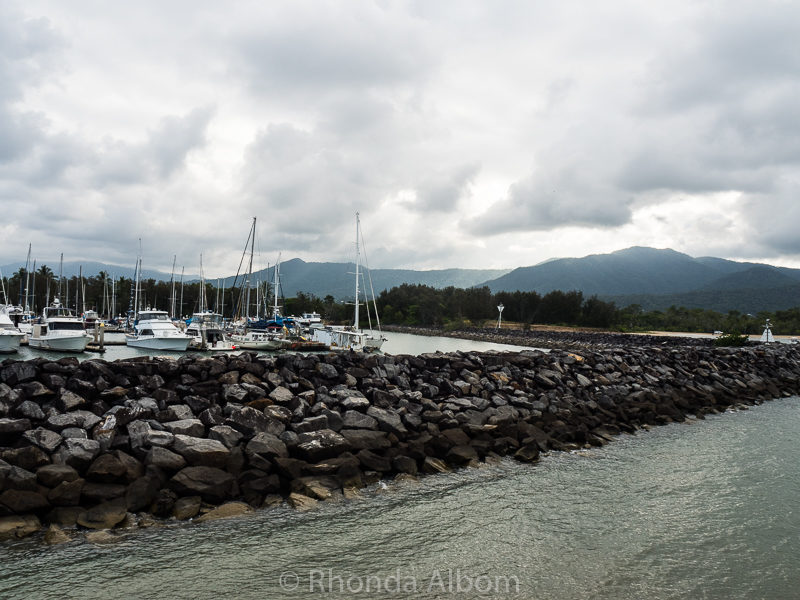 More about Cairns:
Cairns is a city in tropical North Queensland Australia.
Rather than docking in Cairns, the Radiance of the Seas headed up to Yorkey's Knob. It is about a 35-minute tender trip to the city, followed by a 20-minute drive to Cairns if that's where you choose to go.
There is no shortage of things to do in Cairns. It is probably most well known as the gateway to Great Barrier Reef in Australia. (Royal Caribbean offered a very popular trip out the reef.)
It is also known as a gateway to the wetlands and rainforests. (Popular trip options from the ship are on the train or Skyrail to Kuranda).
There is a man-made saltwater swimming lagoon and artificial beach located on the esplanade of Cairns.
The town of Cairns was originally founded when gold was discovered to the north in 1876. However, Cairns tourism began to grow when marlin fishing became popular after World War II.
The Great Barrier Reef was discovered in the 1970s. It is the largest reef in the world measuring 2011 km in length and 72 km across at its widest point also making it the world's largest UNESCO World Heritage Areas. There are an estimated 1,500 species of fish, over 300 species of hard, reef-building corals, more than 4,000 mollusk species and over 400 species of sponges have been identified.
Other world records for Cairns region include: it is home to the world's most dangerous bird (Cassowary); it is home to the world's longest lava tubes (Undara lava tubes); it is home to Australia's largest moth (Hercules moth); and, it is home to the world's longest fern.
The best time to visit Cairns is during the winter months of June to August. Monsoon season is from December to March and with it comes heavy rains, high temperatures, extreme humidity, and cyclones.
If you have a car, don't miss Paronella Park.
Our next port: Darwin
Have you been to the Tablelands, to Cairns, or to the Great Barrier Reef?
If you enjoyed this article, please share it on social media, including Pinterest: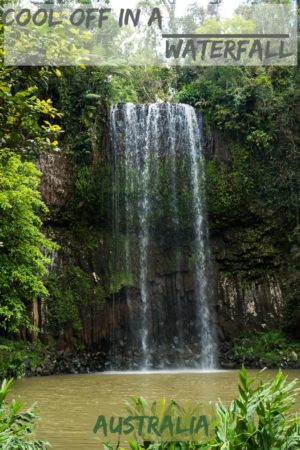 Disclaimer: In addition to VIP treatment onboard the Radiance of the Seas we were provided with many complimentary extras. The opinions expressed here are strictly my own.