Bergen is stunning, a magical town that caught me by surprise. Not always a good surprise, but it kept me on my toes. Bergen is the second largest city in Norway.
Arriving via cruise ship, we opted not to do an official excursion from the ship, but rather to do things on our own. Visually, we were in love from the first moment we gazed upon the lovely seaport. It was easy to get ashore. For me, I struggle with Norway's legal whaling practices, and Bergen was no exception so this beautiful coast is tainted a bit by the whaling ships that probably dock here.
Our research suggested we head uphill first before the organized tours from the ships can get there. However, but the time we purchased tickets from the visitors center and headed over the Funicular cable car, the queue was already quite long. Had we been smart, we would have purchased tickets online in advance.
After quite a long wait, we made it to the top for some stunning views of the city:
Then we headed to Bear, the old town and a UNESCO World Heritage Site. We read somewhere this town is sinking, and its appearance would support that.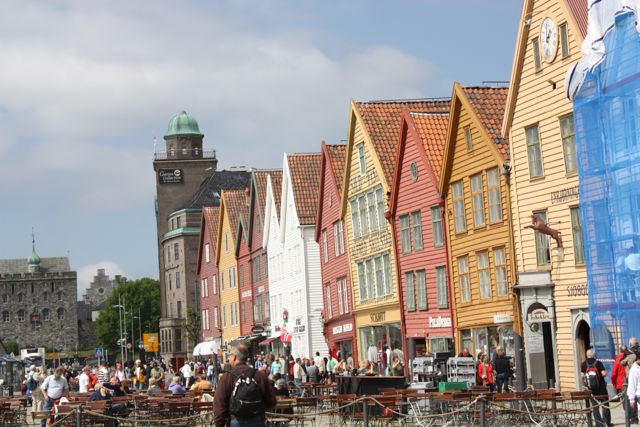 Finally, the fish market where we found some of the best shrimp I have tasted sitting next to a free sample of whale meat, reindeer sausage, and whale sausage. Nearby we found pelts of fox, reindeer, and seals.
Bergen was the second port of three in Fjords in our Norway cruise. First, we stopped in Flam, then Stavanger, before we left awe-inspiring fjords and headed to Norway's capital city of Oslo.
Have you been to Bergen? Did you go up the funicular? Did you visit the old town? Did you sample the whale meat?