I love the look of the Sydney Opera House on a bright day, the white tile glistening against the blue background.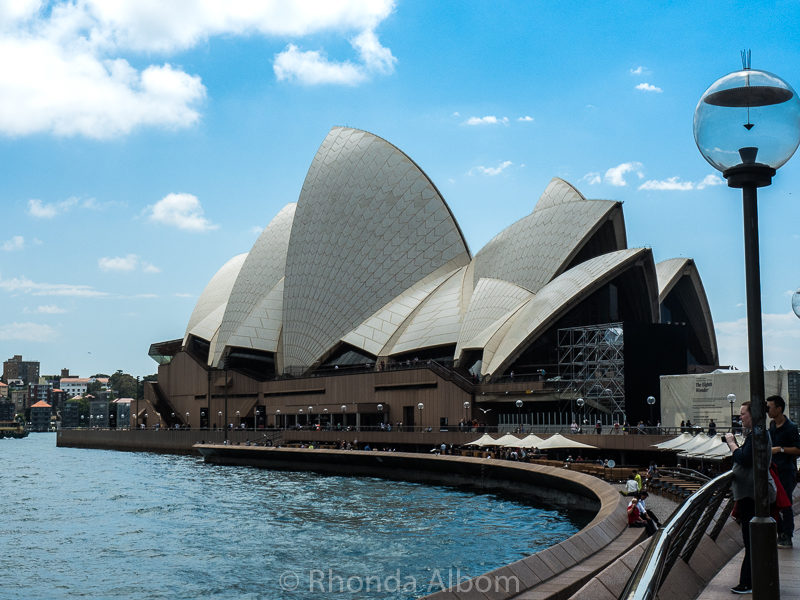 This was our third trip to Sydney, and the first time we went inside the iconic Sydney Opera House. It wasn't to see a show, although we were quite tempted to see My Fair Lady directed by Julie Andrews. Instead, we opted for a tour of one of the world's most recognisable buildings. The Syndey Opera House is an engineering wonder, a UNESCO world heritage site, and nothing short of spectacular. Designed by Jørn Utzon and opened by HRM Queen Elizabeth II in October 1973, today the Sydney Opera House is the busiest performing arts centre in the world. We were just two of the 8.2 million visitors expected this year.
The Sydney Opera House stands on Tubowgule, the land of the Gadigal Clan. Our tour started by honouring Aboriginal protocol and acknowledging the Custodians of Gadigal country.
We got into the Concert Hall. It holds 2700 including 700 on stage.  It is designed for instrumental sound. White birch wood is used for the walls as well as the seats for acoustic purposes. The lit glass saucers over the stage can be raised or lowered to distribute the best sound. The organ displays 138 pipes in front and over 10,000 pipes in the rear, making it the largest mechanical tracker-action pipe organ in the world.
We visited the foyers of several of the other theatres, each with unique features and views, and each used for intervals (intermissions) and party hire (rental).
Next, we headed outside for a closer look at the one million tiles that make up the iconic sails. Two colours and seven varieties of tiles, with shiny and matt finishes, were used to build the Sydney Opera House.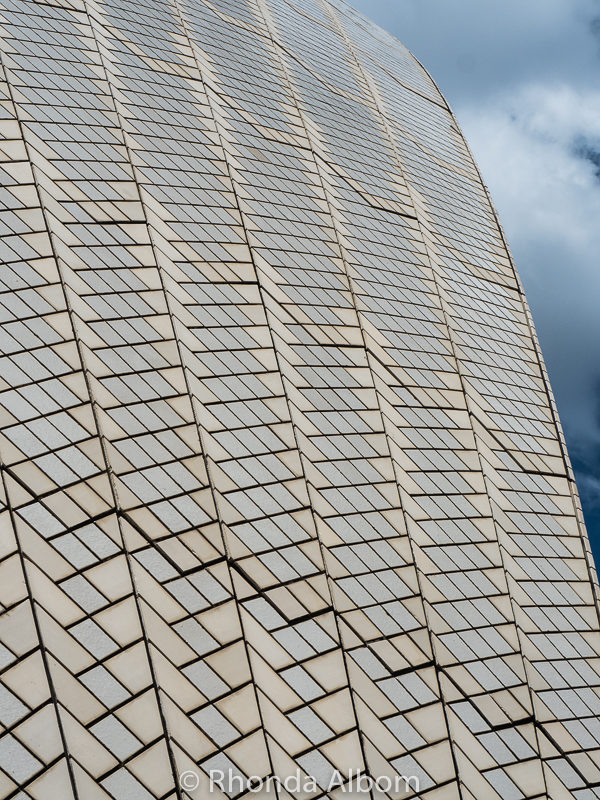 Our tour highlights were getting inside the concert hall and the Studio (no photos), learning a bit of the history and discovering how smoothly the three sails work together. The disappointing part of the tour was not getting into more of the theatres. Of course, had we thought about it a little longer, we would have realised many of them were currently being used for events and rehearsals.
The day after our tour we walked across the Harbour Bridge. Not the heart-pounding adrenaline walking tour over the top, but a gentle walk on the footpath on the same level as the traffic. As we approached the other side, I captured a different view.
Practical Information: 
Have you been inside the Sydney Opera House? Did you see a performance?
If you enjoyed this post, please share it on Pinterest and other social media:
This post is linked at BeThere2Day for Wordless Wednesday on Tuesday, Through My Lens, Life Thru the Lens, Our World Tuesdays, Travel Tuesday, Ruby Tuesday Too, and Outdoor Wednesday.
Disclaimer: We were provided with a complimentary tour. As always, the opinions expressed here are strictly my own.

This post was proofread by Grammarly (Try it for free)