Madame Tussauds Hollywood caught me by surprise. I expected a tourist trap. Instead, I had lunch with George Clooney while hubby was off flirting with Cameron Diaz. I know what you are thinking, where were our girls when all this teasing was going on? They were off with Justin Bieber. And we have the pictures to prove it!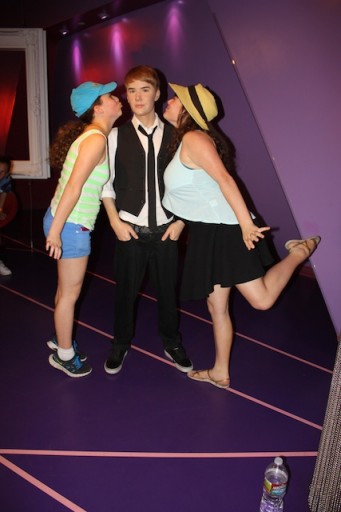 It sure looks real, doesn't it? The wax celebrities at Madame Tussauds Hollywood are incredibly realistic. And they should be, for the amount of time and effort that goes into creating them.
Our visit started out on the third floor where the elevator door opens, and we were greeted by a photographer so realistic that I had to stop and smile for just a moment. Then I stepped out into a room full of stars. Unlike traditional museums where everything to see is along the side walls behind glass, the realistic was figures are just there, strategically placed throughout the room as if they were standing at a party.
It is only the movement of the other guests that allows you distinguish who is wax and who is real. Every detail has been considered and included. Even the eyes often look as if they are watching you.
Words can't do Madame Tussauds Hollywood justice; it's a must see.
If you have been following this blog for a while, I am sure you are wondering why I would be at such a tourist location. We do this once in a while, but we choose carefully. Madame Tussauds is even better than we had heard. It's like partying with the stars, and everyone was there. We saw Jim Carey, John Wayne, William Shatner, Robert Pattinson, Julie Roberts and even Moses (Charlton Heston). Some were dressed in their regular clothes, others as one of their famous characters.
The rules were clear; you could touch the figures, just not the faces. They often had props to make for more fun photos and signs to point them out.
We had a blast! If you are visiting Los Angeles, Madame Tussauds Hollywood is another place I would recommend. Be sure to check this page of Madame Tussauds Hollywood which currently is offering a 20% discount on entrance purchased online. It's just down the street from Grauman's Chinese Theatre, so you can get your dose of the stars.
And, it's not just entertainers . . .
All photos on this page ©Rhonda Albom 2013. All Rights Reserved.
For more information see at their official Webpage
If you are a bit star struck like me, while in Los Angeles, don't miss the hand and footprints at Grauman's Chinese Theater, a chance to see the set of the many of your favourite movies and tv shows while on a Warner Bros. Studio Tour, or the ancient stars of the city at La Brea Tar Pits.
When you drive through other areas in the United States, or worldwide, you will often come upon other Madame Tussauds locations, featuring other stars. In Nashville, we found all music stars.
Have you been to Madame Tussauds Hollywood? Who would you most want to stand next to in a photo?
Disclaimer: The PR firm of Rogers and Cowan arranged for our entry. The opinions expressed here are strictly my own.