Famous for its healing waters and miracles, Lourdes France is remarkable. Spiritual energy breathes through this small village in the foothills of the Pyrenees mountains. To date, there have been 70 confirmed miracles at Lourdes since the first apparition appeared to a 14-year-old peasant girl in 1858.
Not surprisingly, the pull of the city is powerful, encouraging six million people annually to visit Lourdes, many hoping to be the next miracle.
Torch-lit Marian procession
A torch-lit Marian procession begins at 9 pm every night since 1872. The overwhelming number of infirm wayfarers hoping for the miracle brought a tear to my eye.
They walked for nearly 1.5 hours, candle in hand, praying and singing in 6 languages to receive a blessing from the priest. And they just kept coming. So many of them.
While it was emotional to watch, there was also an unexplainable power, a motivating strength emanating from their belief.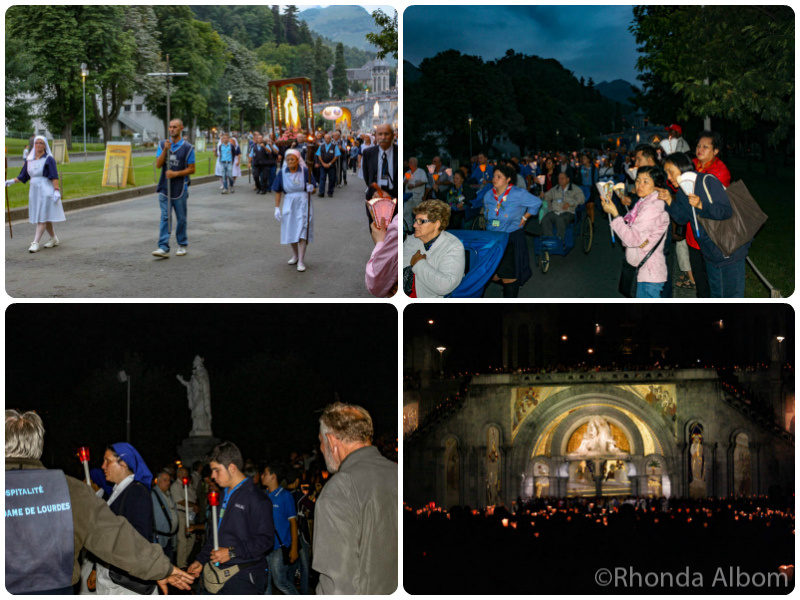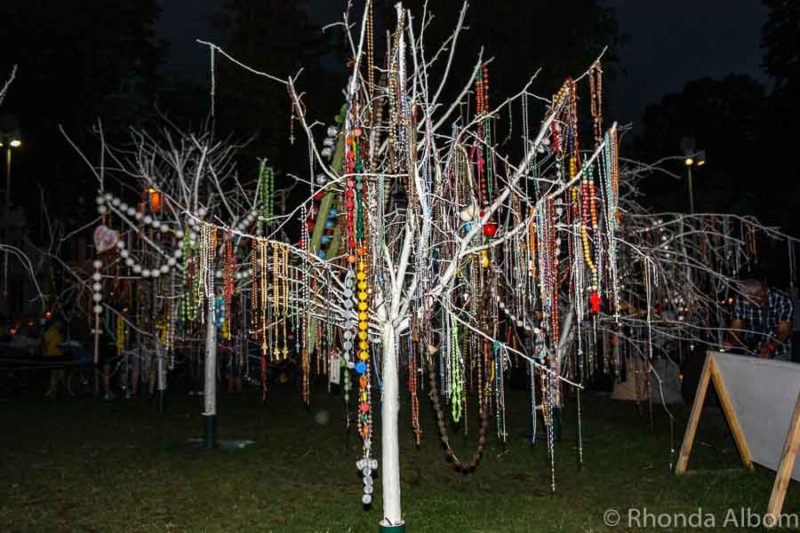 Sanctuary of Our Lady of Lourdes
The centre of all religious activity and religious tourism in Lourdes, the basilica is a masterpiece in its own right. Lourdes is a Catholic pilgrimage destination along the Camino, but unlike Santiago de Compostela, people come to Lourdes to be cured.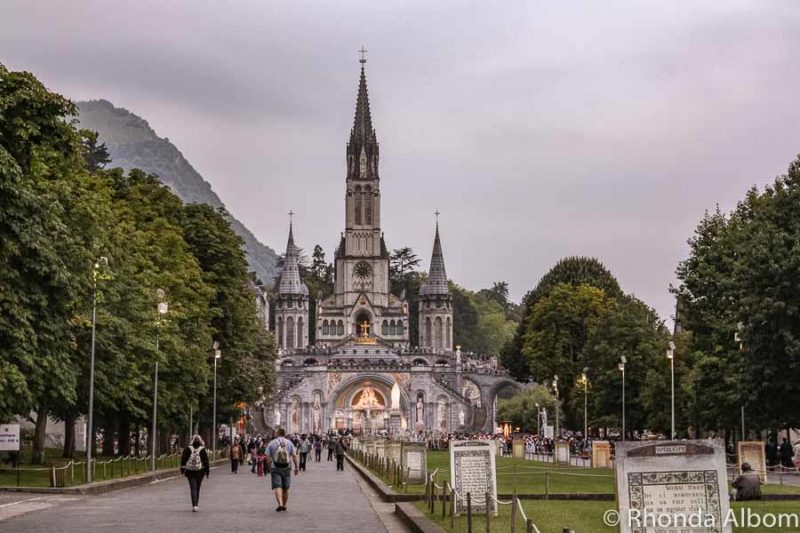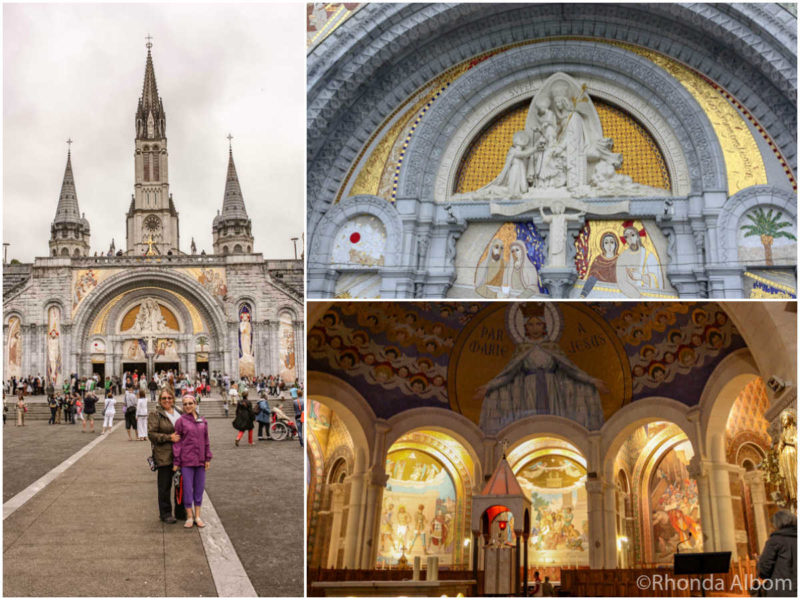 Lourdes healing water
The healing waters of Lourdes draw people from around the world. They come, they pray, they drink, they bathe, and all the while, they hope for a miracle.
While many hoped for medical miracles, others came for moral or spiritual healing. Importantly, drinking the water is easy, as it is free-flowing from taps labelled in six languages. Therefore, we joined hundreds of visitors and filled our water bottles at the side of the basilica.
One of our girls and many tourists filled bottles moulded in the shape of the Virgin statue to bring home. They seemed to be for sale in nearly every shop close to the cathedral. And to my surprise, they now ship these same bottles filled with the Lourdes holy water and available from Amazon.
Grotto in Lourdes, France
The Lourdes Grotto is the spot where Saint Bernadette experienced 18 apparitions in 1858. Today, it is open to the public for candle lighting and, at specific times, to bathe in the healing water.
There are two queues, one for men, the other for women. Pilgrims and other visitors wait patiently. Once at the front of the queue, they stand naked, and two same-sex aids guide them into the icy water. One quick dunk and it is over. Many walk away feeling cured, or at least better than when they arrived.
We joined the queue on a rainy Sunday during the peak of the season. It crawled along slowly. The queues tend to be longer on Sunday as they are only bathing people who join the queue from 2-4 pm, rather than also having a morning time slot.
Staring at a several-hour wait and already wet from the rain, we backed out and opted instead to drink the water.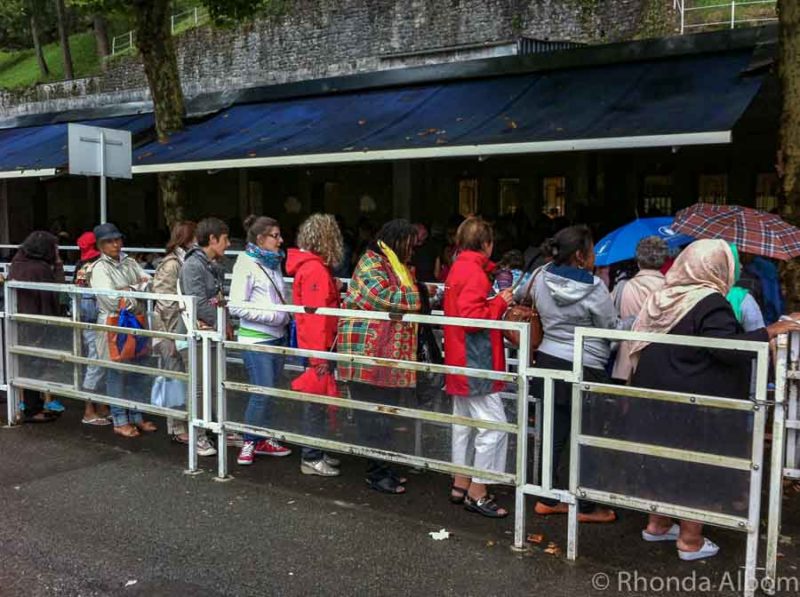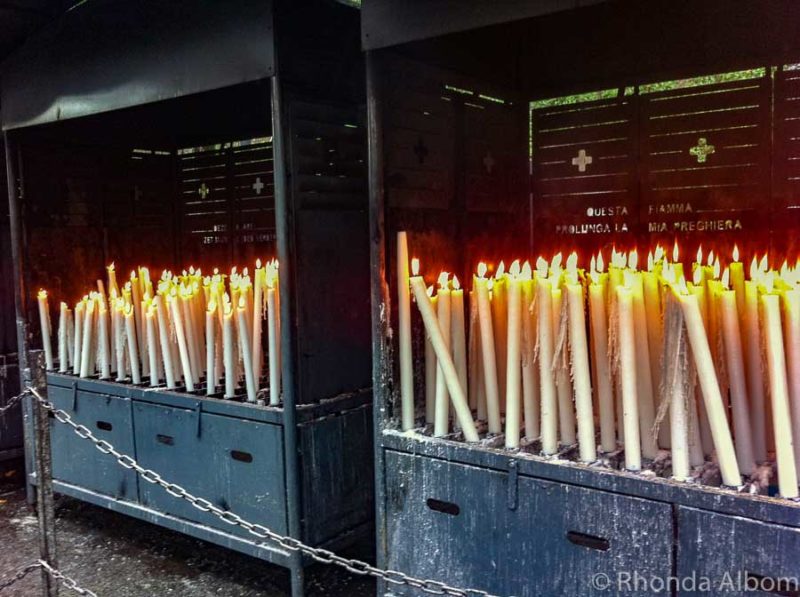 Lourdes healing water miracles
What constitutes a miracle?
The answer is more complex than I imagined. It is defined by rules from the Vatican and summarized here:
To be a miracle:
The illness must have been incurable without medical treatment or medication that can be shown to have been effective.
Healing must be immediate, instantaneous, complete, and without relapse.
The church must sanction each miracle through a rigorous process.
Over 8,000 claims have been made to date, but only 70 meet the strict criteria of a miraculous cure, less than 1% of all claims. The most recent of these was declared a miracle of Lourdes in February 2018. And more on this detailed list of the first 67 Lourdes miracles.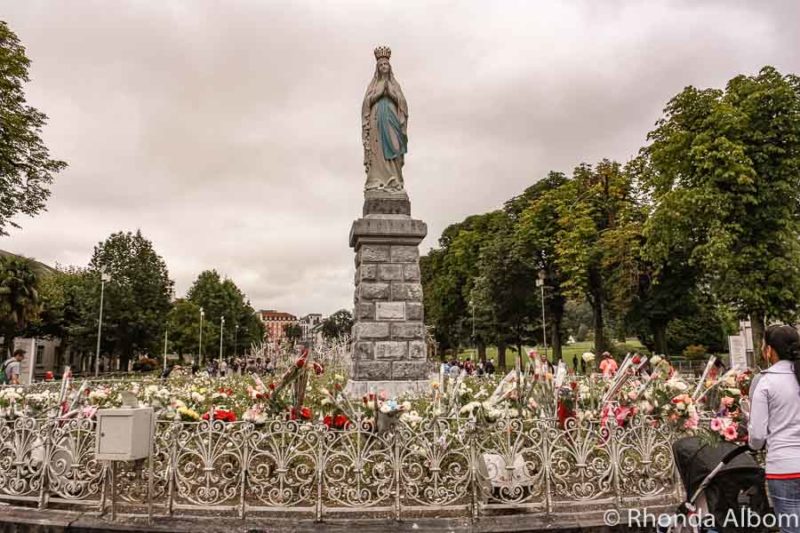 Other things to do in Lourdes France
Underground Basilica
The massive size of the Underground Basilica surprised us. Here, we found modern religious symbols and the illustrated story of Bernadette and the 18 apparitions that appeared to her.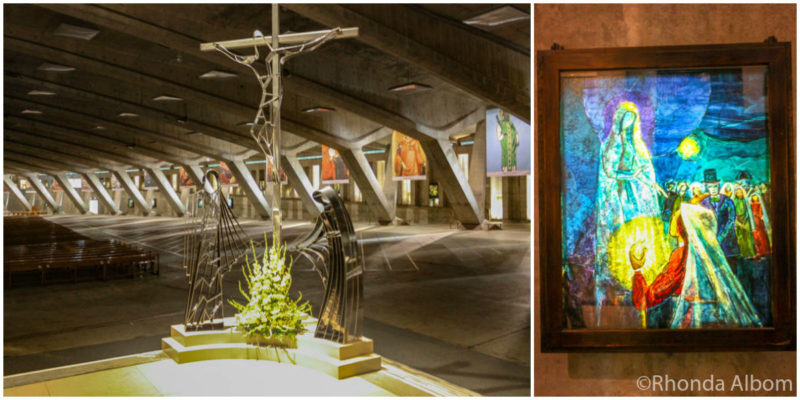 Château Fort
A Roman fortification, the castle on the rocky hill overlooking the city is one of the few secular attractions in Lourdes. While energetic visitors can hike to the chateau, there is also a funicular or a free elevator. Here you will find beautiful views of the city and a museum featuring folk art and local artefacts (Musée Pyrénéen).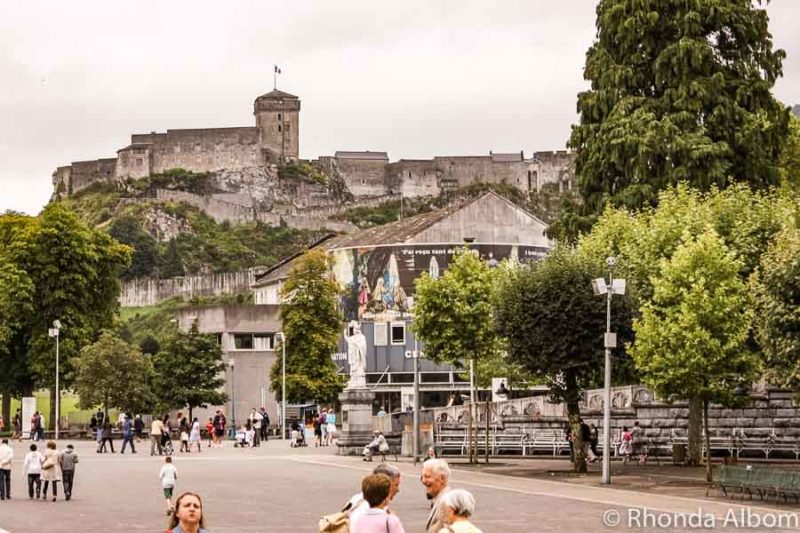 Birthplace of Bernadette Soubirous (Moulin de Boly)
Bernadette was born and lived here until she was 10. It was originally a watermill. Today it is a museum offering insight into the life of peasant families in the 1800s.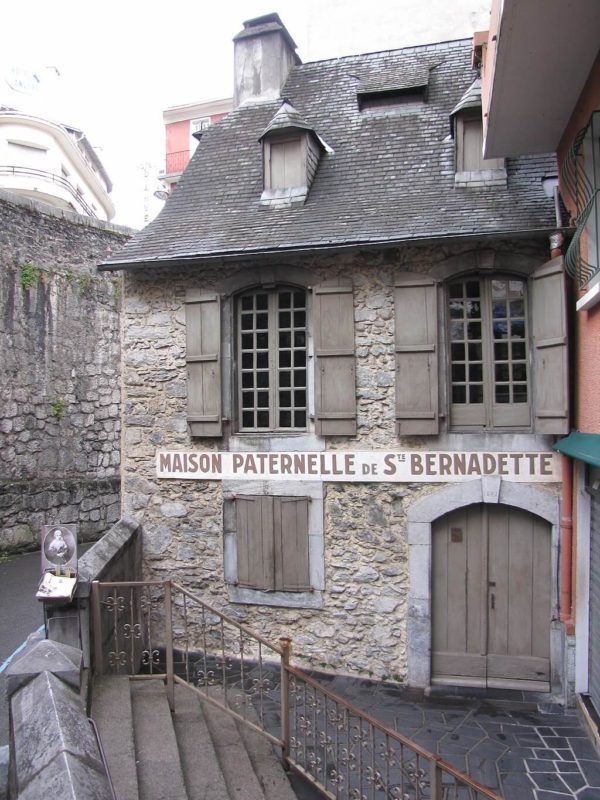 Take a sanctuary and Grotto walking tour in Lourdes
The biggest mistake we made in Lourdes was not taking a tour.
Not so much for the sites, as they are easy to access, but rather for the history and legends. While we can get a lot from reading, there is something quite powerful in hearing about a miracle in the place it happened. If we get back, we will take a walking tour.
This private guided history tour of Lourdes tops our wish list. Highly rated, the reviews indicate that it's the fascinating stories told by the expert guides that make this 3-hour walking tour so valuable.
Not only will you learn some of the religious history, but you will also see both the Basilica of Saint Pius and the newer Basilica of the Domain. And there are more stories as you visit the Grotto where Bernadette Soubirous experienced 18 apparitions, as well as the fountain and the Baths. Reserve your tour of Lourdes here.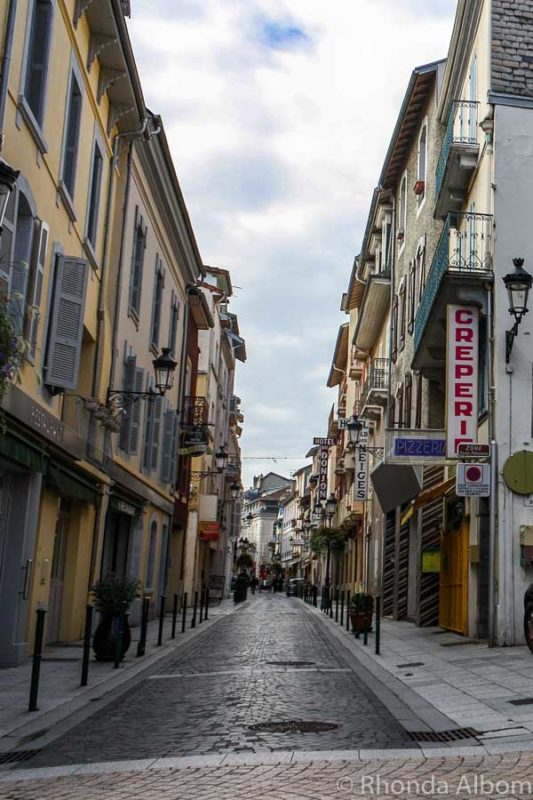 Driving in Lourdes France
Despite having driven in countries all around the world, we were not mentally prepared for driving in Lourdes. We rely on our GPS or Google Maps on our phones. However, it was consistently sending us the wrong way down narrow one-way streets.
As it turns out, every 15 days, the city of Lourdes turns some of the one-way street signs the other way (no kidding). This was a decision made after the one-way streets were initially instituted, and several businesses lost customer traffic. The solution was to turn the streets. So if your GPS is confused, it is because the signs are turned. Be patient and vigilant.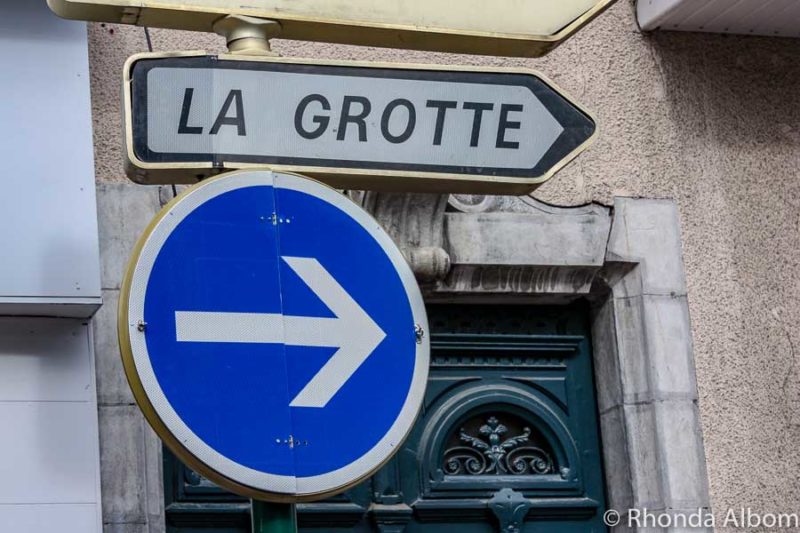 Getting to Lourdes, France
If you are brave enough to face the streets of Lourdes in your own vehicle, we recommend RentalCars.com. A conglomerator, they provide a list of cars and pricing available through local and well-known companies. It's quick and easy, and they provide English-speaking customer service. We needed a vehicle, as Lourdes was the first stop on your French Pyrenees mountain road trip.
Otherwise, you can arrive by Eurail train, plane, or on a tour.
Take a day tour from Toulouse
This eight-hour adventure will bring you from Toulouse to one of the world's most spiritual cities, where you will walk in the footsteps of Bernadette Soubirous.

You will see the basilica, be guided around the grounds, and discover the site of the healing waters. Lourdes is a city not to be missed, and if you are staying in Toulouse and have a free day, this tour is ideal. Reserve your private walking tour from Toulouse here.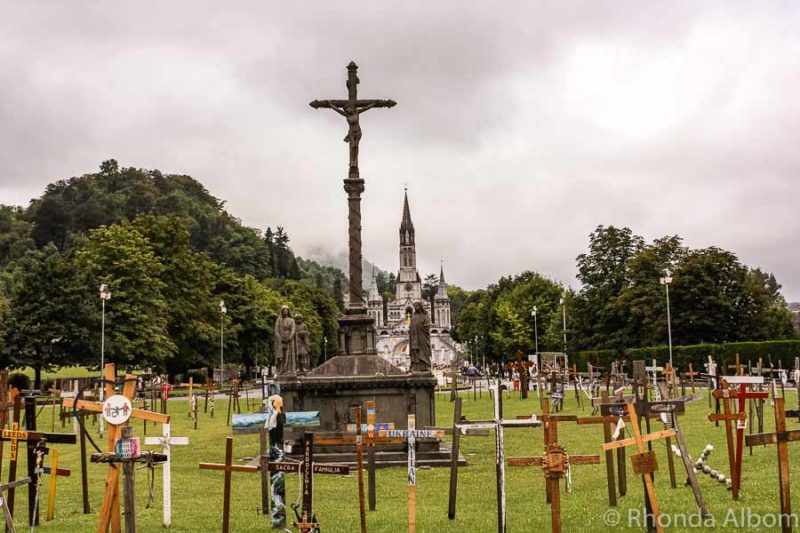 Where to stay in Lourdes, France
While there are many options, we don't recommend where we stayed. Had we planned in advance or not visited during the peak of the season, we would have stayed at one of these two four-star hotels.
Grand Hôtel Moderne: My top pick, this example of classic late 19th century French architecture and decor is perfectly located. An interior mix of Art Nouveau, elegance, and modern convenience, it boasts comfortable beds and delicious meals. Reserve your room at the Grand Hôtel Moderne here

Grand Hôtel Belfry: Built in 1873, this pet-friendly four-star accommodation looks comfortable and lovely. Superior rooms face the Sanctuary, while standard rooms face the city and fort hill. The buffet breakfast includes organic local products, and the hotel has onsite parking (not an easy thing to find in Lourdes). Reserve your room at the Grand Hôtel Belfry here.
Tips for visiting Lourdes
The Sanctuary of Our Lady of Lourdes and the Grotto is always open.
Bring your water jugs to the cathedral to fill them from one of the taps with the healing Lourdes water. Water bottles in the shape of the Virgin Mary are available for sale at many locations in town.
Save on your trip with these resources
These are our go-to companies when we travel. We believe this list to be the best in each category. You can't go wrong using them on your trip too.
Flights: we use Expedia for the best and cheapest flight options.
Accommodations: we use Booking.com (hotels) or VRBO (self-contained).
Cars (gas or electric): we use RentalCars to search for deals and dealer ratings.
Campervans or Motorhomes: we use Campstar where Albom Adventures readers get a 3% discount
Private guides: we love the private guides at Tours by Locals
Travel Insurance: we start at InsureMyTrip as they are the best option to compare plans and find the right coverage for you.
Check out our travel resources page for more companies that we use when you travel.
Please share this on Pinterest
Some places stay with me forever. I am guessing that Lourdes will be one of them.
Have you experienced the Lourdes healing water?
Discover other areas in western Europe: