Driving the Giant's Causeway coastal route of Northern Ireland, we found ourselves instantly entangled in the mystery of the region. Volcanic activity created the Giant's Causeway 60 million years ago. Standing at its base, I could begin to appreciate its magnitude. Across the Inner Seas sits its mirror, Fingal's Cave on Scotland's Isle of Staffa. The matching formations gave way to the legend of a giant's bridge once connecting the two.
As the name Causeway Coast implies, the route runs along the Northern Ireland coast from Belfast to Londonderry. We drove the segment from Lorne, where we entered Northern Ireland via ferry, to Coleraine. Our highlights were the Giant's Causeway, Carrick-a-Rede rope bridge, and the ruins of Dunluce Castle.
Giant's Causeway Facts or Legend
Staring at the giant columns, I couldn't help but wonder if the Giant's Causeway legend was true. Could it be the remains of a destroyed bridge built by the giant Finn MacCool to walk to Scotland? My favourite version of the fable is told by my daughter Sarah at A Waking of Worlds.
We visited on our own and took a shuttle bus back. Most of the story and legend we needed to learn independently. If I were going back, I would opt for a Giants Causeway tour from Belfast, most likely this one from Viator:
⇒ Click here to check pricing on this Giant's Causeway and
Carrick-a-Rede Rope Bridge Day Trip from Belfast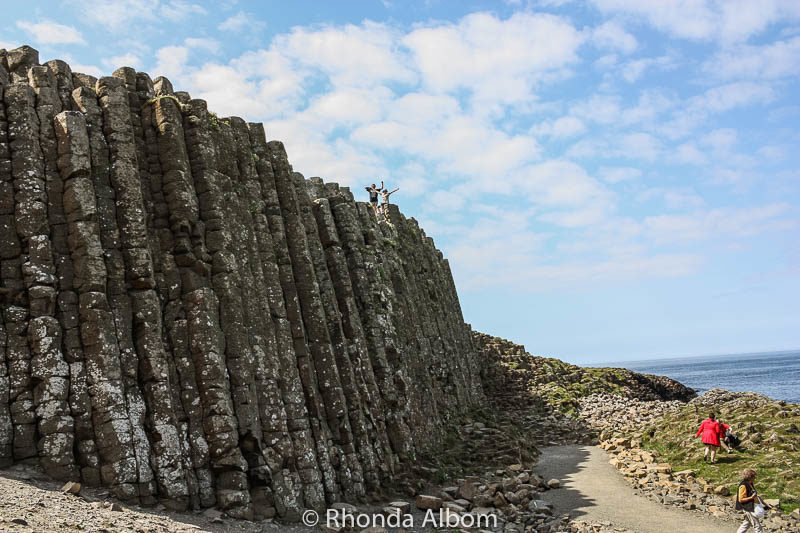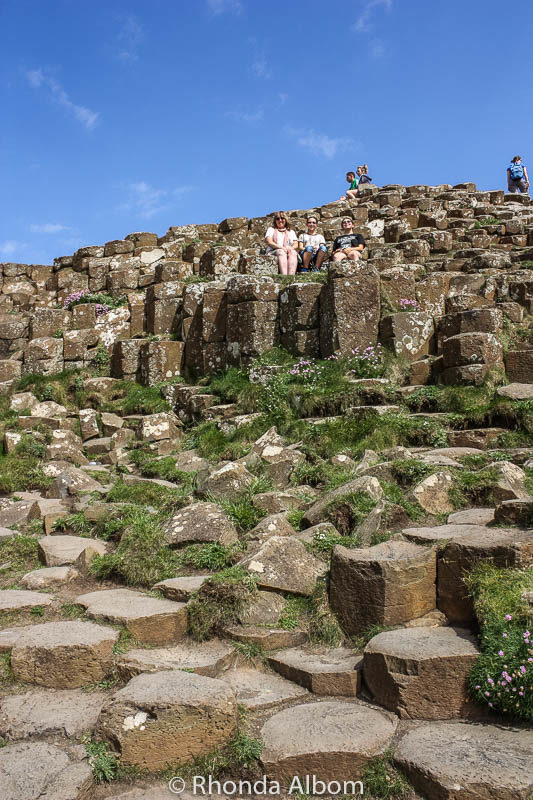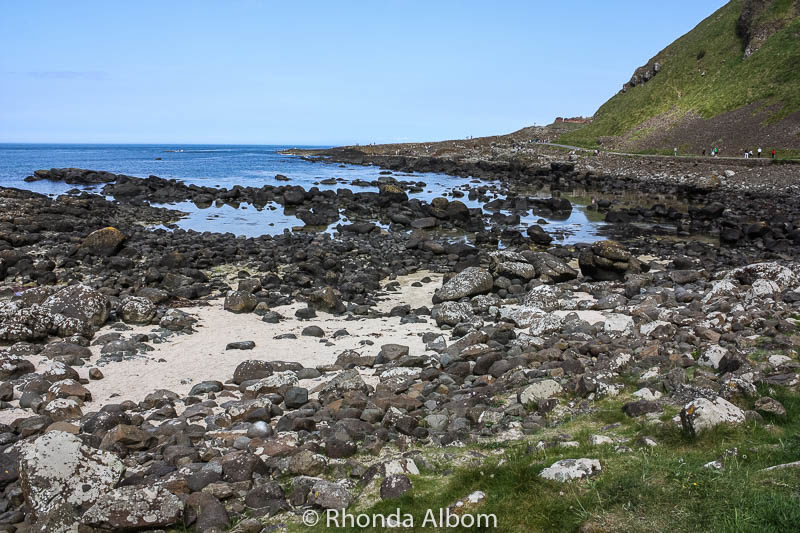 Carrick-a-Rede Rope Bridge
About 16 km (10 miles) to the east hangs Carrick-A-Rede rope bridge, commonly referred to as the Giant's Causeway rope bridge. It is so narrow you can't help but look down into the swirling waters 30 metres below, as you wonder if you will make it across to the other side. While not nearly as long as the Capilano Suspension bridge we crossed in Vancouver Canada, Carrick-A-Rede bridge has an only 18-inch wide walkway surrounded by, well, nothing. Aware of the open space, one can't help but look down, all the while remembering that to date, no one has fallen off this bridge. I can't speak for the original bridge built by salmon fishermen in 1755.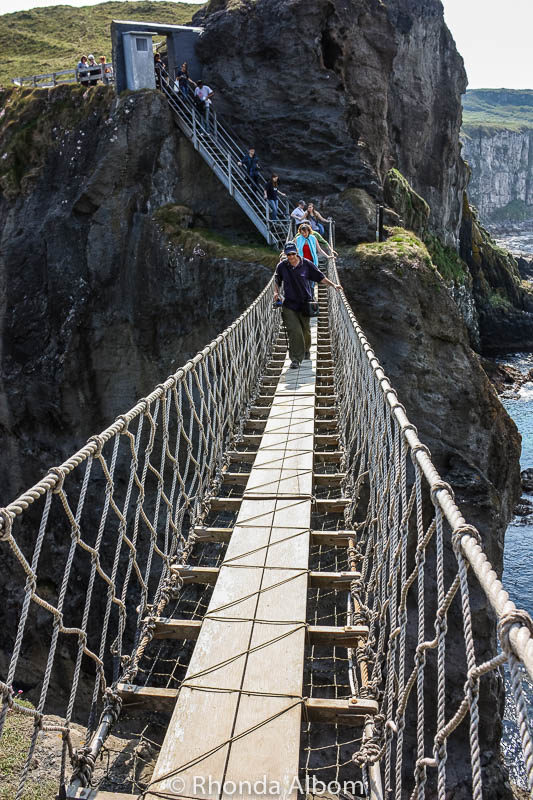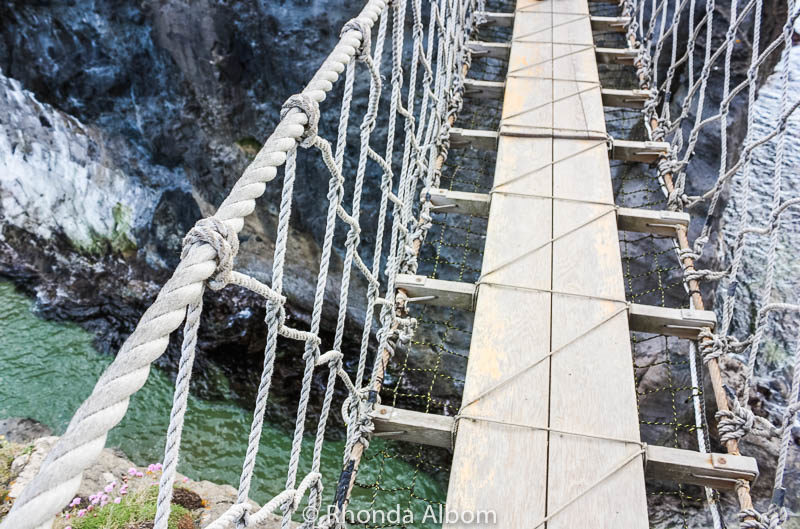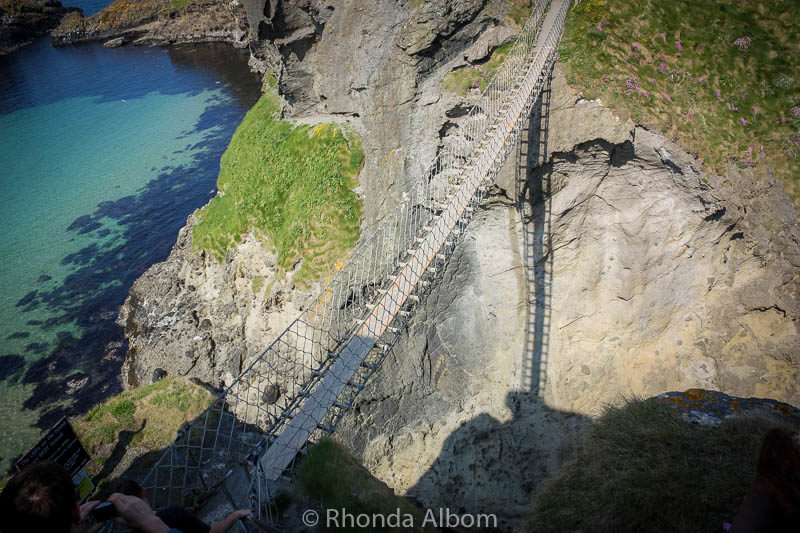 Game of Thrones Coast
The popularity of the coastal route has exploded in recent years thanks to HBO's
Game of Thrones
. Last year more people visited the Giant's Causeway than Belfast's Titanic Museum. Game of Thrones fans can go it alone, or have plenty of tour options. Based on the reviews, the three most appealing tours to us are:
Ruins of Dunluce Castle – Game of Thrones
The ruins of the medieval Dunluce Castle stand towards the western end of the Giant's Causeway Coastal route. Fans will recognise it as the House of Greyjoy in Game of Thrones. Filled with historical intrigue, the site once held an Irish Fort and has been the battlegrounds of early Christians and Vikings.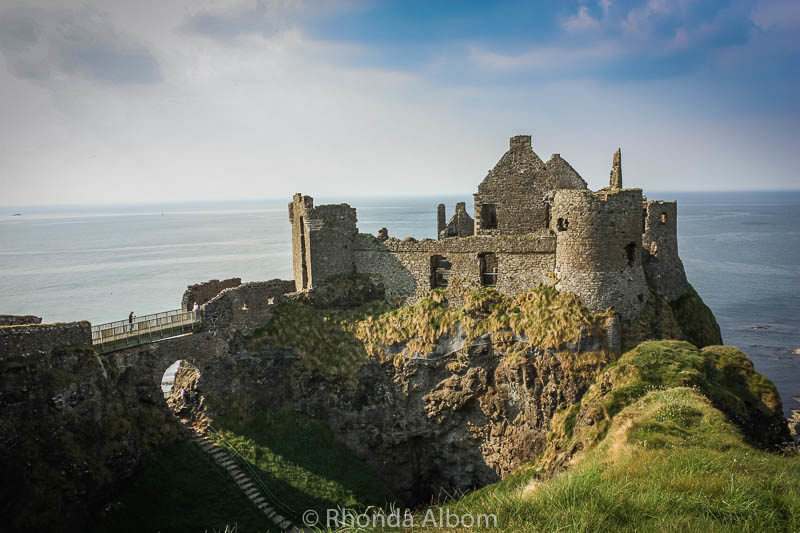 The landscape along the Giant's Causeway Coastal Route
For me, the lush hills reflecting green into the turquoise waters held my attention. Both from the road and the long walks to each site, the journey was a part of the adventure that I will never forget.
Travel Tips for the Coastal Route
Driving Tips
The route featured on this page is one of our three favourite coastal drives to date. The other two are the Great Ocean Road in Australia and the Oregon Coast in the United States.
We hired a car in London and drove through England and Scotland before a ferry crossing to Northern Ireland. In retrospect, we should have returned the car in Glasgow and flew to Belfast and rented a second vehicle. It would have saved us both time and money. Either way, we use Rentalcars.com. We have had great success every time with them. As an aggregator, the provide us with options of different vehicles from various local companies. We usually pay less going through Rental Cars than had we purchased on our own.
⇒ Click here to check availability and prices at Rentalcars.com or 

Book Now

 
Traffic drives on the left in Northern Ireland.
If you drive yourself it will probably take longer than you anticipated, as you will want to stop often to enjoy the endless scenery.
Location Tips
Giant's Causeway: The on-site parking is not free and requires a Giant's Causeway Visitor's Center entrance ticket. We opted to leave our car and take a bus from Coleraine.
Carrick-A-Rede rope bridge: Beginning in April 2017, timed tickets are required to cross this Irish rope bridge, each with a one-hour time span. The bridge was closed for a period of time after suffering from vandalism in May 2017 but has reopened to visitors.
Dunluce Castle is open daily from 10 am to 5 pm. There is a fee for entry.
Tours
Get Your Guide offers a variety of interesting tours from Belfast to Giant's Causeway. While some focus on the natural scenery, others are based on adventure, or on the Game of Thrones sights.
Accommodation Tips
We found Premier Inns to be clean, comfortable and affordable. They are the ideal place to stay if travelling through the UK on a budget. The Premier Inn in Coleraine is perfectly situated to visit Giant's Causeway, Carrick-a-Rede Bridge, Dunluce Castle, and even Bushmills Distillery. We always check prices at Booking.com.
Have you driven the Giant's Causeway coastal route? Would you cross the Carrick-A-Rede rope bridge? Do you love old castle ruins? Are you a Game of Thrones fan?