A wonder of the world, the classic Stonehenge image is one I needed to see for myself. Archaeologists believe it was constructed around 3100 BC. It's an impressive inspiration, an icon of Britain, and is probably Europe's most famous prehistoric site, although not its oldest (we visited an older megalithic complex in Portugal, an older tomb in Ireland, and older caves in Spain).
What is it doing here? There are many theories attempting to explain it, but no one knows for sure. Today it is protected and crowds of people visit everyday viewing from behind guide ropes, unable to get close to the rocks. Small group, Inside the Circle tours are available, but typically book up well in advance. In days past visitors could hire a hammer and chip off a souvenir.
I hadn't shared many photos before because, let's be honest, everyone has seen classic Stonehenge images. We experienced typical England weather on the day we visited. It was cloudy, intermixed with rain. I strategically took photos without too many people, but they were there.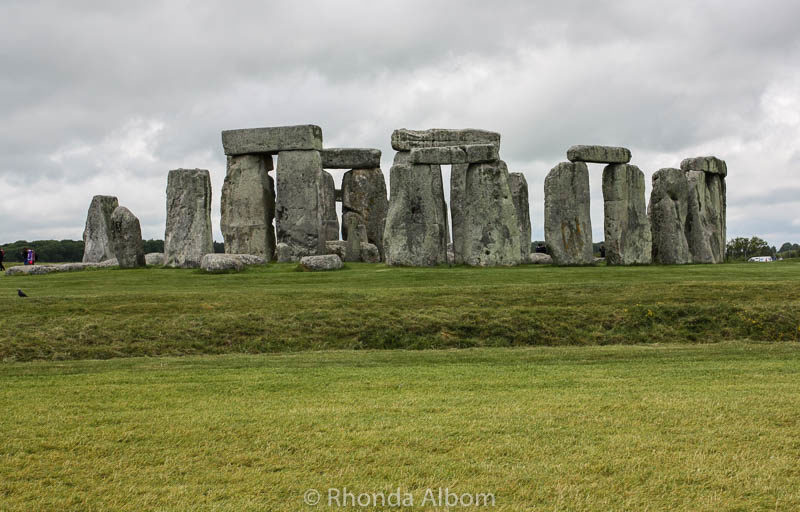 I am pretty sure that with my current camera, I could have taken similar photos through the fence for free, but it wouldn't have been the same. For me, it was the audio tour that brought the site to life. Through it, we learned a bit of history and conjecture ranging from human sacrifice to astronomy as the initial reasons for building Stonehenge.
Practical Information: 
Stonehenge is located in Wiltshire in the southern portion of England. It is 2 miles west of Amesbury, 8 miles north of Salisbury, and nearly 90 miles south-west of London (a two-hour drive).
It is open daily from 9:30 am to 7pm.
Our best tip for visitors who also like castles is to purchase an English Heritage Overseas Visitors pass. We purchased ours at the York Castle (Clifford's Tower) and entry to Stonehenge was included.
Tickets have a timed entry and can be reserved in advance (and this is recommended for both paid tickets and those using the Overseas Visitors Pass). Inside the Circle Tours book well in advance, allowing only a few guests special access usually early in the morning or near sunset. (Thank to Michele from Malaysian Meanders for this tip).
Audio guides can be downloaded for free and played on your own listening device. Or, they  available for are an extra fee, an additional queue, and subject to availability. However, they are worth it, as they really add a lot to the visit.
If you are a fan of National Geographic, check out their video: Stonehenge Decoded.
Do you prefer classic Stonehenge in England or the older, less famous megalithic sites in Evora, Portugal?
This post is shared for Weekend Travel Inspiration:

1. Link one of your inspirational travel posts by adding your info below.
2. Copy and paste our badge and a link to this page.
3. Please visit some of the other wonderful travel bloggers.
4. Please include the hashtag #wkendtravelinspiration.

Loading InLinkz ...
If you enjoyed these photos of classic Stonehenge, please share them on social media starting with this pin:
This post also linked at
The Weekly Postcard, Wanderlust Wednesday, Weekend Wanderlust, Travel Photo Thursday, Fly Away Friday, Photo Friday, BeThere2Day, Life Thru the Lens, Monday Escapes, Travel Tuesday, Ruby Tuesday Too, and Outdoor Wednesday.