The ancient city Volubilis exceeded our expectations. Situated in Northern Africa, it is part of the vast Roman Empire, yet somewhat different than other ruins we have seen as it blends the Roman and indigenous cultures. An UNESCO World Heritage site, Volubilis is often considered to be the best-preserved archeological site in Morocco. Located near Meknes (between Fes and Rabat) it is worth a visit.
The Romans left Volubilis in the third century and an earthquake destroyed much of it in later years, yet the ruins of are filled with hidden surprises. I think the mosaics are my favorite, but the place is filled with amazing columns, archways, stone walls and even ancient toilets.
Volubilis is best seen with a guide who can highlight the details and historical significances. We opted to hire a guide outside before entering. We also opted to take a taxi from Meknes, where we were staying. Hubby carefully negotiated a price for the return trip and the waiting time, including a stop in Moulay Idriss on the way back.
Here are some of my favorite shots of our visit, and for a change, the family is in almost all of them, thanks to our guide: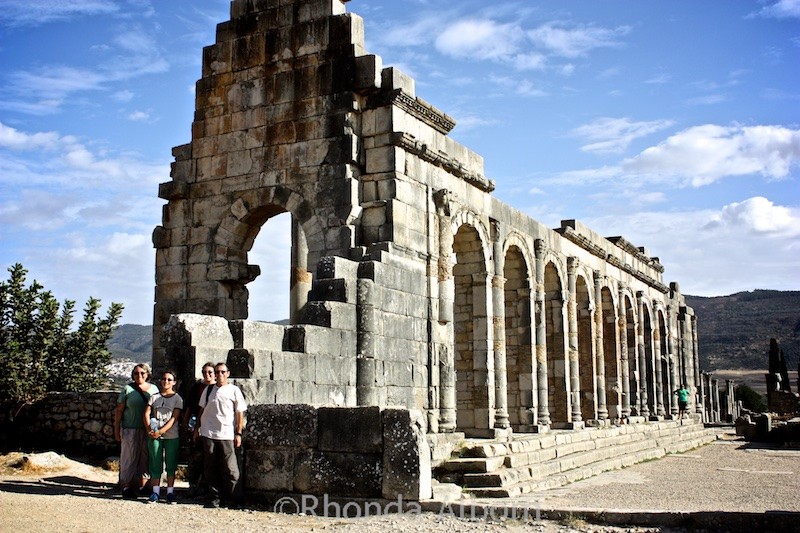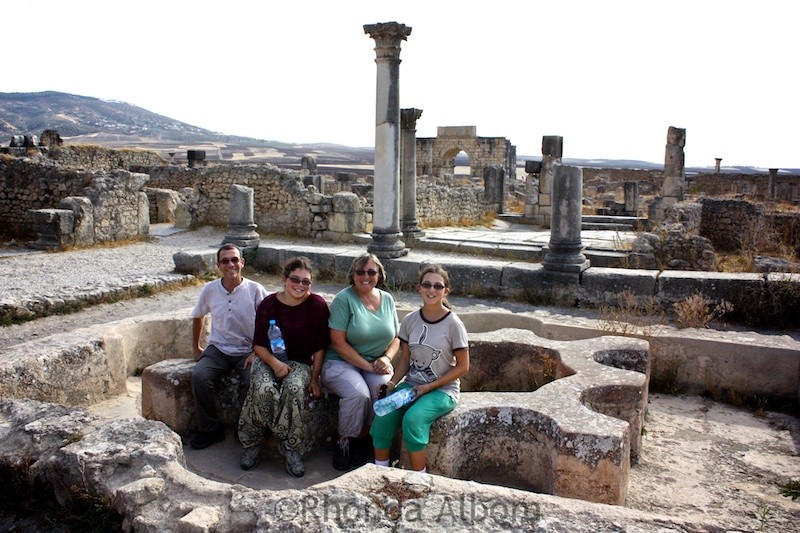 Practical Information:
Volubilis is open daily from 8 am to 6 pm.
If you opt to get a driver or a guide, remember to negotiate the price for both the trip there and the return trip, waiting time, and anything you want to include before you start out.
We used the Lonely Planet Morocco book on our Kindle while we travelled.
You can read more at Wikipedia.
Note: Based on world conditions, we advise checking official channels including cancellation policies prior to booking. Also, with often reduced capacity, booking ahead becomes more important.
Did you know the Roman Empire entered Africa? Have you been to Volubilis Morocco?
If you enjoyed this post, please share on social media: