Whatever the need for a romantic getaway, Auckland can solve it. Stepping outside the downtown, or even heading out a bit farther, Auckland will entice you with romantic getaway options like the Quail Lodge in Drury. Here, we unwound in relaxed luxury.
With the borders closed, international travel remains off the table. Therefore, exploring New Zealand is a great option.
While we could go far, we can also stay nearby our Auckland base. Rather than the hustle and bustle of the city, we opted for a rural paradise.
How we define the perfect romantic getaway: Auckland or anywhere
'Perfect' holds such a personal definition, and lucky for us, when talking about romantic getaways, Jeff and I define it the same. If your list matches ours, we can almost guarantee you a fabulous getaway at Quail Lodge.
Our perfect New Zealand weekend getaway or midweek escape includes:
Luxury with attention to every detail.
A bit of seclusion, something off the beaten path.
Endless and impressive views, with the option of indoor or outdoor enjoyment.
Fabulous nights sleep on a luxurious bed enveloped in a warm and comfy duvet.
Culinary excellence and for me, the added bonus of being able to accommodate food restrictions.
Friendly hosts who intuitively understand and balance our love for meeting new people, and our desire for time alone.
Options for all seasons like an outdoor fire pit or a private infinity pool.
Close to the city with interesting things to do, yet a faraway feel.
Our midweek getaway met all of this and more.
Where is Quail Lodge?
Rural, but close by, Quail Lodge is just a 30-minute drive from the Auckland International airport. Great for a kiwi getaway and once our borders reopen, it's an ideal spot to relax after a long haul or to spend your final New Zealand night. You can contact them here.
More on Auckland trending on Albom Adventures
Expansive views set the mood
Quality time is the key to our romantic getaways. Arriving at the golden hour, we could feel the day's stress instantly dissolve. Complimentary bubbles in hand, we quickly found ourselves mesmerized by the seemingly endless 180º views that beckoned us out on to our deck. The spectacular landscape features the nearby Drury Gliding Club, as well as Auckland city in the distance. Vivid greens and crisp colours fill in the detail.
Late at night, the lights of the city shimmered, keeping our view everchanging and always interesting.
Attention to every detail in our private lodge
With attention paid to every detail, our two-bedroom private lodge unfolded an immaculate elegance that is too often missing these days. We had everything we needed and more. The bedrooms each had their own charm. While one offered a king bed with a bush view attracting birdsong in the mornings, we chose the queen bed with fabulous views.
And that's not all, floor to ceiling windows throughout, and a huge mirror on the living room wall means the captivating view is nearly always in our site. The comfortable couch faces a TV, but we chose to turn off electronics and internet for the night and just enjoy the blue tooth speaker. Books offered reading options, and our only mistake was forgetting to write in the guest book before we left.
The fully supplied kitchen and modern bathroom completed the magic. As did our gracious hosts, and their adorable dog (who I am sure would have been out of sight had we not invited him into our lives). With only one unit available for guests, we were never short of anything.
Honestly, this two-bedroom accommodation is ideal for two couples or even a group of friends. However, we had it all to ourselves.
Culinary excellence enhanced our ideal romantic getaway in Auckland
Quail Lodge has earned it's excellent reputation with meticulous attention to detail and friendly hosts that seem to intuitively know when to join in and when to give us privacy.
We recommend adding dinner to your getaway. We opted to join the hosts at their family table rather than have our meal brought to the unit. A culinary delight, our delicious dinner was perfectly adapted to my food allergies, without lacking any flavour.
Fascinating people, the hosts are dynamic entertainers. The main house shares the endless views, with the vivid sunset complimenting our dinner (sorry, dinner was too enjoyable to stop and take sunset photos). The relaxed, friendly conversation felt more like catching up with old friends than dining with new ones. The only thing better than the main course was dessert.
Seasonal options
We spent the afternoon tiki touring in east and south Auckland and discovered places close to the city, yet a world apart. Once at the lodge, we were ready to relax. While the option for a dip in the pool or an evening firepit was tempting, for us, being surrounded by the quiet luxury was enough to keep us happy.
Click here to book your own romantic getaway at Quail Lodge
Nearby adventures – our romantic South Auckland road trip
We love New Zealand road trips and opted to drive both east and west, hitting both coasts on separate days. Stunning scenery, interesting history, and great coffee were amongst our finds. Here are some of the highlights near Quail Lodge.
Our romantic getaway: Auckland west coast loop
Manukau Heads lighthouse and Awhitu peninsula
With black sand on one side and white on the other, the Awhitu Peninsula is an adventure on its own. However, we focused on our destination, the Manukau Heads Lighthouse. Once at the end of the peninsula, we climbed the lighthouse. Here, despite the wind, we had spectacular views including the sandbar responsible for the wreck of the HMS Orpheus. It remains the worst maritime disaster in New Zealand history.
Waiuku
On the way to Manukau Heads, we passed through the delightful town of Waiuku. It is home to the Kentish Hotel, which holds New Zealand's longest continuous liquor license. I had previously thought this honour went to the Duke of Marlborough in Russell. As it turns out, the Duke had burnt down and been rebuilt, so can't hold that continuous title.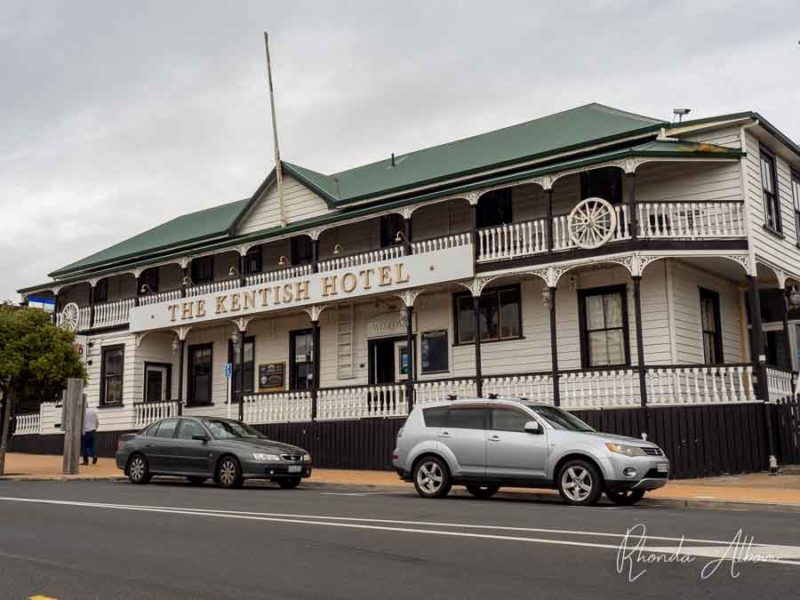 Our romantic getaway: Auckland east coast loop
We also did a loop to the east. Here we made several stops and enjoyed incredible rolling hill scenery with ocean view backdrops.
Ōmana Regional Park
The first stop for us was a section of the Beachlands Maraetai Walkway in Ōmana Regional Park, one of the 27 Auckland Regional Parks. Historically, the park was one of the region's first farms.
Maraetai Wharf
Sometimes the most romantic things to do in the Auckland region are simply cuddling at the end of a wharf overlooking the water.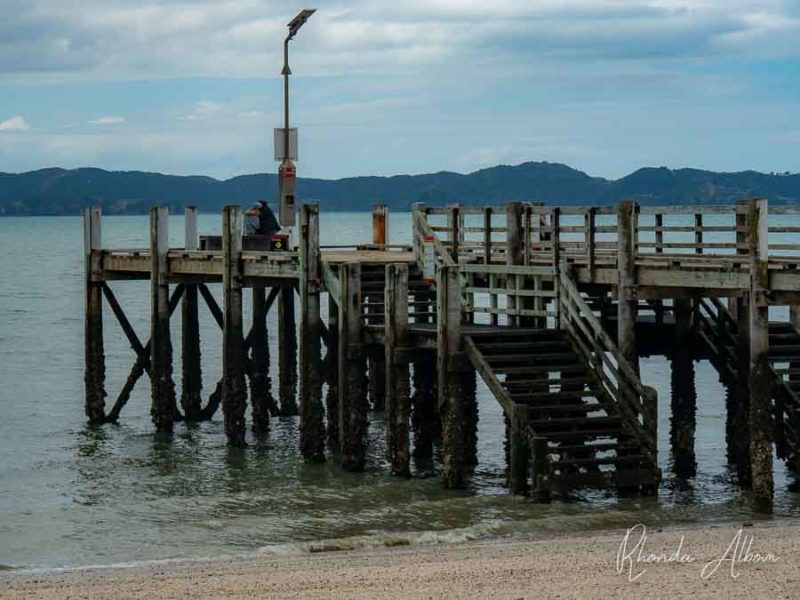 Kaiaua
Being a coffee fan, I am always happy to find great options, and sometimes I find it in quite unexpected places like The Pink Shop in Kaiaua. The ice cream looked great too.
Hunua Ranges
With hours of hiking trails and impressive waterfalls, the Hunuas is easily a destination on its own. While this time we just touched on the park, both us and our daughter have explored it in detail on other trips.
More nearby options
While we opted for total drives of about 2 hours each day, there are several closer options that we didn't visit:
Hampton Downs Motorsport Park
Clevedon Sunday Farmers Market and Polo
Otara Flea Market on Saturday
Rainbows End Amusement Park
Mount Smart Stadium
Click here to book your own romantic getaway at Quail Lodge
Booking tips for New Zealand travel planning
Some links on this page can save you up to 70%. We earn from qualifying purchases through partnerships or affiliate programmes.
First-time visitors start here: New Zealand travel guide or with our favourite New Zealand road trips.

Flights: We use Skyscanner to find all the available flight options at the best prices.

Rental Vehicles: For cars, we always use RentalCars.com, a rental car search engine with no hidden costs. For campervans (and larger cars), note that Spaceships Rentals NZ offers free one-way drop-off between Auckland and Christchurch.
**Albom Adventures readers can check for discounts off Spaceships campervans.**

Accommodations: We use Tripadvisor to find ratings and reserve accommodations in most NZ cities.

Activity Discounts: We use Bookme.co.nz to find discounts on entry tickets and tours in New Zealand.

Travel Insurance: We purchase insurance that covers medical and travel emergencies when we head overseas. We start with Travel Insurance Master, an aggregator that gives us a free and easy-to-read comparison of the inclusions of each policy.

Packing Tips: Get a free copy of our New Zealand packing list when you sign up for our mailing list.

**Find more money-saving resources on our Travel Resources page.
Save for later
If you enjoyed this article, please share it on social media and save it for later on Pinterest.
Do you need a romantic getaway?
Disclaimer: We were guests of Quail Lodge for the purpose of gathering our own information to aid in the writing of Albom Adventures. However, the opinions expressed here are strictly our own.