We know the words fiesta major, but we failed in trying to interpret what our neighbour was telling us in Spanish. It didn't make sense, she spoke of a parade of giants, the "Gigantes de Palamós" and heart-shaped fireworks. It's the first night of the Fiesta Major in Palamós, Spain, the town of our long-term home exchange.
However, my comprehension was better than I thought. The fiesta started with a parade of giants. Literally. The first few were human size but being that they were a chicken and a dog, they were giants for their species.
Note: Based on world conditions, we advise checking official channels including cancellation policies prior to booking. Also, with often reduced capacity, booking ahead becomes more important.
Fiesta Major Parade of Giants
After the chicken and the dog came the first two of the six giants. To be honest, we never really understood the ceremony, so I can only report what I saw. The parade of giants continued with larger than life cat and mouse. They appear to be both friends and dance partners, and possibly married to each other.
Next two more really tall figures in the parade of giants (not sure who they are), and finally the spirited and dancing king and queen. After they passed, the crowd joined into the parade and followed along the street to a makeshift stage at the end.
I think it was the medieval style music being played by the other parade participants that really made the evening so fun for me.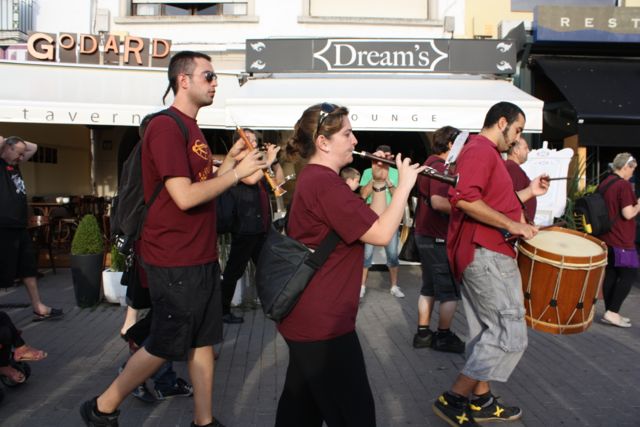 My Spanish isn't that good, but the best I can understand is this a tradition that has been going on for many, many years.
Fiesta Major Ceremony
The parade of giants ended at a plaza near the beach. Here there we speakers welcoming everyone and a torch lighting ceremony.
Fiesta Major Carnival and Fireworks
Finally, we went to the carnival for a bit of fun. The festivities continue for four days ending with a massive fireworks display. The variety of fireworks and colours were impressive for a relatively small town, but, of course, they were nothing like seeing the New Year's Eve fireworks in Rio de Janeiro Brazil.
However, the highlight for of fiesta Major's fireworks was something I had never seen before: heart-shaped fireworks. Have you ever seen anything quite like these patterns in the sky:
Practical Information on Fiesta Major in Palamós
Fiesta Major takes place annually in June to celebrate the first night of summer.
The full event lasts for over a week.
Activities are designed for the entire family and include concerts, castles, children's entertainment, and bonfires of Sant Joan.
For more information, check out: this website.
We did a long-term home exchange in Palamos. It's a great way to live like a local, see the world, and have limited accommodation and vehicle expenses while we travel.
⇒ Find your own home exchange partners
Save for later
If you enjoyed this article, please share it on social media and save it for later on Pinterest.
Have you ever seen a parade of giants or heart-shaped fireworks? What is your favourite annual festival?
All photos on this page © Rhonda Albom 2012.