Dunrobin Castle is the most northern point in Scotland that we visited. It's located just after we crossed the 60 degree latitude line. It's a stately home in Sutherland, in the Highland area of Scotland, and the family seat of the Earl of Sutherland and the Clan Sutherland.
The white arrow loops (towers) reaching up against the blue sky made for a lovely photos.

Dunrobin Castle features a daily Falconry demonstration out in the garden. Falconry is the ancient art of hunting with birds of prey. The fascinating demonstration included golden eagles and peregrine falcons. It was the highlight of our visit.
Dunrobin Castle gardens were created in the style of Versailles by the same architect that designed the Houses of Parliament. They were a bit overgrown in a few parts, but basically stunning.
To the left is a "museum" filled with taxidermy stuffed animals all shot by Dukes and Duchess' who used to live in the castle. To our shock these included a giraffe, elephant, and many other animals. (no photos allowed in the castle or museum.)
Falls of Shin – Home of the Jumping Salmon
After the castle, we headed east to the Falls of Shin where the salmon leap up the waterfall for spawning. While I didn't see any salmon the other day, there were several today. Somehow I missed them all, but the rest of the family saw them. Here is the waterfall they leap up and over: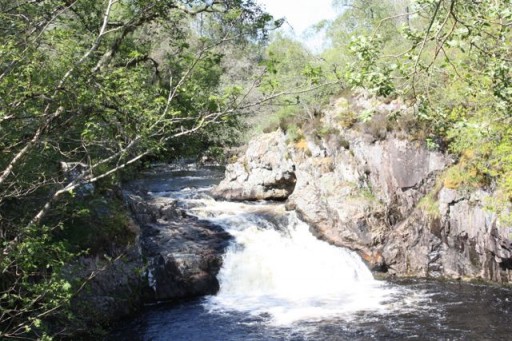 Travel Tips:
Dunrobin Castle does not offer a falconry display on Sundays.
Falls of Shin are a bit off the beaten path (near the villages of Bonar Bridge and Lairg.) but if it is May to October (and a warm day) I would recommend it.
The visitor's center at the Falls of Shin burnt down in 2013.
We carried Lonely Planet Great Britain.
Have you been this far north?  Have you visited either the Falls of Shin or Dunrobin Castle?
All photos on this page © Rhonda Albom 2012
Travel Counter: We are in the third month of our 250 day overseas adventure.