Another great day in Morocco.
Except for the mild tummy problems, but we have all sorts of medicines for that (and a toilet).
And there was that "guide" at Moulay Idriss, Morocco's holiest town that only recently opened to allow non-Muslims to spend a night.
We didn't spend the night.
We didn't hire a guide either.
But that didn't stop the guide. He chased our taxi as we entered the Souq.  For quite a ways actually.
Then when we got out, he offered his services.  For just 150 dirham he would show us the town and all it's secrets – that is the areas that non-Muslim's can enter.  We had read our Lonely Planet Guide to Morocco
, and we could see just how small the town was, so we gently declined.
Hubby simply said, "No thank you, we don't need a guide."
Well, apparently hubby glanced over at me before saying it, and I made that face.  You know the one "are you kidding me, even if we did need a guide we would get an official one and we would never pay that much" – that was the look, but I didn't say a word.
The guide must have seen.  For the next 10 minutes the very abridged version of conversation went like this:
"Madam, I can show you . . . .(really, I wasn't listening)"
"No thank you, we don't want a guide."
"Madam, you should go this way"
"No thank you, we don't want a guide." Then to the officer at the entrance to the mosque, "May I take a photo."
Officer "Yes"
Guide "Madam, I can help you so you will know what you can photograph."
"No thank you, we don't want a guide."
"Madam, you are going the wrong way, you need a guide.  How much do you think is fair."
"No thank you, we don't want a guide, Now please go away."
"Give me 100 dirham, and I will go away."
"Are you kidding me?  Go away.  I am not giving you money.  I told you, I don't want a guide."
I can't decide if it was funny or annoying. So in the end, we never made it up to the top to see the view, but I did get a photo as we approached the white washed village: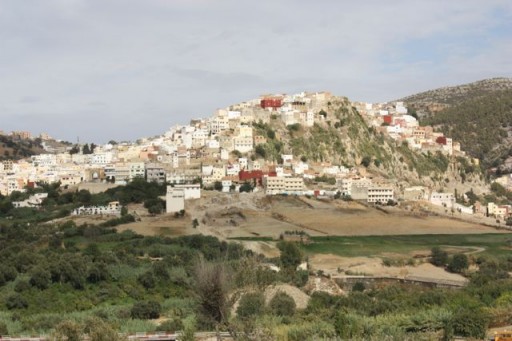 We also never saw the only round minaret in Morocco.  Nor did we see the famous tomb (although I am pretty sure we would not have been allowed inside anyway).  Who knows, maybe we did need a guide.
It was still a fun visit and we bought some bananas – a new staple food for us.
Here is a poster of the Mausoleum of Moulay Idriss
Mausoleum of Moulay Idriss by Walter Bibikow
And some of my photos:
And if all that wasn't enough, the taxi engine wouldn't start when we returned.  Our driver hopped out and started pushing us backwards, lining us up to go downhill.  Then a few of his mates joined in, and suddenly we were coasting downhill until the engine turned over.
What do you think, did we need a guide in Moulay Idriss?
Unless otherwise noted, all photos on this page ©Rhonda Albom 2012
Related Links:
Marrakesh Medina
I want to Live in Rabat
Riding a Camel in the Desert