Giapo. Just thinking about their ice cream and my mouth is watering. Who would have thought we would find the best ice cream in the world in Auckland New Zealand?
Turning ice cream into an art form, Giapo offers the perfect handmade combination of flavours. The secrets are passion, attention to every detail, and fresh New Zealand ingredients. The shop is staffed with 25 employees including 9 chefs working behind the scenes 24 hours a day creating everything from scratch. The result is nothing short of perfection.
Not surprisingly, there is always a queue when I arrive, often out the door of this 45 square meter shop. It seems to move quickly and once at the front I am greeted, asked about allergies and my favourite flavours, and given samples. The menu varies by season. Some of my favourite options from my last visit included Chocolate Evolution, Tiramisu, Giapo Buono, Christchurch Hazelnut, and Tarte Tatin. Sometimes there are flavours named for pop stars or local politicians.
I wish I could share a spoonful, but at least I can share the art:
I met the owner and head chef a few weeks ago, a charming Italian-born man named Gianpaolo Grazioli, or Giapo for short. He wasn't working at the moment, so no chef uniform. Instead, he wore a button-down shirt and matching cap, both with ice cream cones printed across them. You couldn't help but smile when you spoke with him. Giapo knows all 67 farmers and suppliers and assures he has the quality ingredients required to create his masterpieces (only the chocolate, vanilla, and a few spices are not grown in New Zealand).
Practical Information about Giapo:
Giapo is located at 279 Queen Street in Auckland, a few doors from the Civic Theatre.
The store opening hours are from midday until around 10:30 pm Sunday to Thursday, and until 11:45 pm on Fridays and Saturdays.
For more information, check out their official website.
The servings are huge, so arrive hungry.
I have been to 42 countries so far, and Giapo offers the best ice cream I have found.
My Big Announcement
Are you wondering why I had six ice cream cones? Like every order, mine was custom made, but not for eating, rather specifically for the photo to be used in my upcoming book. (Who am I kidding, of course we ate the ice cream after I got the shot – and like always it was spectacular!).
I wrote the Auckland edition of the Choose A Way series of books. It's an interactive travel guide taking you to exciting places like Giapo, as well as over forty other Auckland destination. The book will publish in April, but today I can finally share the cover, which I think came out great.
Have you tried Giapo yet? What is your favourite flavour of ice cream? What do you think of my new book cover?
If you enjoyed learning about Giapo, please share this article on social media including Pinterest: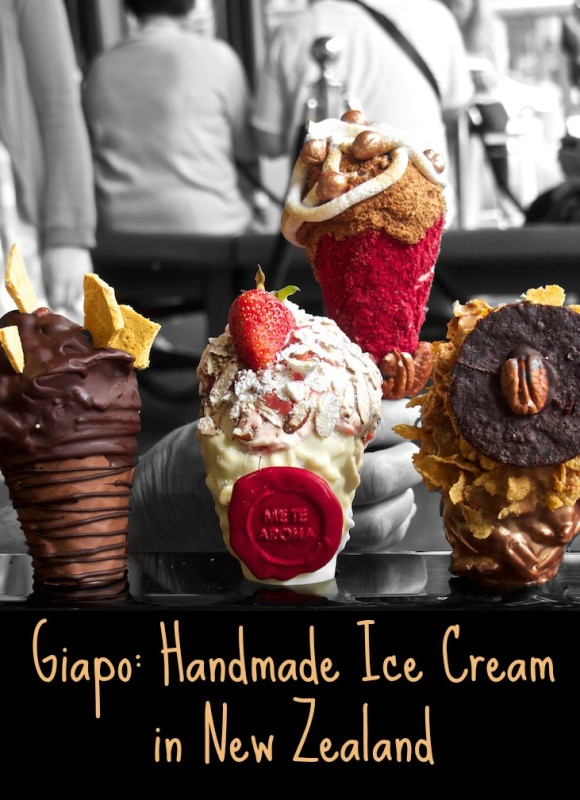 This post is also linked to BeThere2Day for Wordless Wednesday on Tuesday, Our World Tuesdays, Trekking with Becky for Expat Tuesday, Travel Tales at Girl on the Move, Travel Tuesdays at Lauren on Location, and Wednesdays Around the World at Photographing New Zealand.
Disclaimer: I was provided with complementary product for photography, however, the opinions expressed here are strictly my own.
Seven ridiculously simple tips that WILL improve your photos
Whether you shoot with a phone or a DSLR, let me share my secrets.
Subscribe to Albom Adventure's Travel Tips newsletter and download our free ebook: Take Better Travel Photos By Rhonda Albom