Another great day in Morocco. We hired a driver to take us to Volubilis and then stopped off at Moulay Idriss on the way back to Meknes. The town of Moulay Idriss is named in honour of Moulay Idriss I who, in 789 brought the religion of Islam. The town is the is spread over two hills at the base of Mount Zerhoun and is considered one of the most the holy towns in Morocco. In 2005 it was opened to allow non-Muslims to spend a night. However, the tomb of Moulay Idriss is open only to Muslims.
Lonely Planet Morocco in hand, we arrived ready to explore and see the town. As we approached the parking area a guide spotted us and ran after our taxi as we entered the Souq.  For quite a ways actually.
Then when we got out, he offered his services.  For just 150 dirham he would show us the town and all it's secrets – that is the areas that non-Muslim's can enter.
Hubby simply said, "No thank you, we don't need a guide."
Well, apparently hubby glanced over at me before saying it, and I made that face.  You know the one "are you kidding me, even if we did need a guide we would get an official one and we would never pay that much" – that was the look, but I didn't say a word.
The guide must have seen.  For the next 10 minutes the very abridged version of conversation went like this:
"Madam, I can show you . . . .(really, I wasn't listening)"
"No thank you, we don't want a guide."
"Madam, you should go this way"
"No thank you, we don't want a guide." Then to the officer at the entrance to the mosque, "May I take a photo."
Officer "Yes"
Guide "Madam, I can help you so you will know what you can photograph."
"No thank you, we don't want a guide."
"Madam, you are going the wrong way, you need a guide.  How much do you think is fair."
"No thank you, we don't want a guide, Now please go away."
"Give me 100 dirham, and I will go away."
Are you kidding me?  He wants us to pay him to go away.  "I told you, I don't want a guide."
I can't decide if it was funny or annoying. So in the end, we never made it up to the top to see the view, but I did get a photo as we approached the white washed village: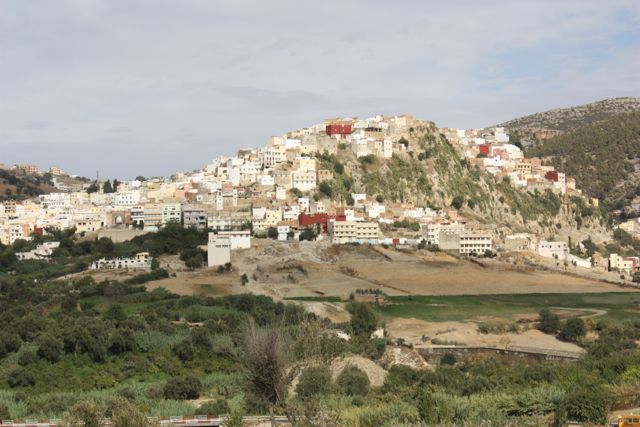 We also never saw the only round minaret in Morocco.  Nor did we see the famous tomb (although I am pretty sure we would not have been allowed inside anyway).  Who knows, maybe we did need a guide.
It was still a fun visit and we bought some bananas – a new staple food for us.
Here some of my photos:
And if all that wasn't enough, the taxi engine wouldn't start when we returned.  Our driver hopped out and started pushing us backwards, lining us up to go downhill.  Then a few of his mates joined in, and suddenly we were coasting downhill until the engine turned over.
What do you think, did we need a guide in Moulay Idriss?
Unless otherwise noted, all photos on this page ©Rhonda Albom 2012
Seven ridiculously simple tips that WILL improve your photos
Whether you shoot with a phone or a DSLR, let me share my secrets.
Subscribe to Albom Adventure's Travel Tips newsletter and download our free ebook: Take Better Travel Photos By Rhonda Albom