Whether or not you believe in ghosts before you arrive, you may leave haunted St Augustine as a believer. One of the most haunted cities in Florida, nearly every local we spoke with had St Augustine ghost stories to share.
Many were consistent, the same ghosts spotted in the same spots on multiple occasions. Too many for a coincidence. But some were different.
And don't come preconceived as to what a ghost looks like. Only a fraction of hauntings manifests as full-body figures.
Some involve orbs, while others are translucent circles or vortex funnels. Whichever form the apparition takes, there is no shortage of haunted St Augustine stories.
The legends and stories even fascinate non-believers (like my scientist husband).
And that's not all. St Augustine is the oldest continuously inhabited European settlement in the United States. As a result, old-world charm and Spanish influence surround the hauntings.
Why is St Augustine haunted?
Some say it's just time; any city this old would obviously have ghost stories to tell.
Others say it dates back to a boat arriving in 1821 that brought with it yellow fever, ultimately wiping out about one-third of the city's population. Perhaps many of the casualties didn't like being in the mass graves.
Regardless of what you believe, one of the best ways to enjoy this town is with a ghost tour. Of course, you can visit the town on your own, but for me, it was the ghost stories that really brought haunted St Augustine alive … or should I say paranormally aware.
Our ghost tour choice and recommendation is the Ghost and Graveyard Tour. There is more about it and other tours below.
Haunted places in St Augustine Florida
There are so many haunted St Augustine venues, street corners, and private residences it would be hard to miss them all. Here are what we found to be the haunting highlights.
City gate
Castillo de San Marcos
Potter's Wax Museum
Old Jail
Lighthouse and Maritime Museum
Huguenot Cemetery
Tolomato Cemetery
Harry's Seafood Bar and Grill
Spanish Military Hospital Museum
Start at the city gate
Welcoming visitors to the city or at one point, keeping those unwanted out, the city gate stands at the end of St. George Street.
Sometimes Elizabeth, the gatekeeper's daughter, smiles and waves to passers-by. Dressed in colonial-style clothing, her apparition appears so real that people often ask shopkeepers about her.
She is one of the many who died of yellow fever in the 1820s.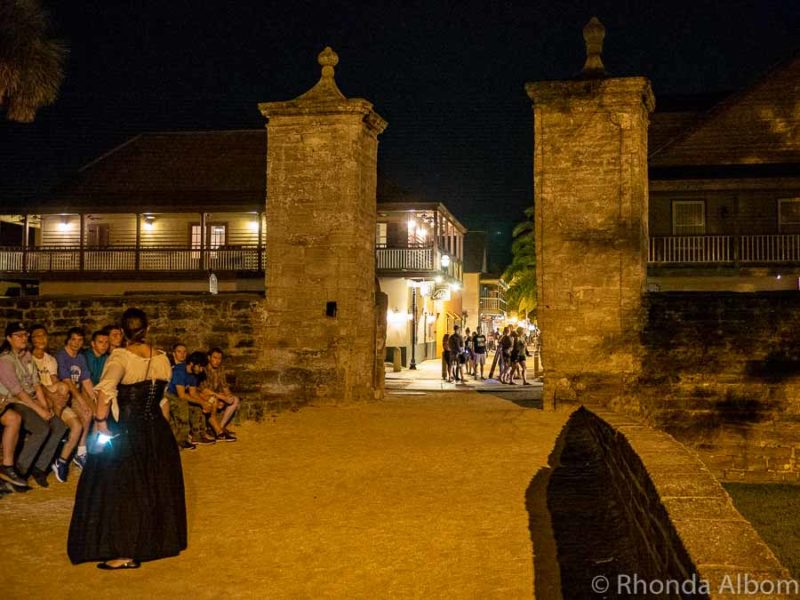 Castillo de San Marcos
How could a 17th-century fort that has flown the flags of five different countries over time not be haunted?
Open for self-guided tours during the day, Castillo de San Marcos is a United States park service national monument. Inside, we can walk the rooms, climb to the parapets, or watch a live cannon demonstration with men dressed emulating the days of Spanish occupation. As such, they wore upwards of 30 pounds of clothing.
Castillo de San Marcos is so haunted that the Travel Channel did an episode here as part of their Ghost Adventures series. Watch it on YouTube.
We also returned and walked by after dark. A giant crack in the exterior wall of the fort looks really eerie when lit up at night, especially after hearing some of the ghost tales from inside Castillo de San Marcos.
Potter's Wax Museum
Potter's is the first wax museum in the United States.
Entry is through an old apothecary. In fact, the building is one of the most haunted places in St Augustine.
We visited Potter's Wax Museum as part of our Ghosts and Graveyard tour, but many of the wax displays were covered at night. If we had more time, I think this is one place we could go back and visit during the day.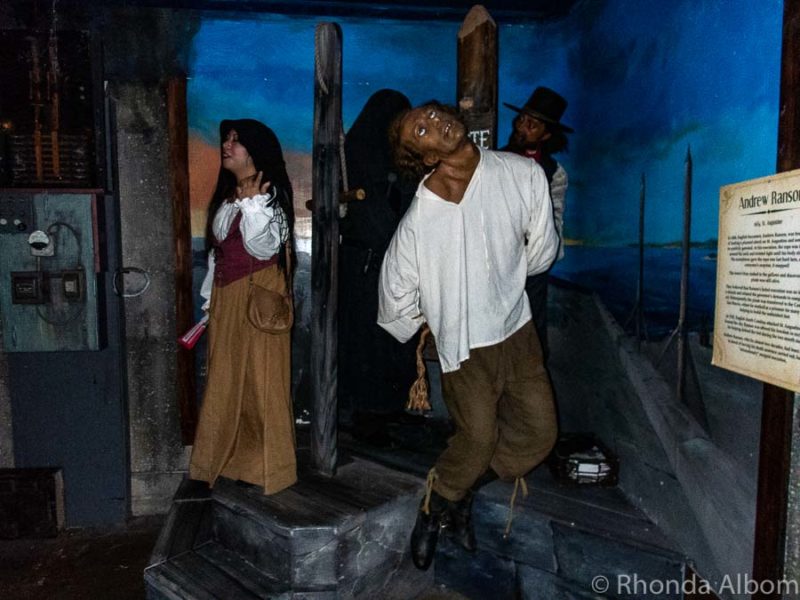 Authentic Old Jail St Augustine
We also visited the old jail at night as part of our Ghosts and Graveyards tour.
A very talented 'former inmate' guided us. As a result, he shared personal stories that brought the place to life.
At one point, we were locked into a maximum-security area for a few moments while our guide slinked around the outer area, recounting creepy tales as he passed the individual cells. It was scary but not too frightening for the kids in our group.
While we have visited jails in cities all around the world, there is something special about this one. An eeriness, possibly from the ghosts that lurk in the hallways.
Or, visit the old jail in the daytime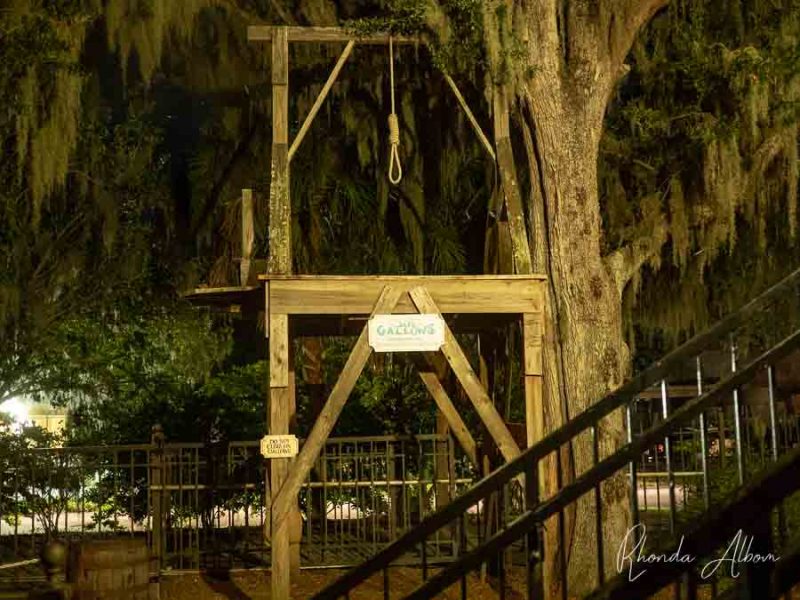 Lighthouse and Maritime Museum
A climb to the top of the lighthouse is rewarded with lovely views of St Augustine.
It was built in the 1870s and haunted right from its beginnings. If you stand quietly outside the lighthouse and listen, they say you can often hear the laughter of three girls who died there in 1873 when they were playing inside a construction railcar that broke away and fell into the sea.
And the girls are not the only apparitions. There is also the smoking man, whose smoke is reportedly smelled more often than he is seen.
Huguenot Cemetery
Outside the city gates at the north end of St. George Street sits the Huguenot Cemetery.
Closed to new burials since 1884, it is the final resting place for many of those who succumbed to yellow fever. The mass graves hold up to 25 bodies. Only the name of the one on the top of the stack is listed on the stone.
We didn't get a chance to visit here, but many who do report seeing footprints, hearing voices or even seeing full-body apparitions walking.
Tolomato Cemetery
We stood outside the cemetery gates in the dark of night while our guide told one unusual story after the next.
The apparitions seen here are rarely noticed with the naked eye but are often found later in images shot without a flash.
As I combed through my first images, I found nothing out of the ordinary. Later I returned and shot the image just below. Those green lights were not visible when I took the shot, and there is nothing nearby to reflect them.
Could it be an apparition our guide described? Or is it just a reflection of city lights that I don't see?
Harry's Seafood Bar and Grill
Catalina de Porras lived in a building that is now Harry's Seafood Bar and Grill until she was ten years old, and the British had taken over the city, forcing her family to Cuba.
Later she returned, and today she walks the hallways, mostly on the second level.
The upstairs women's bathroom is considered the most haunted space in the building. However, when I identified myself, I was denied permission to take an interior photo.
It left me wondering if the apparition is "enhanced" like the one in the Moss Beach Distillery in California.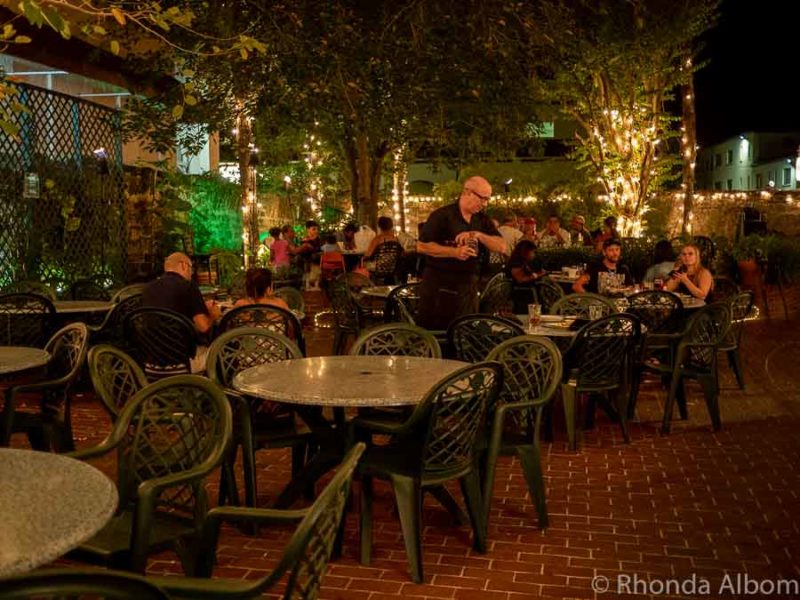 Spanish Military Hospital Museum
We didn't visit here, but it has the haunting reputation of many old military hospitals. The guided tour witnesses surgeries and the creation of apothecary medicines, as well as discusses many of the herbs that were used and how they are still used today.
Take a St Augustine ghost tour
If you spend money in only one place in haunted St Augustine, make it a ghost tour.
We prebooked (and loved) the Ghost and Graveyards tour, one of many optional evening St Augustine ghost tours. It was a perfect mix of storytelling, sites, walking, riding (on a trolley), and fright.
While one guide stayed with us for the duration of the tour, she is part of a team of talented individuals who know how to tell spooky stories.
Prebooking turned out to be one of our better choices. Even with tours starting every 20 minutes from 6 pm, by 6.30 pm on the evening we went, they were fully booked until 11 pm.
Here are a few tour options; the one we did is at the top of the list and the only one we can personally recommend.
TOUR
HIGHLIGHTS
DURATION
Ghosts and Gravestones Tour
Trolley and walking tour
Guides tell ghostly stories of St. Augustine's past
Cemetery, wax museum, and jail visits
This is the tour we did.
80 minutes

Secrets of St Augustine Ghost Tours

Guided walking tour




Tales of trauma and tragedy




Visit the Hugenot Cemetery and the old city gates




Small group size (15 max)

75 minutes

Haunted Stroll Through Old St Augustine

Guided walking tour




Visit the Old Fort and Love Tree Cottage




Small group size (10 max)




Good for families

90 minutes
Where to stay in St Augustine Florida
Haunted St Augustine hotels
If you're reading this article, then you probably believe, at least a little, in the paranormal. But do you trust it? How brave are you? Will you stay in one of the haunted hotels in St Augustine or not? Here are two top picks in the historic district, all with great reviews:
St. Francis Inn
If ghosts are what you hope to see, ask to be on the third floor of this classic historic inn. Located in the historic district, it's the attention to detail that will keep you smiling. Fresh flowers and sherry, along with individually decorated rooms, make this the ideal romantic getaway or take a larger unit for families (children aged 5+).
If you just want the ambiance but don't want to think about the hauntings, request a room on the first or second floors. Reserve your room at St Francis Inn
Casa de Sueños
Also located in the historic district, Casa de Sueños is a charming bed and breakfast with exceptional reviews. It's perfect for a romantic weekend.
If you're lucky, you might meet Randolf, their playful resident ghost. Occasionally spotted, Randolf is well known for moving things around. Nothing goes missing for long, as Randolf always returns anything he borrows. Reserve your room at Casa de Sueños
Casa de Solana
Another haunted and quaint bed and breakfast in the historic district, Casa de Solana guests have heard whispers or footsteps, felt gentle touches, and even had things mysteriously moved.
The best places to experience this are the common areas of the courtyard, parlor, and dining rooms, as well as the Montejurra Room and the British Suite. Reserve your room at Casa de Solana.
More St Augustine hotels
If haunted hotels are not your thing, we recommend staying in the historic district so you can walk everywhere (parking isn't that easy in this town). The hotel options vary from hostel to luxury and from old to modern. Check for other hotels in St Augustine.
Tips for visiting haunted St Augustine
Head straight to the St Augustine historic district when you arrive.
Arrive with an open mind. Even if you don't believe in ghosts, listen to the stories and the legends and find the grain of truth that somehow became a ghost story.
While there seems to be plenty of public car parking, it fills quickly and finding a car park is often and difficult. We recommend getting an early start as we found parking before 10 am to be pretty easy.
If you prefer transportation, consider the Old Town Trolley Tours.
If you are on a budget, choose your activities carefully. Nearly all of the things to do in St Augustine come with a price tag.
Driving up the east coast, or any USA road trip, St. Augustine makes a great stop.
Ghost stories and hauntings aren't the only activities; there are plenty of other unique things to do in St. Augustine.
Save on your trip with these resources
These are our go-to companies when we travel. We believe this list to be the best in each category. You can't go wrong using them on your trip too.
Flights: we use Expedia for the best and cheapest flight options.
Accommodations: we use Booking.com (hotels) or VRBO (self-contained).
Cars (gas or electric): we use RentalCars to search for deals and dealer ratings.
Campervans or Motorhomes: we use Campstar where Albom Adventures readers get a 3% discount
Private guides: we love the private guides at Tours by Locals
Travel Insurance: we start at InsureMyTrip as they are the best option to compare plans and find the right coverage for you.
Check out our travel resources page for more companies that we use when you travel.
Save for later
If you enjoyed this article, please share it on social media and save it for later on Pinterest.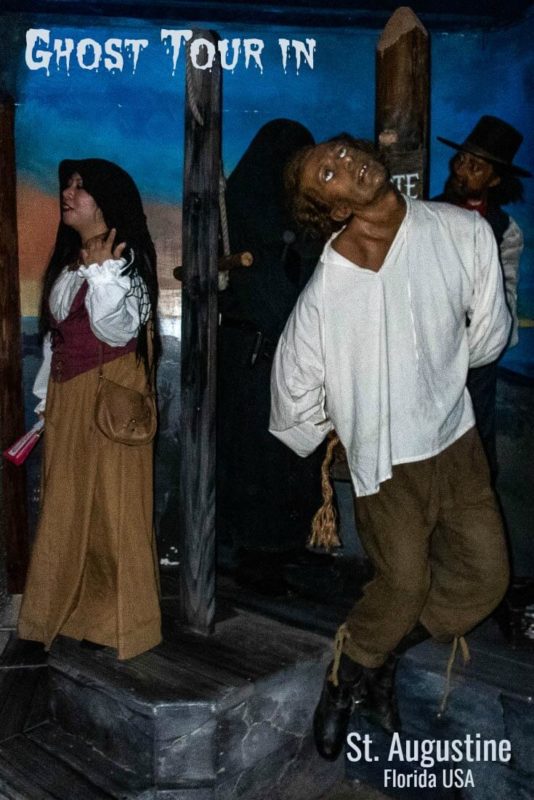 Which haunted St Augustine site will you visit first?
More creepy places you might like
Disclaimer: We worked with Florida Historic Coast, the local tourism board. Also, we were provided with many complimentary entrances, tours, sample items, or media rates to assist in the writing of this review. The opinions expressed here are strictly our own.