Grauman's Chinese Theater (now called TLC Chinese Theater) is an icon in Hollywood. It is home to the courtyard where the stars are invited to leave hand and/or footprints. It's where they are immortalized forever. A tradition that has been going on since the 1920s, it is a huge honour to be invited to leave a print. Nowadays the ceremonies are an event in their own right. None were going on when we were there. However, we had plenty of time to walk around and compare our hands and feet to the stars.
Note: Based on world conditions, we advise checking official channels including cancellation policies prior to booking. Also, with often reduced capacity, booking ahead becomes more important.
Modern favourites at Grauman's Chinese Theater
The cast of stars from Harry Potter. I can't even imagine how large the crowds were on the day they were here to cast their hand and footprints. I know that today it was one of the more popular squares, with a small queue for a turn to have your photo with the stars. After spending time in England chasing down some of the Harry Potter filming sites, this didn't surprise me at all.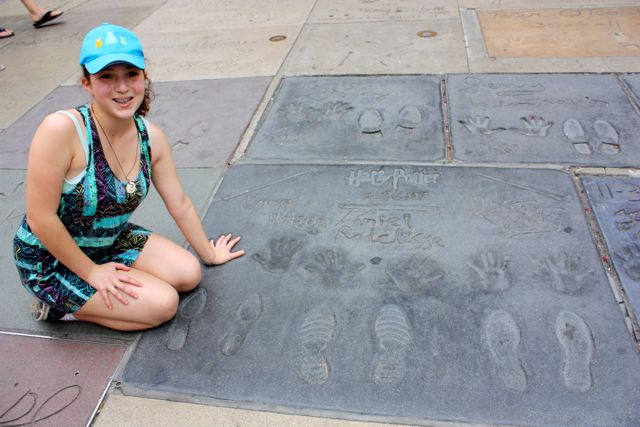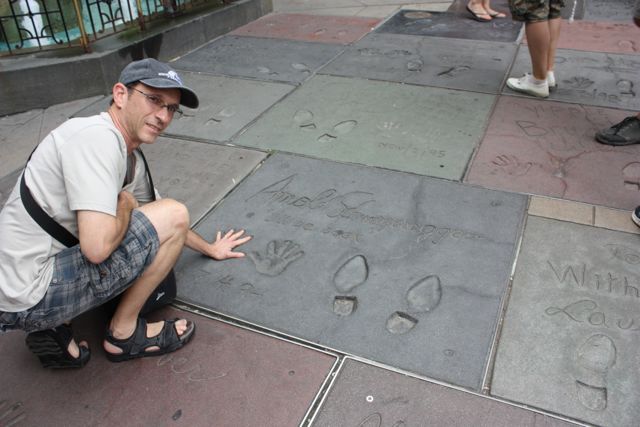 Classic favourites at Grauman's Chinese Theater
The first handprints were of Norma Talmadge on opening day May 18, 1927. I was too star struck by the names I know to spend time looking for the first prints.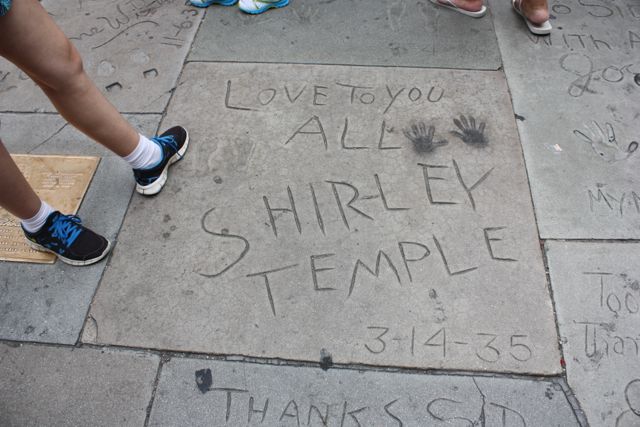 A message instead of footprints at Grauman's Chinese Theater
Many of the older hand and footprints include personal notes to Sid Grauman. Others, like the one from the mayor, offer a more general congratulations, mentioning Mann, the owner at the time.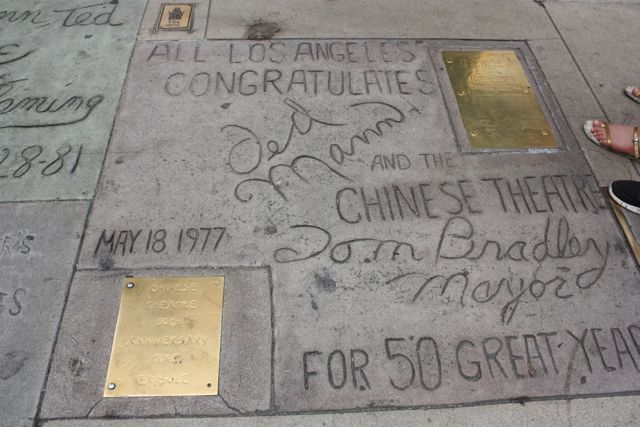 High heels make tiny footprints at Grauman's Chinese Theater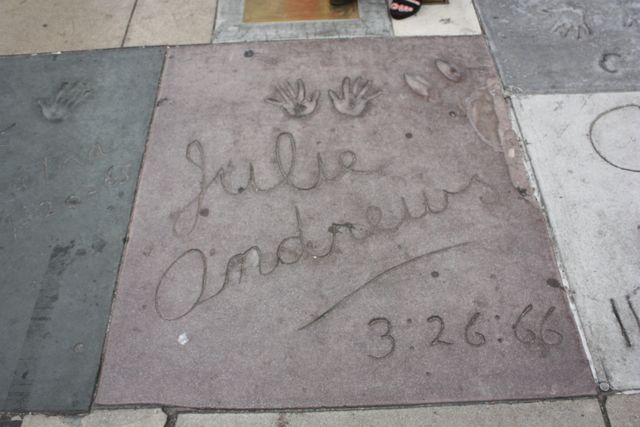 Believe it or not, New Zealand has their own celebrity walk, complete with hand and footprints of New Zealand heroes and superstars like Sir Edmund Hilary, Peter Blake, and Rachel Hunter. It's located in Auckland.
See more of Hollywood
The sidewalk of the stars on Hollywood Blvd
I will admit, Grauman's Chinese Theater is one of those completely touristy places, yet I just had to visit. Located on Hollywood Blvd, it's an area filled with tourists, a camera in every hand. If Grauman's Chinese Theater isn't enough, just outside the theatre, along Hollywood Blvd is the sidewalk of the stars, another opportunity to look for some of our favourite names.
There is a similar, although a much smaller version of the Sidewalk of Stars in Nashville, across the street from the County Music hall of fame.
All photos on this page © Rhonda Albom 2013
Practical and Interesting Information
Grauman's Chinese Theater is not the current name. In fact, it hasn't officially been called Grauman's Chinese Theater since 1973, although it has changed names a few times since that time. In 1973, it renamed to Mann's Chinese Theatre, a name which lasted until 2001 when it converted back to its original name, Grauman's Chinese Theater. This lasted for 11 years until 2013 when it became TCL Chinese Theatre, its official name today.
It is primarily a movie theater. And in 2013, TLC merged with IMAX creating one of the largest movie screens in North America, in a theatre that holds 932 people. Both the star walk and concrete slabs with footprints and handprints remain, despite the new owners.
The theatre is located at 6925 Hollywood Blvd in Hollywood, California USA.
Grauman's Chinese Theater held its grand opening in 1927 with the premiere of Cecil B. DeMille's The King of Kings.
It has hosted three Academy Awards ceremonies.
Best of all, seeing the hand and footprints is one of the free things to do in Los Angeles.
Allow plenty of time to walk around and compare our hands and feet to the stars.
Still want more glitz and glamour, located right next is Madame Tussauds Hollywood.
If you are star struck like me, you might enjoy these Hollywood Stories.
Sometimes, my family makes a bit of fun of me for being so star struck, but I will be the first to admit, I had a great day.
Have you been to Grauman's Chinese Theater? Which hand and footprints will you look for first?