Wellington New Zealand has great coffee. A moment inside the Mojo Wellington coffee roasting facility is all it takes to know why.
Actually, we knew before we arrived. The earthy, nutty aroma that can only mean we are near a coffee roasting plant drew us in. It permeated the air as we walked along the waterfront with a mix of two of my favourites: coffee and chocolate, the aroma is distinctive.
It called to us, and we couldn't resist. After all, Jeff is really into coffee and even roasts his own beans.
Lead by our noses, we arrived at Mojo's huge coffee roasting facility in historic Shed 13 on Wellington's waterfront.
Inside Mojo Wellington headquarters
It's a working factory, not an open-to-the-public building. However, Jeff had to see how the big boys do it.
We didn't just wander in through an open door, we asked for permission to wander, photograph, and share here.
Mojo's coffee roasting in Wellington process
Recently delivered sacks of green coffee beans recently. (In fact, they were delivered at about the same time as we arrived. As we entered through the same door, it's possible it was only open for the coffee delivery.
Coffee is moved from the bags to these huge silos, each storing single-origin green (raw, not yet roasted) coffee beans.
After the beans are roasted, stirred to cool them quickly.
Once cooled, beans are poured into these bins to be blended later.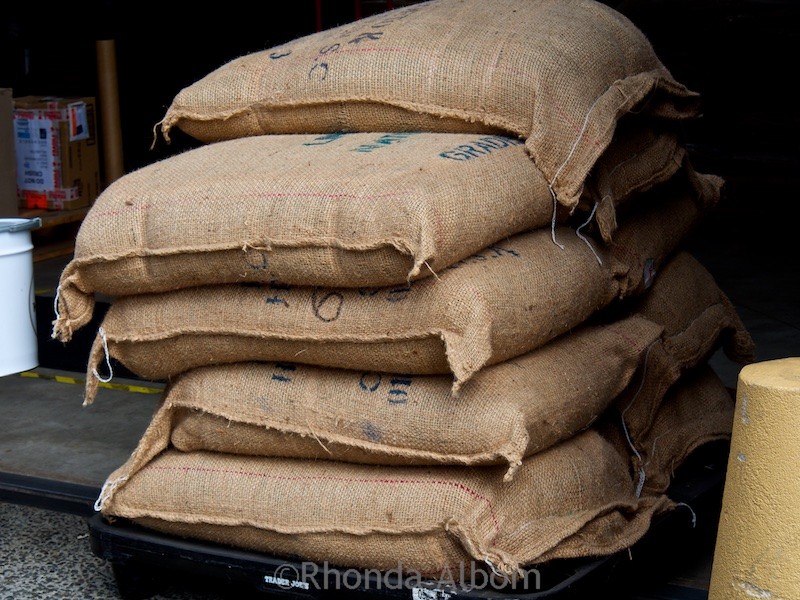 Mojo coffee
Mojo has six significant origins of its beans (Guatemalan, Ethiopian, Brazilian, Colombian, Papua New Guinean and Tanzanian) plus several smaller sources.
They roast 500 -600 kg of coffee beans daily at this facility in single-origin batches of 50kg. This allows optimisation of flavour for each origin.
Mojo blends individual batchesto create its signature brands.
Here are a few more shots of the facility:
More on Mojo Wellington:
Mojo does not offer public tours of this coffee roasting facility.
Roasted in Wellington, Mojo coffee is a New Zealand brand.
Mojo has 22 cafe locations in the capital city and an additional 11 in Auckland. At the time of writing this article, they are in Japan and China and hoping to enter the US market.
In addition to their own cafes, many independent Wellington restaurants serve Mojo coffee.
If you are in New Zealand, you can subscribe to Mojo for home delivery.
While I am generally not a fan of chains, Mojo is one brand that I will select. It is consistently rich, smooth and exactly the way I think coffee should taste.
Visiting Mojo is one of many Wellington activities that keeps us busy when we visit New Zealand's capital city.
Save on your NZ trip with these resources
We usually start with aggregator companies as they do the work for us by providing a list of options, prices, and reviews. However, we also added a few personal NZ favourites:
Before you book the rest of your trip: Check out our travel resources page for more companies that we use when you travel.
We believe this list to be the best in each category. You can't go wrong using them on your trip too.
Save for later
If you enjoyed this article, please share it on social media and save it for later on Pinterest.
Do find the aroma of the coffee roasting in Welling to be irresistible?
More from Wellington …