We go to a beach in Palamos nearly every day in the summertime. What else does one do when staying on the Mediterranean coast without air conditioning?
Palamos is a moderately sized city (population 17,000+) located in the Costa Brava region of Northern Spain. Situated on the Mediterranean Sea, it and the city of our long term home exchange. (We swapped our home and car with a family in Spain. If you're a homeowner, home exchange is one of the most economical ways to travel, especially if you want to stay a while.)
⇒ Check out Love Home Swap, and get a two-week free trial
Note: Based on world conditions, we advise checking official channels including cancellation policies prior to booking. Also, with often reduced capacity, booking ahead becomes more important.
At the Beach in Palamos
I can remember the first day we went to the beach in Palamos. I don't know why I was so surprised to find topless women on the beach. The young, the old, the overweight, and the perfect. About 1/4 of the women on the beach are topless.
Not me. Not my girls.
Some of the women are laying and sunbathing, back or front side up. Others are sitting, reading or talking. Others are walking in or out of the water, and one rather large-breasted women is playing a ball and paddle game in ankle-deep water. Wondering if it is painful, I can neither look at her nor look away.
Hubby is doing fine. He says it doesn't bother him. Here are my G-rated photos of the beach in Palamos: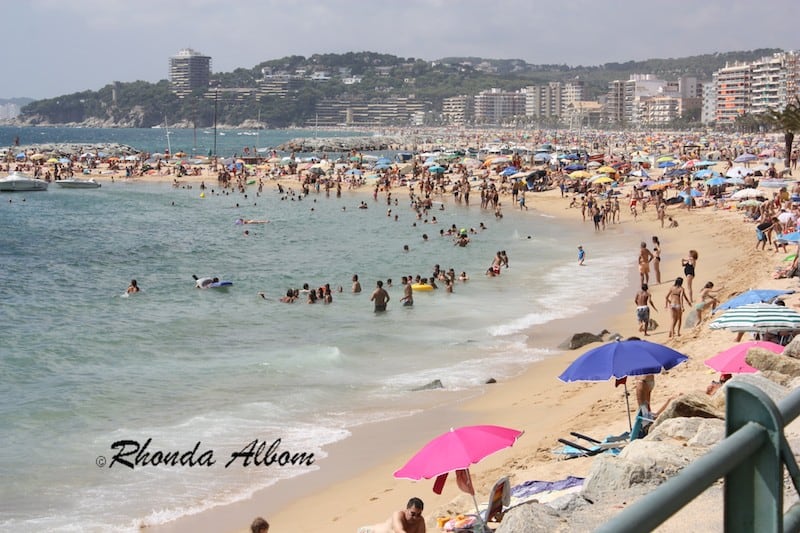 All photos on this page © Rhonda Albom 2012. All rights reserved.
Explore Other Costa Brava Beaches
Our Daily Routine in Palamos
Like many of our neighbours in Palamos, we follow a typically Spanish summertime daily routine. It involves a walk (or drive if we are feeling lazy) to the farmers market for fruit and vegetables, a stop in a bakery for some bread, and either a trip to the docks for fresh fish or the butcher for meat. Then we are home for a substantial lunch, siesta, study, and then off to the beach in Palamos. In the late afternoon, our girls head off to their youth group, then hang at the park, and we typically have dinner around 9 pm.
Have you been to the beach in Palamos or any other Spanish beaches?