Cruising into Venice Italy is one of those magical travel moments. For us, it was several years ago, and we were on the NCL Spirit. We stood at the bow of the cruise ship, and despite the crowds, looking out it was captivating.
I shared my photos of Venice from the ship, but for some reason these remained in my files until today. I was inspired by the Italian AFS student we are hosting. The more we learn about Italy, the more fascinating we find it. Naturally, this led me back to our photos.
A few facts about the Port of Venice: 
Arrival by sea travels through the Venetian Lagoon, which is how I was able to capture all the shots above.
The port of Venice is the eighth busiest commercial port in Italy as well as being one of the busiest cruise ports in the Mediterranean.
Annually, nearly 500 ships arrive and depart carrying 700,000 cruise passengers from 32 different cruise lines.
Wondering what to do once you arrive? Check out what we did or Rick Steves' Mediterranean Cruise Ports
Have you been to Venice? How did you arrive, via plane, train, or were you cruising into Venice?
If you enjoyed this article, please share it on social media and pin it: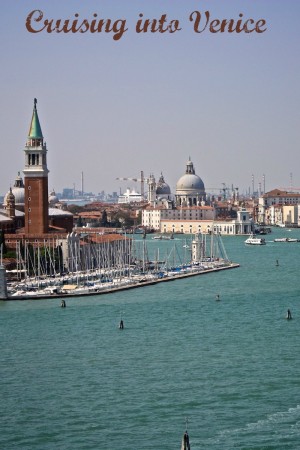 This post is linked at BeThere2Day, Through My Lens, Monday Escapes,Our World Tuesdays, Ruby Tuesday Too, Life Thru the Lens, Travel Tuesday, and Outdoor Wednesday.