Breathing in, I can always tell when we are nearby coffee roasting. To me, the earthy, nutty aroma is a mix of two of my favourites: coffee and chocolate. I know there is no chocolate involved, but it triggers that part of my brain.
Hubby is really into coffee roasting. So much so that he roasts his own beans and took coffee training last year. Lucky for me, he consistently makes the perfect latte.
When we noticed Mojo's huge coffee roasting facility in historic Shed 13 on Wellington's waterfront, hubby had to see how the big boys do it. We wandered in:
Mojo has six significant origins of its beans (Guatemalan, Ethiopian, Brazilian, Colombian, Papua New Guinean and Tanzanian.) plus smaller sources. They roast 500 -600 kg of beans daily at this facility in single origin batches of 5okg. This allows optimisation of flavor for each origin. The individual batches are then blended to create their signature blends.  Here are a few more shots of the facility: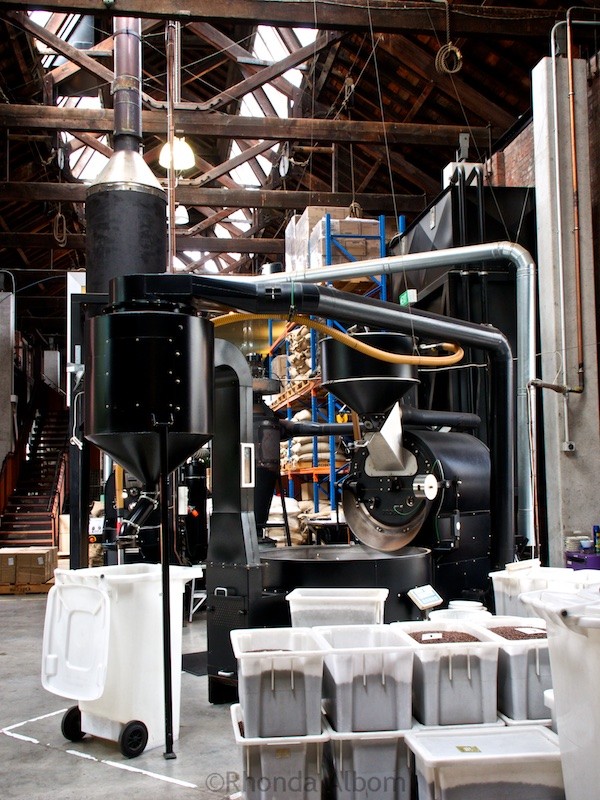 Practical Information: 
Mojo does not offer public tours of this facility. We asked permission to enter and take these photos.
Mojo coffee is a New Zealand brand, roasted in Wellington. They have 22 locations in the capital city and an additional 11 in Auckland. They are also in Japan and China and hoping to enter the US market.
If you are in New Zealand, you can subscribe to Mojo for home delivery.
While I am generally not a fan of chains, Mojo is one brand that I will select. It is consistently rich, smooth and exactly the way I think a latte should taste. I would rate it second best, following behind the one hubby makes for me each morning.
Do you do your own coffee roasting? Where do you get your favourite cup of coffee?
This post is shared for:


Weekend Travel Inspiration is co-hosted by: me (Albom Adventures), Reflections Enroute, TheCrowdedPlanet, ContentedTraveller, Safari254, Families Go! and Malaysian Meanders. Don't miss our new Weekend Travel Inspiration Facebook Page.

Ready, set, link!
1. Link one of your inspirational travel photos or stories to this post by adding your info.
2. Copy and paste our badge and a link to this page.
3. Visit some of the other wonderful travel bloggers, read their posts, and leave a comment. It would be great if you could comment on 2-3 posts.
4. Tweet it and include this hashtag. #wkendtravelinspiration.
5. Follow all the hosts of Weekend Travel Inspiration who are working hard to spread the word on what wonderful work travel bloggers are doing.

Loading InLinkz ...
If you enjoyed this article, please share it on social media and pin it:

This post also linked at:

The Weekly Postcard at Travel Notes and Beyond, Weekend Wanderlust at Justin plus Lauren, Photo Friday at Pierced Wanderings, and Sunday's in My City at the Unknown Mami.