A majestic estate just 25 km outside of Paris, the Palace of Versailles is world renowned for its opulent interior and dramatic gardens. The palace is enhanced in gold extravagance while the gardens are an immaculate example of symmetry and creativity. While it is a popular tourist destination, too many visitors skip it as they find it too difficult to get there. However, with or without a car, getting to Versailles from Paris doesn't have to be drama.
Note: Based on world conditions, we advise checking official channels including cancellation policies prior to booking. Also, with often reduced capacity, booking ahead becomes more important.
Skip-the-line when visiting Versailles
We earn from qualifying purchases through partnerships or affiliate programs.
You have to look past the massive crowds to really enjoy Versailles. One of the best ways to do this is with a skip-the-line entry ticket. Even better, skip the queue and have a guided tour:
Versailles skip-the-line ticket and guided tour: This is the option for those who make their own way to Versailles and want a small group tour, rather than an audio guide.
⇒ Check reviews and pricing
See below for more options, as well as options starting with travel from Paris to Versailles.
Visiting Versailles
Versailles is a popular Paris tourist destination for good reason. However, this means crowds, and with that comes long queues. Regardless of how you get here, our top two tips:
Get tickets in advance.
Pay the nominal extra fee to have tickets that skip the queue.
Arrive early, even before the palace opens.
Take a tour or get the audio guide.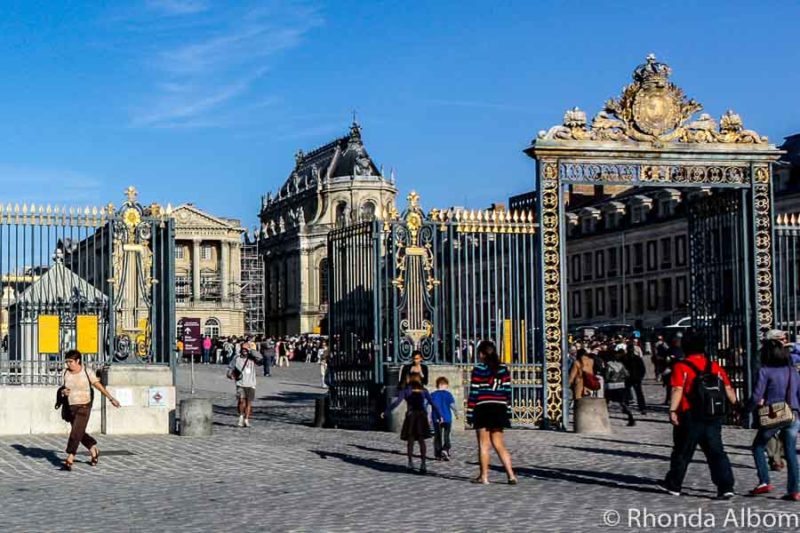 Inside the Palace of Versailles
Initially, a small hunting lodge built by Louis XIII in 1623, it was enlarged into a royal palace by Louis XIV.
We toured the interior before making it out to the world famous gardens. All of it is pretty incredible. Our entrance fee included a recorded tour of both the interior and exterior of the Palace of Versailles. They are available in 11 languages.
Great Hall of Mirrors
The Great Hall of Mirrors is the most famous room in the palace and is always crowded. I am sure the photos we often see of it empty are shot when the palace is closed to tourists. It was wall to wall people when we visited.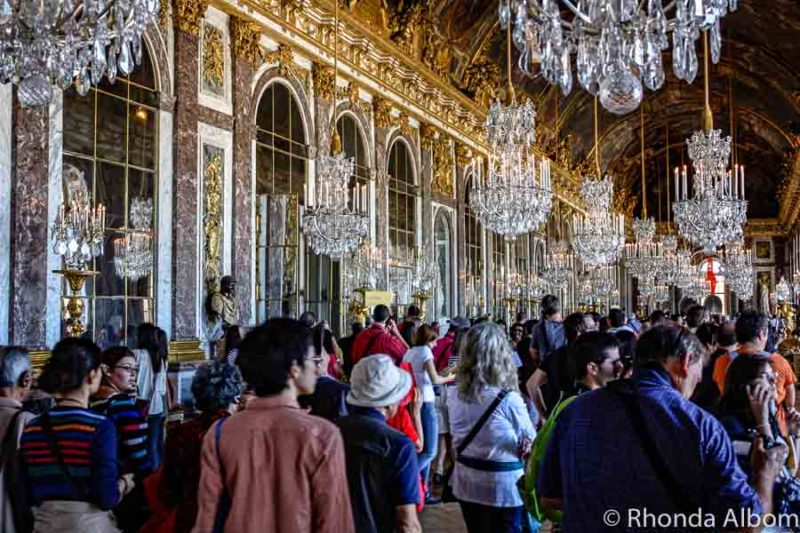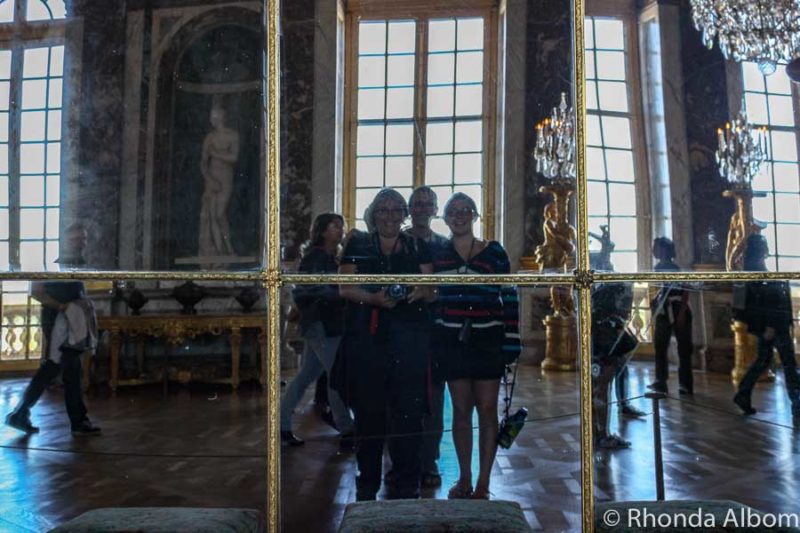 The Royal Chapel
While we cannot enter the two-story royal chapel, we can see it from the main level through an open doorway, or look down on it from the upper level. Only the king and court were allowed in the upper level.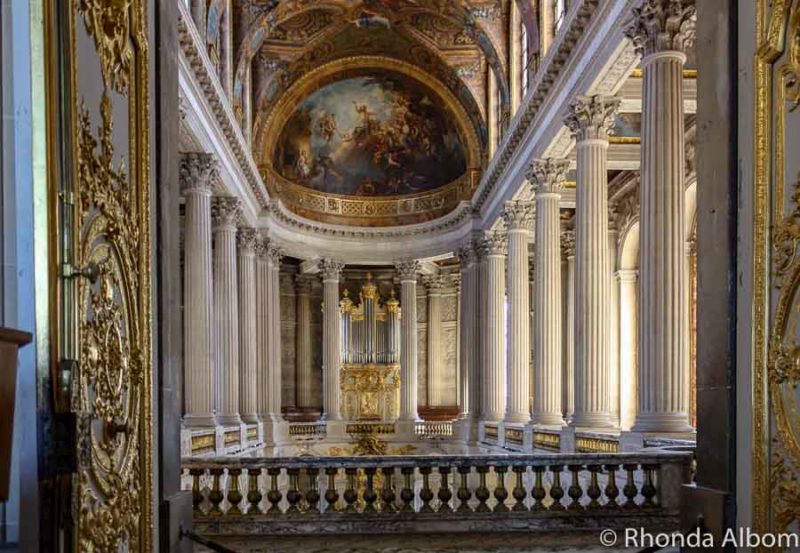 King and queen's bedchambers
The king and queen each had their own gold trimmed and elaborate bedchambers. Aside from the gold, red dominated the king's bedchambers as a symbol of his power. The Queen's bedchamber is also where she publicly gave birth. Historically, royal births were public events. This eliminated any question as to who was the heir, and confirms the baby was both a boy and alive at birth. In fact, in 1982 Prince William, the Duke of Cambridge became the first British royal to be born in a hospital.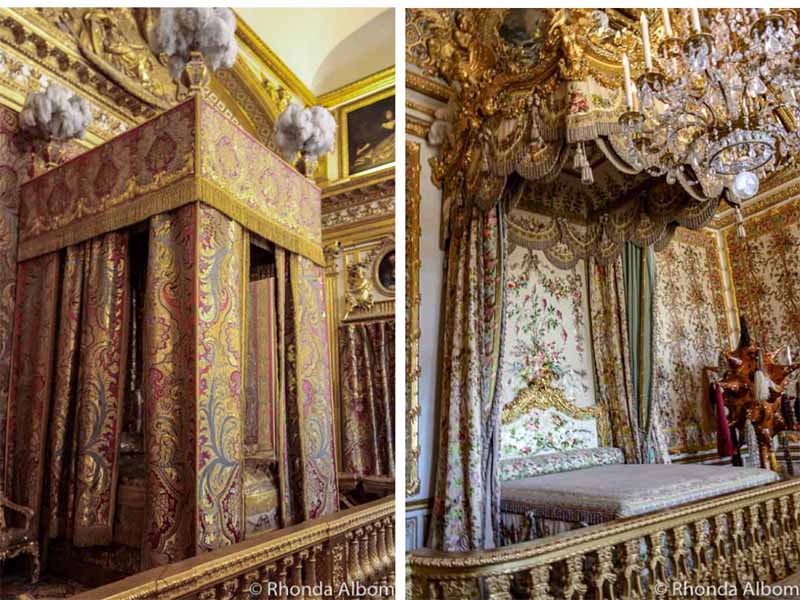 More Images inside the Palace of Versailles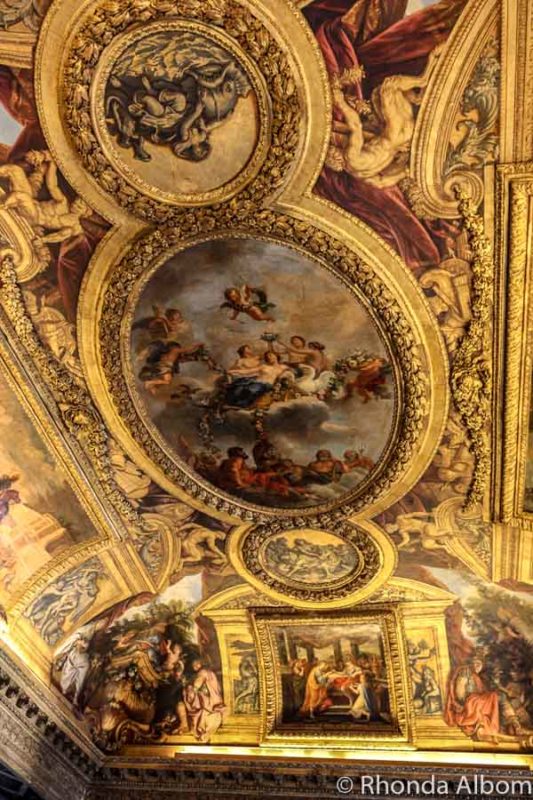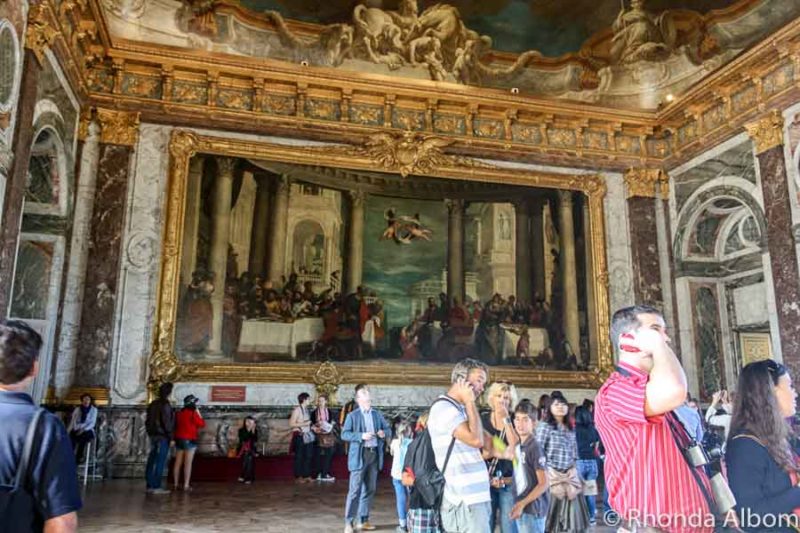 And then there was this odd art exhibit going on, with random, giant, out of place pieces of art everywhere. While fascinating in their own right, they were out of place and distracted from the palace ambience.
Gardens of the Palace of Versailles
The gardens actually have a fascinating history. You can read more about Versailles fountains and gardens here.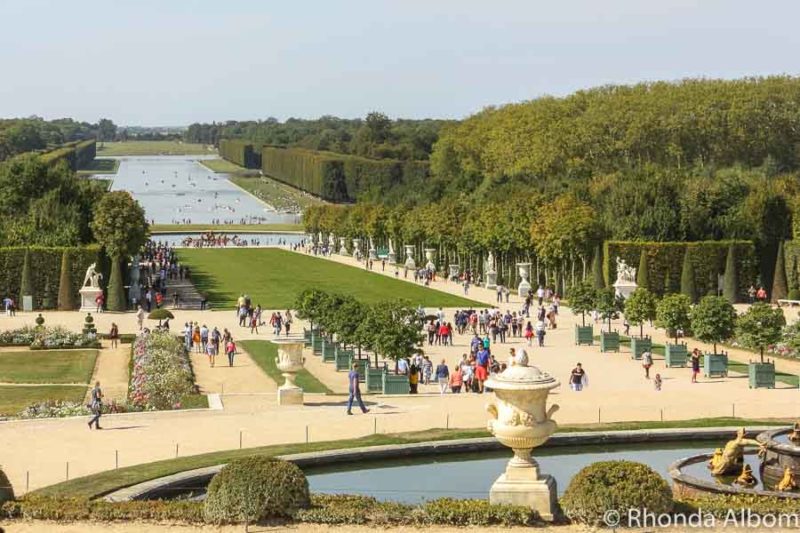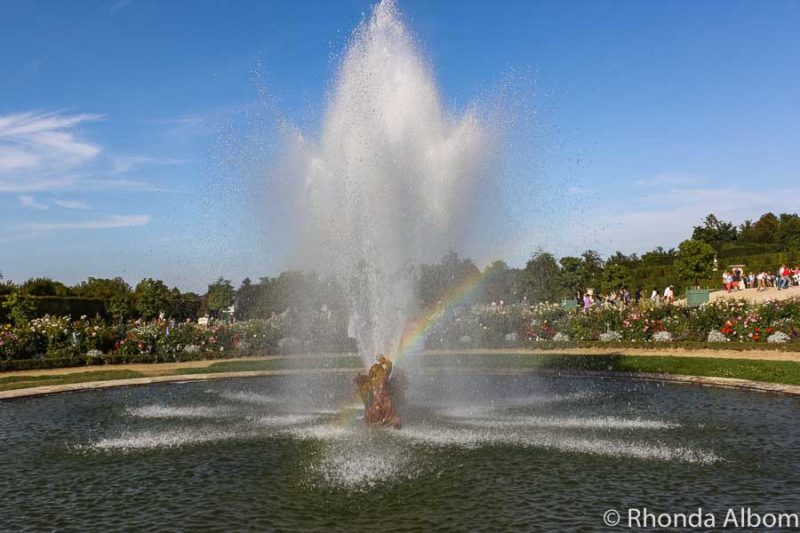 The fountain show is over one-hour long and takes place on Saturdays and Sundays from April to October. On Tuesdays and Fridays, there is a musical garden show.
Day trip from Paris to Versailles
When getting to Versailles from Paris, the train is the easiest way to arrive on your own, although you will have a ten-minute walk from the station to the palace. You can do it on your own, or with a tour package. Here are the best tour options we can find from Paris to Versailles.
Versailles by train with audio tour From Paris: This open-end option starts at a central meeting place. You will travel via train to Versailles. It includes a skip-the-line entry ticket and an audio guide or live guide option to the palace as well as time to explore the gardens. Your return train ticket is untimed, allowing you to stay as long as you want. ⇒ Check reviews and pricing.
Versailles by bus with an audio tour from Paris: This 4+ hour tour starts at a central meeting place. You will travel via air-conditioned bus to Versailles and have a skip-the-line entry ticket. Depending on date and option selected, your tour will either be half or full day and may include the audio guide (headset) and fountain or music show. ⇒ Check reviews and pricing.
Versailles with small group guided tour from Paris: This 8-hour tour starts with hotel pick up. You will travel in a small group via minibus to Versailles. It includes lunch, a Skip-the-Line entry ticket and a guided tour of the State Apartments and Hall of Mirrors as well as time to explore on your own. ⇒ Check reviews and pricing.
Palace of Versailles Full-Day Bike tour from Paris: This 8-hour tour takes the train from Paris to Versailles, and from there you will begin your bicycle ride through the royal forests, visit a food market in Versailles, have a picnic lunch (food not included in the price), then visit the palace where you will have time to wander on your own. ⇒ Check reviews and pricing.
Tours from Paris to Versailles and Monet's Giverny
If a visit to the gardens of the world famous impressionist Claude Monet is on your bucket list, you can combine it with a tour of Versailles. Both of our recommended tours include:
Entrance to Monet's house and garden
Skip-the-line entry at the Palace of Versailles
Guided tour of Versailles
The main differences in the tours:
From Paris: Small Group Tour to Giverny & Versailles: This 9-hour tour begins with pick up from your hotel. This tour does not include lunch. You will travel via minivan in a small group of not more than 8 participants. ⇒ Check reviews or book
Monet's Giverny & Versailles Palace Full-Day Trip from Paris: This 9-hour tour begins at a central Paris meeting location (at the Pullman Hotel near the Eiffel Tower). This tour includes lunch. Travel is via coach . ⇒ Check reviews or book
Tips for visiting the Palace of Versailles
This place is busy and crowded every day but most crowded on weekends and Tuesdays.
If you haven't pre-purchased a skip-the-line tour, get there early. It is less busy if you can be in the first group to enter for the day.
Times and access to different sections of the property vary by season and can be found here.
Be sure to get an audio set, available in 11 languages: French, English, German, Spanish, Italian, Russian, Mandarin Chinese, Japanese, Portuguese, Korean, and Polish.
Certain groups of people are entitled to free or reduced rates. Check here to see if you qualify. These include:

Visitors under 18
European Union residents under 26
School children
Teachers in French schools (upon presentation of their Education Pass)
Disabled people and the person accompanying them
French job-seekers (upon presentation of proof dated less than six months)
The Palace of Versailles sits not far outside of Paris. It, along with the Arc de Triomphe, are my favourite places to visit in Paris.
Regardless of where you go in the Paris region, there are lots of people. Don't miss our best tips for avoiding the crowds in Paris.
Save for later
If you enjoyed this article, please share it on social media and save it for later on Pinterest.
Have you visited the Palace of Versailles?