"Shall we head to Mutianyu or Badaling?" Initially, the question meant little. I just wanted to walk the wall, to stand on the Great Wall of China and entangle my thoughts on its history, mystery, and beauty. Being there was surreal, a moment I fantasised about for years.
Some say the wall reminds them of a massive dragon, as it travels across the mountains stretching nearly 8,900 kilometres (5,500 miles) from the east to the west of China. Built in sections through the Qin, Han and Ming dynasties, its history spans more than 2,000 years.  Improvements have been made to some sections, while others sit in ruins or have disappeared.
The two most commonly visited sections are Mutianyu or Badaling, as both are well preserved and easily accessible from Beijing. If you can't get there on your own, or just prefer a tour, we recommend any of the local Viator options. Viator is a Trip Advisor company.
Here's why we chose the Mutianyu section.
What to expect at the Mutianyu section of the Great Wall of China
Impressive surrounding forest views, even on a cloudy day. Arriving in April, we just missed the snow covered walkways and were ahead of the colourful spring flowers (although there were plenty of white blooms).
Substantially fewer visitors than Badaling (this was a selling point for us).
A  five-metre walkable path along the top of the wall that runs 5.4k m (3.4miles), with 23 watchtowers. Take time to notice three towers:  No. 1  for its large size; No. 6 as it has three hollow towers; and, No. 11 as it is on the branch wall (side wall).
Some areas are steep, especially the stairs at the end of the section.
One can walk or take a cable car up to the wall, while there is a luge option for the way down.
The Mutianyu section is open in summer from 8 am to 5 pm, and in winter from 8:30 am to 4:30 pm.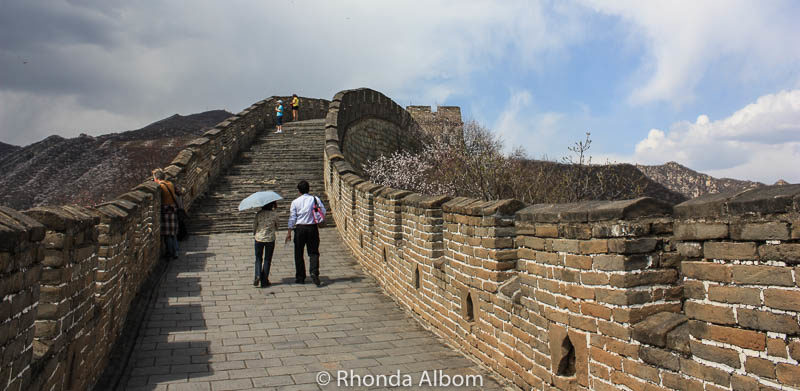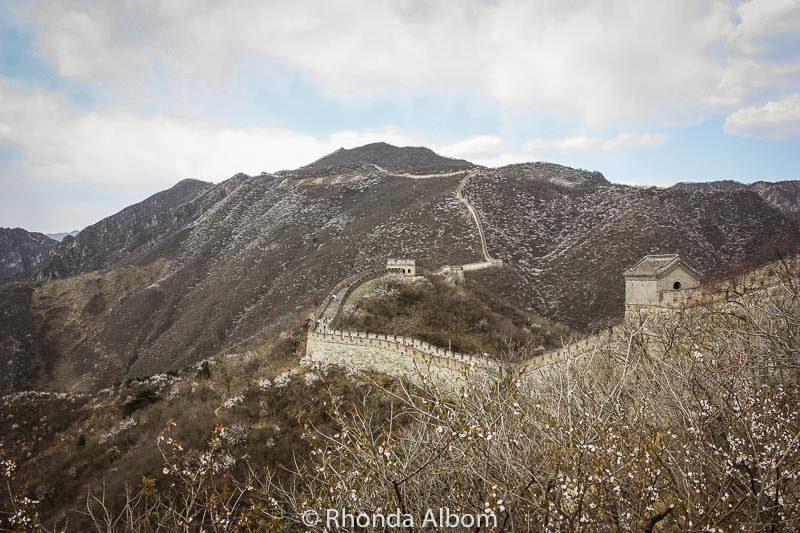 What to expect at the Badaling section of the Great Wall of China
Badaling is the best preserved, most complete, and most popular section to walk the wall.
It is nearly always crowded.
The portion of Badaling section open to tourists is 3.7 km (2.3 miles) long with 19 restored watchtowers. (The total length of Badaling is 12 km (7.5 miles).
It is easier to manage than Mutianyu. Both the path and steps at Badaling are less steep. Plus, handrails have been added to stairs at Badaling.
At 6 metres wide, this section of the wall accommodates five horses abreast.
It also has a cable car.
If you are an early bird or prefer a slightly later visit, Badaling is your choice as it is open in summer from 6:30 am to 7 pm and in winter from 7 am to 6 pm.
Viator is one of several tour companies bringing people here.
Tour Options from Viator Worth Exploring
While we had a private guide, we took a good look at the tours on Viator. At the time of publishing these articles, these tours all had great reviews. Click on any of them for more details.

Tour
Group or Private and durations
Highlights
Check pricing
Great Wall of China at Mutianyu
Group tour
7 hours

An air conditioned coach will bring you from Beijing for a morning walk and guided tour of Mutianyu with an English speaking guide. Next enjoy a traditional Chinese lunch and then a stop at a cloisonné enamelware factory.

(Note: This tour does not include the cable car)
Check pricing at Viator
Mutianyu Great Wall and Summer Palace
Small group (Maximum 12)
9 Hours

A profession guide will lead the Mutianyu tour that includes cable car or ski lift up (or opt for the 40 minute hike) and toboggan down as well as lunch in a local village and a visit to Summer Palace.
Check pricing at Viator
Mutianyu Great Wall, Tiananmen Square, and Forbidden City
Private tour
9 Hours
An English speaking private guide will take you to three key sights: Mutianyu Great Wall (ride the cable car up and toboggan down), Tiananmen Square, and Forbidden City. Tour includes entrance fees and lunch.
Check pricing at Viator
Great Wall of China at Badaling and Ming Tombs from Beijing
Group tour
8 hours
If the Badaling section is what you want, this full-day guided tour brings you there, plus takes you to explore the excavated courtyards of Chang Ling Ming Tomb, a magnificent Ming emperor burial site.
Check pricing at Viator
Great Wall of Badaling with Ming Tombs
Small group tour
8 hours

This is a smaller group option to see the Badaling section with a guide as well as a 500-year-old Ming Tomb. It also includes lunch and a stop at the Olympic stadium.

(Note: Tour does not include cost of cable car)
Check pricing at Viator
Badaling and Summer Palace
Private tour
7-8 hours
With your private guide hike the famous Badaling Section of the Great Wall. Then, after lunch, explore the royal park of Summer Palace.
Check pricing at Viator
Sleep on the Great Wall
Private tour
Two days
Spend a night camping on the unrestored Gubeikou section of the Great Wall. Your two-day experience will include some time walking on the wall as well as visiting Forbidden City, Jingshan Park, Tiananmen Square, Summer Palace, and Olympic venues. Meals, tents, and supplies included.
Check pricing at Viator

Great Wall Sunset Photography Trip From Beijing
Private tour
8-9 hours

The first stop is the Gubeikou Great Wall where your local English speaking photography guide will lead you to the best spots for capturing Gubeikou Mountain and its towers. Next, late lunch followed by a 1-hour trek along Jinshanling Great Wall for the most beautiful sunset views.

Check pricing at Viator
The tours listed here all start in Beijing. Most pick up from all hotels. Be sure to follow the link and read the details of any tour before signing up.
More Information:
The Great Wall of China is one of the Seven Wonders of the Middle Ages: Catacombs of Kom el Shoqafa (Egypt), Colosseum (Italy), Great Wall of China, Hagia Sophia (Turkey), Leaning Tower of Pisa (Italy), Porcelain Tower of Nanjing (China) and Stonehenge (England). To date, we have been to five of these. How many have you visited?
This post is a continuation of my throwback series encouraged by moving and reviewing 40,000 photos on Lightroom. Our original China articles had few and small images as we had limited bandwidth while in China. We also had limited access to social media (VPN needed for Facebook), so the photos seen here are previously unpublished.
Some of our other once-in-a-lifetime-experiences in China included standing in front of the Army of the Terracotta Warriors, watching as mama panda helps baby panda climb a tree, riding the world's fastest train, entering the Forbidden City, walking around Shanghai, and observing everyday life in Suzhou.
↓↓↓ Things you might want at either Mutianyu or Badaling ↓↓↓
Will you walk the Great Wall of China at Mutianyu or Badaling?
Here's the secret to packing light:
Download our free packing light checklist when you sign up for our newsletter.