"Shall we head to Mutianyu or Badaling?" Initially, the question meant little. I just wanted to walk the wall, to stand on the Great Wall of China and entangle my thoughts on its history, mystery, and beauty. Being there was surreal, a moment I fantasised about for years.
Some say the wall reminds them of a massive dragon, as it travels across the mountains stretching nearly 8,900 kilometres (5,500 miles) from the east to the west of China. Built in sections through the Qin, Han and Ming dynasties, its history spans more than 2,000 years.  Improvements have been made to some sections, while others sit in ruins or have disappeared.
The two most commonly visited sections are Mutianyu or Badaling, as both are well preserved and easily accessible from Beijing. Here's why we chose the Mutianyu section.
What to expect at the Mutianyu section of the Great Wall of China
Impressive surrounding forest views, even on a cloudy day. Arriving in April, we just missed the snow covered walkways and were ahead of the colourful spring flowers (although there were plenty of white blooms).
Substantially fewer visitors than Badaling (this was a selling point for us).
A  five-metre walkable path along the top of the wall that runs 5.4k m (3.4miles), with 23 watchtowers. Take time to notice three towers:  No. 1  for its large size; No. 6 as it has three hollow towers; and, No. 11 as it is on the branch wall (side wall).
Some areas are steep, especially the stairs at the end of the section.
One can walk or take a cable car up to the wall, while there is a luge option for the way down.
The Mutianyu section is open in summer from 8 am to 5 pm, and in winter from 8:30 am to 4:30 pm.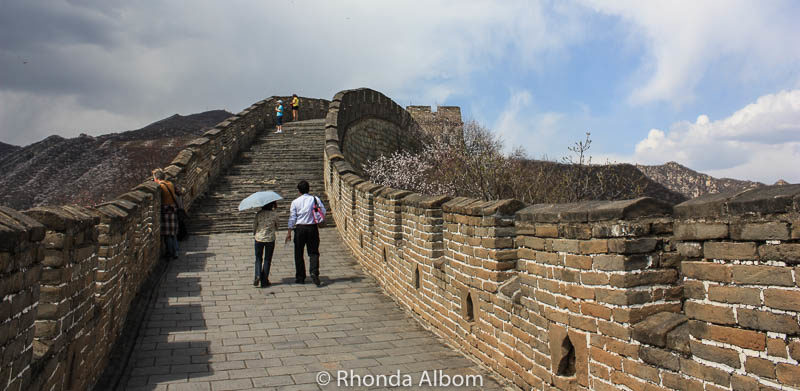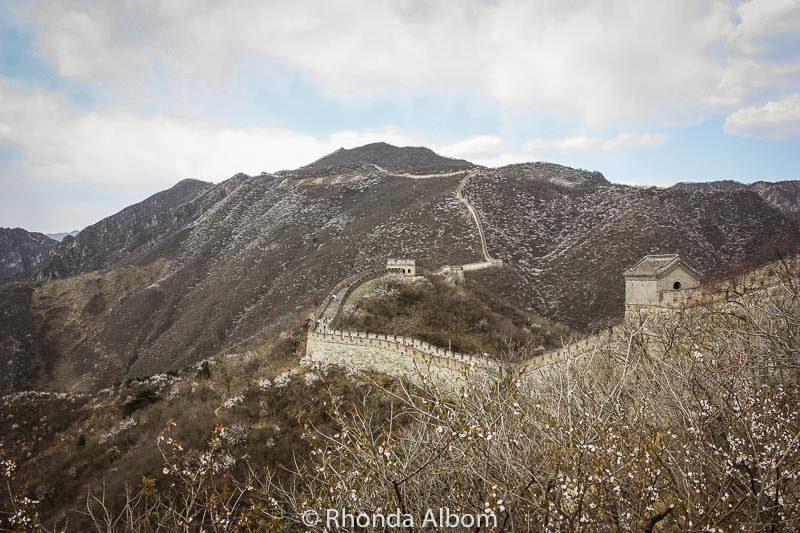 What to expect at the Badaling section of the Great Wall of China
Badaling is the best preserved, most complete, and most popular section to walk the wall.
It is nearly always crowded.
The portion of Badaling section open to tourists is 3.7 km (2.3 miles) long with 19 restored watchtowers. (The total length of Badaling is 12 km (7.5 miles).
It is easier to manage than Mutianyu. Both the path and steps at Badaling are less steep. Plus, handrails have been added to stairs at Badaling.
At 6 metres wide, this section of the wall accommodates five horses abreast.
It also has a cable car.
If you are an early bird or prefer a slightly later visit, Badaling is your choice as it is open in summer from 6:30 am to 7 pm and in winter from 7 am to 6 pm.
Viator is one of several tour companies bringing people here.
More Information
Please share this pin on Pinterest to help others walk the wall with us:
Have you visited the Great Wall of China? Did you walk the wall at Mutianyu or Badaling (or a different section)?
Seven ridiculously simple tips that WILL improve your photos
Whether you shoot with a phone or a DSLR, let me share my secrets.
Subscribe to Albom Adventure's Travel Tips newsletter and download our free ebook: Take Better Travel Photos By Rhonda Albom