Hoover Dam is a huge concrete arch-gravity dam on the Colorado River at the border between Arizona and Nevada in the USA. The building of it gave thousands of people work during the great depression. Construction started in 1931. The Dam was dedicated on September 30, 1935, by President Franklin D. Roosevelt.
We missed the tour as we were too fascinated by the Arizona desert on our USA adventure over. However, there is plenty of opportunity for photos: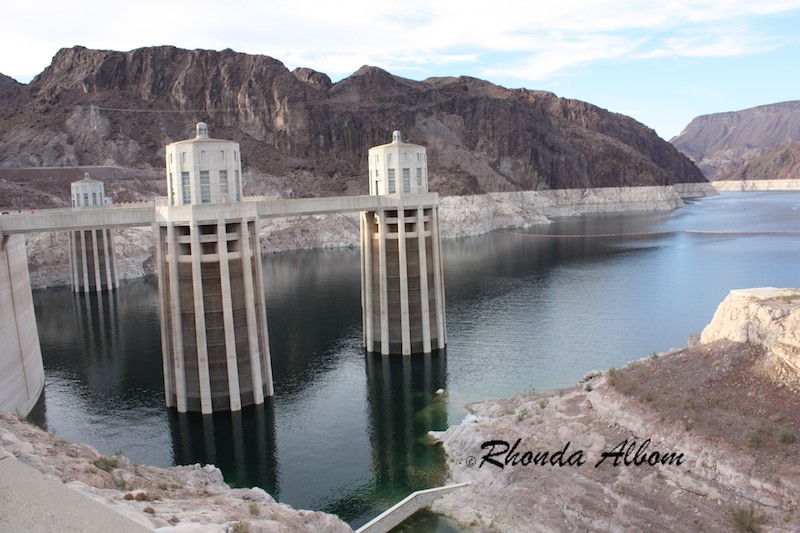 A Few Facts about the Hoover Dam and Freedom Bridge:
The Mike O'Callaghan-Pat Tillman Memorial Bridge is the USA's first concrete-steel arch composite bridge. It is also the widest twin-ribbed arch bridge in the Western Hemisphere and the highest concrete-arch bridge anywhere.
The Hoover Dam weighs more than 6,6 million tons.
More than five million barrels of concrete were used in making the dam.
When built in the 1930s, it was the world's tallest dam.
It took five years to build the dam, the power plant and the appurtenant works.
Hoover Dam is 33 miles from Las Vegas and takes only 45 minutes to get there with a vehicle. It is frequently visited as a day trip. Viator, a TripAdvisor company offers tours from Las Vegas.
If you prefer to also visit the Grand Canyon, but have limited time at the Hoover Dam, check out this tour:

→ Check pricing on day trips to Hoover Dam and Grand Canyon from Las Vegas

The most exciting nearby place to stay is Las Vegas. With over 100s of hotels to pick from, the options range from big casino on the strip, to quiet hotel in the desert, and everything in between:

→ Check pricing and availability on Las Vegas accommodations
Have you had a tour at Hoover Dam?