We had all seen Caesars Palace in the movies and on TV. It's a Las Vegas icon, and beautiful in person as it appears in the films, it was a fun place to visit. Although, we had to keep movingas we walked through much of the main level as teens and younger children are not to linger in a casino.

Another view from outside: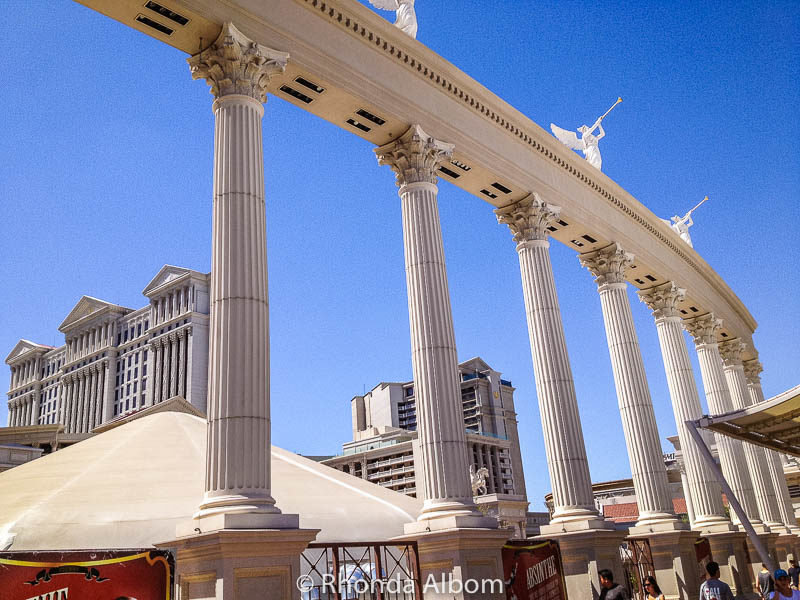 This next image is taken indoors. The sky looks fake in this one because it is inside, to give the appearance of Rome.
Just for fun, there are staff members dressed like Roman warriors and princesses who are available for photo opportunities. I imagine it to be a lucrative job as they are both paid by Caesars Palace and receive tips. At least we were prepared for this, unlike in Russia when the costumed guy who posed with Sarah chased me for his 100 rubles.
Caesars Palace is an amusing place to take my teens, one which always reminds me of a line from The Hangover, a completely inappropriate, yet very funny movie. I guess with the fake structures and "Romans" strolling by, it's an understandable mistake (or he's an idiot, you decide):
Alan to the Caesars Palace receptionist: You probably get this a lot. This isn't the real Caesars Palace is it?
Receptionist: What do you mean?
Alan: Did, umm… did Caesar live here?
Receptionist: No.
Alan: I didn't think so.
Speaking of inappropriate for teens, we seemed to frequently be walking through a casino.
Las Vegas was a stop on one section of our USA road trip
Have you been to Las Vegas or Caesars Palace? Does it remind you of the movie Hangover?