For the first time since the late 19th century, little spotted kiwi birds roam free on New Zealand's mainland. The celebration and release of twenty kiwi birds at Shakespear Regional Park was an event more than five years in the making. It's a dream made possible by a lot of hard work, planning, and protecting by volunteers, park rangers, Auckland Council, the Royal New Zealand Navy, and other benefactors. Now Shakespear Park is an open sanctuary, protected by a predator-proof fence.
We sat with a small crowd in anticipation of the start of the Powhiri (a traditional Maori welcome ceremony). While we ignored the rain, we were glad to have a seat under cover. A hush fell over the crowd as the NZ nocturnal birds arrived, carried in double crates purpose built by a team of volunteers that included my hubby.
More information:
The birds were taken from the ceremony and released in pair in several locations within the 500 hectares of protected land. Next time we night hike to the waterfall gully, we might even be able to hear them.
Genetic diversity is ensured by bringing male and female kiwi birds from different islands.
Little spotted kiwis are the smallest and second rarest of the five species of kiwi birds. Kiwis are endemic to the country and the National bird of New Zealand.
One of my favourite things said during the speeches, "We have seen lots of damage since the European settlement. Today, we are starting to repair that damage." Also, something to think about, "We don't deserve this. We humans are doing a terrible job of protecting our environment."
Learn more about kiwis and other birds of New Zealand in this book.
For more of our bird images from around the world check posts from these cities: Colombia, Brazil, USA, New Zealand's capital city.
Are you as excited as I am about the release of these birds in Shakespear Regional Park? Have you seen kiwi birds before today?
If you enjoyed this story, please share it on social media: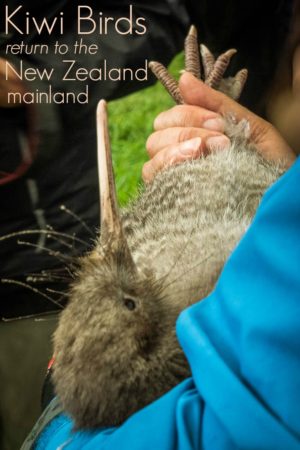 This post is part of Weekend Travel Inspiration. Join us by adding a link below to one of your inspirational travel photos or stories. Please include the hashtag #wkendtravelinspiration if you share on Twitter.

Loading InLinkz ...
This post is linked at BeThere2Day, Through My Lens,
Our World Tuesdays, Outdoor Wednesday, Lovin'Life, The Weekly Postcard, Weekend Wanderlust, and Travel Photo Thursday. More link ups here.

Grammarly proofread this article. (Try Grammarly for free)
Seven ridiculously simple tips that WILL improve your photos
Whether you shoot with a phone or a DSLR, let me share my secrets.
Subscribe to Albom Adventure's newsletter and download our free ebook: Take Better Travel Photos By Rhonda Albom