Waterfalls and cliffs seem to taunt my girls, calling their name and daring them to jump off into the waters below. It doesn't matter whether the waters are swirling at the base of a waterfall, crystal clear, or vivid turquoise – my family likes to jump.
Hubby and I opted to stay back at the Saletoga Sands Resort for an afternoon of relaxation, as our teens are old enough now to go on tours without us. And when it comes to jumping, I am much happier knowing the girls are with an experienced guide like Kelvin rather than with me, as we didn't want another trip to a hospital in Samoa.
Their first stop was To Sua Ocean Trench, in Lotofaga Village, Samoa. Literally, To Sua translates to "giant swimming hole" and that is what this 30-meter deep salt water swimming hole is. The ladder to get down would have stopped me had I gone. But those who climbed down (everyone who went) said it was amazing.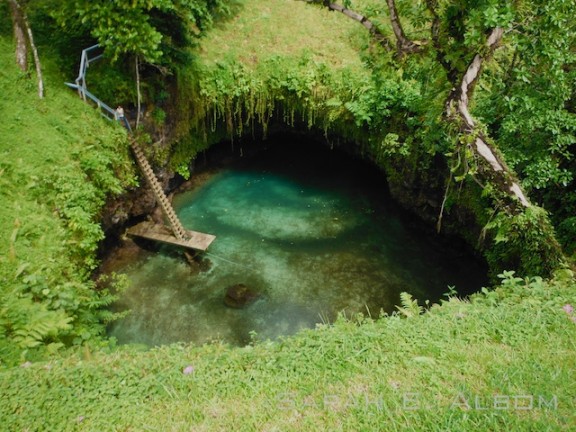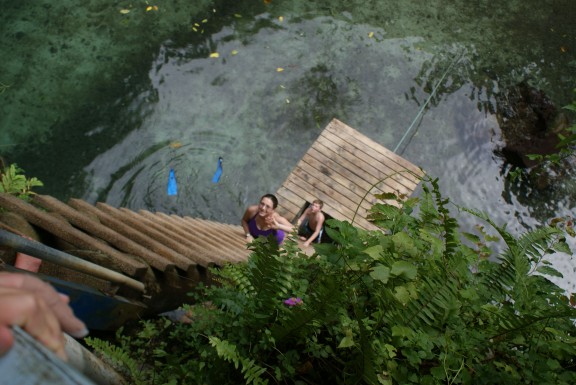 Part of the adventure was swimming under the trench out into the sea. They also swam in the vivid turquoise waters at the lava caves.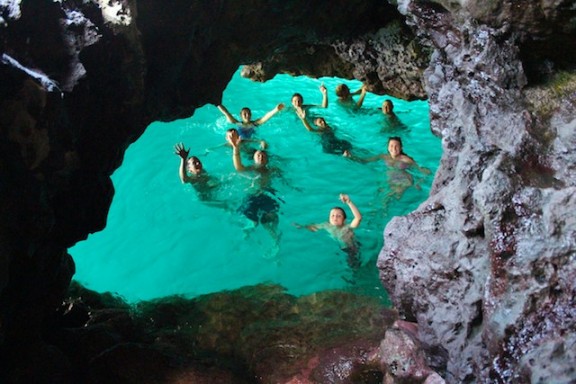 After To Sua they headed west to another jumping off point at Togitogiga Waterfalls:
The outcome: "It was great, mum, I loved it! You would have hated it." And then, to drive her point home, my daughter added, "Actually, I am glad you didn't go, as you might not have let me do some of the jumps I did."
I am guessing it is this jump she was referring to: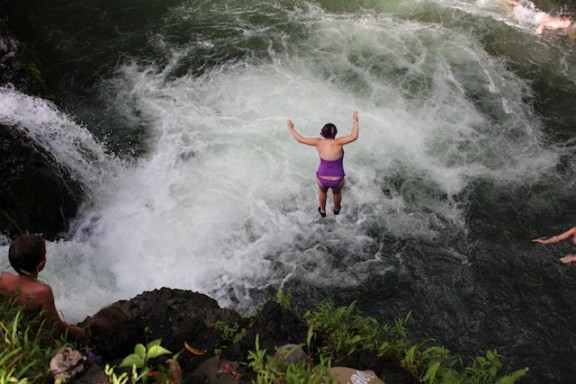 Are you brave enough to jump into To Sua Ocean Trench?
Big thanks to Kelvin Kay of Saletoga Sands Resort and Karen Ellen from New Zealand for sharing their photos and allowing me to share them here. Since I wasn't at To Sua Trench, neither was my camera.
For Sarah, this is one of the many highlights of Samoa.
Note: Based on world conditions, we advise checking official channels including cancellation policies prior to booking. Also, with often reduced capacity, booking ahead becomes more important.
Do you jump from cliffs? Are you brave enough to jump into To Sua Ocean Trench?