As we left Salzburg, we headed south about 30 minutes to Satzweven, the salt mines, for an enjoyable afternoon tour. Located underground at the border between Austria and Germany, these no longer active salt mines offer a bit of history and exploration.
Salt is not only obtained from current oceans. As the earth changed and formed millions of years ago, former oceans became land, trapping the salt.
Arriving at Satzweven, our first stop is the dressing room where everyone dons the white pants and white shirts of the miners.
Then we enter the way the miners did. We straddle a train, and away we go toward the salt mine.
Next, we slide into the mine. Here I am with hubby, sliding at 20.5 km per hour into the mines.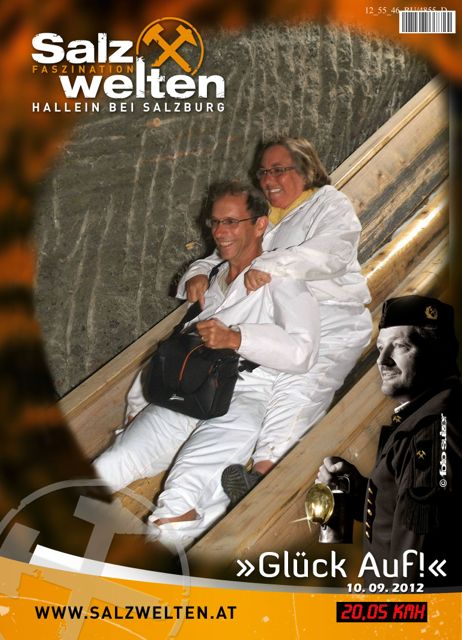 The lighting in the mines doesn't allow for great photos, but here are a few of my best.
The underground border between Austria and Germany:
The view as we come out of the mines:
Travel Tips for Visiting the Salt Mines:
While you can purchase tickets in advance, on-line. We were advised not to, so we didn't, and it worked out great for us.
It's cold in the mines, bring a jumper (jacket) – or freeze like we did.
More on the Salt Mines at Wikipedia
Note: Based on world conditions, we advise checking official channels including cancellation policies prior to booking. Also, with often reduced capacity, booking ahead becomes more important.
Visiting old friends:
We spent the night a few hours away in Germany and got to visit old friends. We left the states in May 2003 for New Zealand, they left in July 2003 for Germany, and we haven't seen each other since.
If you're reading this Birgit, big thanks for the amazing dinner and hospitality! It was great to catch up.
Unless otherwise noted, all photos on this page ©Rhonda Albom 2012
Have you slid into the salt mines?