Travellers who pack light have different needs and finding useful travel gifts for them can be a challenge. The secret to success is that any great gifts for someone going travelling must be unique, lightweight, and practical. While this may sound like an impossible challenge, it's not.
We travel light and we use and recommend the items on this page. We have discovered some cool travel accessories, useful travel items, and offer the list below when shopping for gifts for people going travelling.
I recently completed nine weeks exploring five countries in South America (including a cruise) with only carry-on luggage. It can be done.
We are selective and often test out many products before we find ones that make the cut. What you will find here are the best of the best. From unique travel gifts to purely functional items, it has taken us years to find what we believe to be the best gifts for travellers.
Whether you travel light or bring the kitchen sink, the products here are our best recommendations updated for 2019.
This site contains affiliate links to products and/or services. We may receive a commission for purchases made through these links at no additional cost to you.
Our Recommended Useful Travel Gifts for 2019
Useful travel gifts to make packing easier
Lightweight Packing Cubes
I thought packing cubes were a silly extra before I tried them. Today, I wouldn't travel without them. They are super lightweight and keep me organized. They are appreciated and useful travel gifts for friends or for yourself.
Check the latest price on Amazon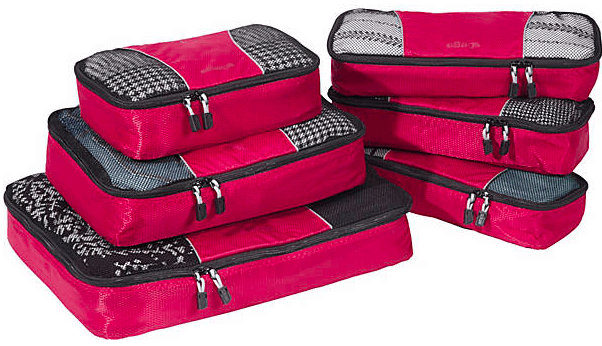 Get our free packing light checklist
Packing light is an art that we have mastered over years of travel. It starts out with a plan and a list. Our packing checklist is available for free. Simply subscribe to our newsletter (also free and loaded with great travel tips), and I will send it to you immediately:

Emergency and First Aid Kit
To be honest, we make our own kit and store it in one of the small or extra small packing cubes above. However, many people prefer a premade one, and this small first aid kit from Amazon looks complete for minor injuries.

We wouldn't travel without a portable emergency and first aid kit. It doesn't need much, but ours always has at least basic first-aid supplies (bandages, gauze and tape, antiseptic ointment, anti-itch cream, and tweezers) and over-the-counter medication for a headache, sore throat, fever, and diarrhoea.
⇒ Check the latest price on Amazon
Useful travel accessories for every trip
Sleeping bag liner
Although we stay in hotels, our sleeping bag liner gets used when the sheets are not soft or we don't feel good about them. Our silk liner is smooth and soft against our skin. Plus, it folds up to a tiny size adding only 140 grams (5 oz) to our total weight.
⇒Check the latest price on Amazon
Portable espresso machine
We love our coffee. This Minipresso espresso maker travels with us. It's the perfect gift for any coffee loving traveller. It's easy to use, self-contained, makes delicious espresso, and clean up is quick. The espresso cup and scoop are built-in. At only 295 grams (10.4 oz), it is one of the more fun travel gifts we recommend. Note: you will need coffee beans and access to boiling water.
⇒Check the latest price on Amazon
My useful travel luggage and gadgets wishlist
Lightweight Folding Duffel: If you are strong and happy to carry your extra bag, then this durable duffel is perfect. Weighing in at just over half a kilogram (1 lb 6 oz) it folds down into an 11″ pouch.
⇒ Check price and reviews here
Expandable Foldable Suitcase with Wheels: This one is better suited for travellers who prefer a bag on wheels. Plus, it is expandable to be a 20″, 24″ or 28″ bag. And, it folds down. On the downside, it takes up more space and weight in your outbound bag, but that is necessary for the wheels. It weighs in at 2.4 Kilograms (5.38 pounds).
⇒ Check price and reviews here
Gadgets: Every year there are new things I would like. Last year, the Bose noise-cancelling headphones appeared on this list. Now, they are an invaluable addition to my travel accessories (see above). This year, my wishlist includes:
Hammock: for that rare moment when I rest, and it even holds two people.
Infinity Pillow: Looking at it, I am not sure why this one is so comfy, but the reviews are great.
Drone: This one has lightweight, foldable arms. It has follow-me, altitude hold, and one key / smart return to home. Note: If you are getting a drone for travel, be sure to check if it is legal in the countries you are visiting.
I hope you found a few good gift ideas for someone going travelling.
Save for later
You never know when you will need one of these gift ideas, so why not save it for later on Pinterest.
Did I miss anything? What are your favourite useful travel gifts?
This page is part of our travel resources series.