Travellers who pack light have different needs and finding useful travel gifts for them can be a challenge. The secret to success is that any great gifts for someone going travelling must be unique, lightweight, and practical. While this may sound like an impossible challenge, it's not.
We travel light and we use and recommend the items on this page. We have discovered some cool travel accessories, useful travel items, and offer the list below when shopping for gifts for people going travelling.
I recently completed nine weeks exploring five countries in South America (including a cruise) with only carry-on luggage. It can be done.
We are selective and often test out many products before we find ones that make the cut. What you will find here are the best of the best. From unique travel gifts to purely functional items, it has taken us years to find what we believe to be the best gifts for travellers.
Whether you travel light or bring the kitchen sink, the products here are our best recommendations updated for 2019.
This article contains affiliate links. We receive a small compensation at no extra cost to you when you make a purchase using these links.
Our Recommended Useful Travel Gifts for 2019
Useful travel gifts to make packing easier
Lightweight Packing Cubes
Get our free packing light checklist
Packing light is an art that we have mastered over years of travel. It starts out with a plan and a list. Our packing checklist is available for free. Simply subscribe to our newsletter (also free and loaded with great travel tips), and I will send it to you immediately:

Emergency and First Aid Kit
To be honest, we make our own kit and store it in one of the small or extra small packing cubes above. However, many people prefer a premade one, and this small first aid kit from Amazon looks complete for minor injuries.

We wouldn't travel without a portable emergency and first aid kit. It doesn't need much, but ours always has at least basic first-aid supplies (bandages, gauze and tape, antiseptic ointment, anti-itch cream, and tweezers) and over-the-counter medication for a headache, sore throat, fever, and diarrhoea.
Photography and Electronics Gear We Love!
Below is the camera and electronics gear we carry, which also serve as our recommendations.
Olympus  OM-D E-M5 Mark II digital camera with 14-150mm lens
Photo Credit: www.getolympus.com
This is it! I believe that the OM-D E-M5 Mark II is the perfect travel camera. It's compact, lightweight and weather-sealed. It has a 14-150mm lens, advanced image stabilization, speed up to 1/8000 sec, ISO to 25600, lightning-quick autofocus, and manual override. Therefore, I can shoot in just about any condition including low light without a tripod. It is my primary camera.
The buy now button lets you purchase directly from Olympus; however, they only ship to the USA and Canada. The OM-D E-M5 Mark II is also available at Amazon (click here for details).
Buy Now
Olympus TG-5 waterproof camera
Photo Credit: www.amazon.com
The Olympus Tough TG-5 is a compact point and shoot that is waterproof, shockproof, crushproof, freezeproof, dustproof, and it fits in my pocket. This tough little camera designed for adventure produces high-resolution RAW stills (or jpeg) or HD 4K video.
It's a camera for everyone. Automatic settings allow anyone to capture great shots or, use one of the special presets for people, motion, indoors, nightscapes, scenery, underwater, or close up. For the more advanced photographer, there is an aperture priority mode with the ability to override the default exposure levels.
I use mine for underwater shots, beach days, and anytime I want a pocket-sized camera with fabulous output, either for convenience or safety.
Buy Now
Tenba Messenger DNA 8 camera and iPad Mini bag
Photo Credit: www.amazon.com
I looked around for a while before discovering the perfect camera bag for my mirrorless camera. Weatherproof, easy to open, secure, and attractive, it has compartments for my camera gear, accessories, business cards, and personal items. It even has a secret spot for a Kindle or iPad mini.
Available in four colours (dark copper is shown) and also in larger sizes.
Buy Now
Photo Credit: www.amazon.com
Available in a huge variety of colours and patterns, I own two designs. Of course, my Olympus mirrorless camera came with a perfectly adequate strap, but I wanted these for several reasons. First, let's face it, they are colourful and fun. Secondly, this scarf camera strap is soft and fashionable.
And third, and this only matters at certain destinations, they make my camera a bit more generic. Having the strap that says OMD tells knowledgeable thieves that I have an expensive camera around my neck.
Buy Now
Sirui carbon fiber tripod
Photo Credit: www.amazon.com
I have one model down from this one, but the reduced weight of carbon fibre would have been a better choice. The tripod is quick to set up, has a ball mounted head, and upward folding legs, which make it more compact for carrying.
I found it to be the perfect trade-off between super lightweight and steady enough for long exposures like waterfalls.
Buy Now
Etekcity digital hanging luggage scale
Photo Credit: www.amazon.com
In today's world of charging exorbitant fees for overweight luggage, being able to monitor while packing is invaluable. This scale measures in either kilograms or pounds and has precision accuracy up to 50kg (110 pounds). Allow for its 57 grams if you're packing it in your luggage.
Buy Now
Bose QuietComfort 35 II noise-cancelling wireless Bluetooth headphones
Photo Credit: www.amazon.com
If you haven't tried these yet, you are really missing out. They are perfect for travel, especially on the plane. I have no idea how they work, but I don't need to. I simply put them on and block out the rest of the world. The music is clear and perfect, and life's distractions are gone.
Plus, they pair wirelessly with my phone. They are available as headphones or earbuds.
Buy Now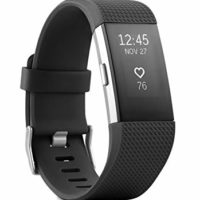 Fitbit Charge 2 HR
Photo Credit: www.amazon.com
I am not one to run out and get the latest fad item, but I have to say that I love my Fitbit. More than just tracking my daily steps and reminding me to get up and move, its heartbeat tracker makes it easy to maximize a workout. It syncs with my computer and phone and can go at least 5 days without a charge
Buy Now
Multi charging cable 
Photo Credit: www.amazon.com
Preferring to carry less, we were thrilled to find a single, high-quality tool that can charge all our portable electronics (phones, Kindles, tablets, etc.) despite them having different connectors. This one is a twin pack, each with a 1 metre (3.3 ft) cable, so one for home, one for travel.
Buy Now
Anker PowerCore 10000 power bank
Photo Credit: www.amazon.com
Travelling, I need to be able to keep my phone charged as it works overtime for me as a 3G router, GPS, phone, and social media hub. This power bank is small yet a critical piece of our gear.
Buy Now
128GB flash drive
Photo Credit: www.amazon.com
This tiny stick can act as my travel back up, especially for photos. I like the retractable port, name brand, and 128GB data size. A 256GB stick is available for memory hounds, but I find the 128GB is cost-effective for our on-the-go backups.
Buy Now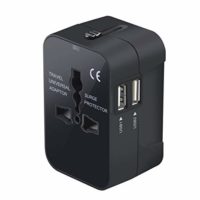 All-in-One universal travel adaptor
Photo Credit: www.amazon.com
One adapter to allow us to plug into electric power anywhere in the world means we don't have to worry about electric availability when we travel. We use this robust, top-quality adapter that lasts and doesn't fail when we need it the most.
Buy Now
Useful travel accessories for every trip
Microfiber towel
Small and compact, a microfiber towel is a quick-dry companion for unplanned beach stops, unexpected rainstorms, or just washing up. Antibacterial, our towel tends not to smell bad. Considerably smaller than fluffy towels, it folds easily into a mesh carry bag. It's available in three sizes, ours is the medium size. If I were shopping today I would get the larger one.
Sleeping bag liner
Although we stay in hotels, our sleeping bag liner gets used when the sheets are not soft or we don't feel good about them. Our silk liner is smooth and soft against our skin. Plus, it folds up to a tiny size adding only 140 grams (5 oz) to our total weight.
Portable espresso machine
We love our coffee. This Minipresso espresso maker travels with us. It's the perfect gift for any coffee loving traveller. It's easy to use, self-contained, makes delicious espresso, and clean up is quick. The espresso cup and scoop are built-in. At only 295 grams (10.4 oz), it is one of the more fun travel gifts we recommend. Note: you will need coffee beans and access to boiling water.
Check the latest price on Amazon
My useful travel gadgets wishlist
Every year there are new things I would like. Last year, the Bose noise-cancelling headphones appeared on this list. Now, they are an invaluable addition to my travel accessories (see above). This year, my wishlist includes:
Hammock: for that rare moment when I rest, and it even holds two people.
Infinity Pillow: Looking at it, I am not sure why this one is so comfy, but the reviews are great.
Drone: This one has lightweight, foldable arms. It has follow-me, altitude hold, and one key / smart return to home. Note: If you are getting a drone for travel, be sure to check if it is legal in the countries you are visiting.
I hope you found a few good gift ideas for someone going travelling.
If you found this list of gift ideas for someone going travelling to be useful, please share it on social media, including Pinterest.
Did I miss anything? What are your favourite useful travel gifts?
This page is part of our travel resources series.