Whether international or domestic, we travel light, and we use and recommend the items on this page. We have discovered some cool travel accessories, useful travel items, and offer the list below when shopping for gifts for people going travelling.
In 2019, we completed nine weeks exploring five countries in South America (including a cruise) with only carry-on luggage. It can be done.
We are selective and often test out many products before we find ones that make the cut. What you will find here is the best of the best. From unique travel gifts to purely functional items, it has taken us years to find what we believe to be the best gifts for travellers.
Whether you travel light or bring the kitchen sink, the products here are our best recommendations.
Our top recommended useful travel gifts
Packing cubes
First aid kit
Camera and accessories
Digital scale
Wireless headphones or earbuds
Fitbit
Multi-charging cable and a power bank
Flash drive for backup
Universal travel adaptor
Useful travel gifts to make packing easier
Lightweight packing cubes
I thought packing cubes were a silly extra before I tried them. Today, I wouldn't travel without them. They are super lightweight and keep me organized. They are appreciated and useful travel gifts for friends or for yourself.
⇒ Get your packing cubes at Amazon.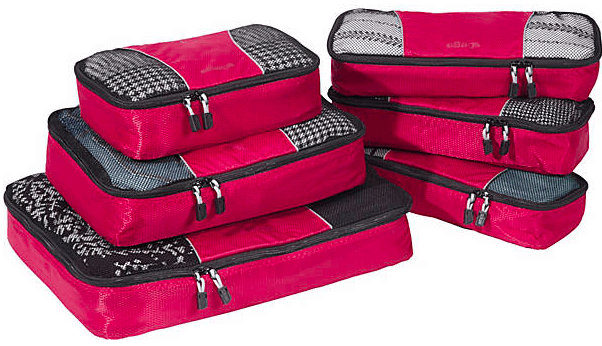 Get our free packing light checklist
Packing light is an art that we have mastered over years of travel. It starts out with a plan and a list. Our packing checklist is available for free. Simply subscribe to our newsletter (also free and loaded with great travel tips), and I will send it to you immediately.
Emergency and first aid kit
To be honest, we make our own kit and store it in one of the small or extra small packing cubes above. However, many people prefer a premade one, and this small first aid kit from Amazon looks complete for minor injuries.
We wouldn't travel without a portable emergency and first aid kit. It doesn't need much, but ours always has at least basic first-aid supplies (bandages, gauze and tape, antiseptic ointment, anti-itch cream, and tweezers) and over-the-counter medication for a headache, sore throat, fever, and diarrhoea.
⇒ Get your first aid kit on Amazon
Save for later
You never know when you will need one of these gift ideas, so why not save it for later on Pinterest.
Did I miss anything? What are your favourite useful travel gifts?
This page is part of our travel resources series. You might also like: