We could feel the coffee plantation calling to us even before the Island Princess docked in Costa Rica. We are coffee drinkers, hubby to the point of coffee connoisseur. Looking at the list of shore excursions offered by the ship, we were tempted by the lure of a rainforest teeming with exotic animals, but coffee won out. We opted for a half day excursion to Espiritu Santo Coffee Plantation that included a visited to the Sarchi Oxcart Craft town.
Espiritu Santo Coffee Plantation
The Espiritu Santo Coffee Plantation is located in Naranjo, Costa Rica. It is a co-op (started 1968) of 2,300 farmers on 247 hectares. Here we were given a tour and several opportunities to sample fabulous coffees. We learned interesting things like Costa Rica produces 1% of the coffee in the world; and, Costa Rica only grows Arabica beans by law in order to maintain quality and reputation.
We were right in hubby's element. At home, he roasts his own coffee beans, creates a perfect cafe latte every day, and has even taken a coffee training class.
Here is what we learned at the Espiritu Santo Coffee Plantation.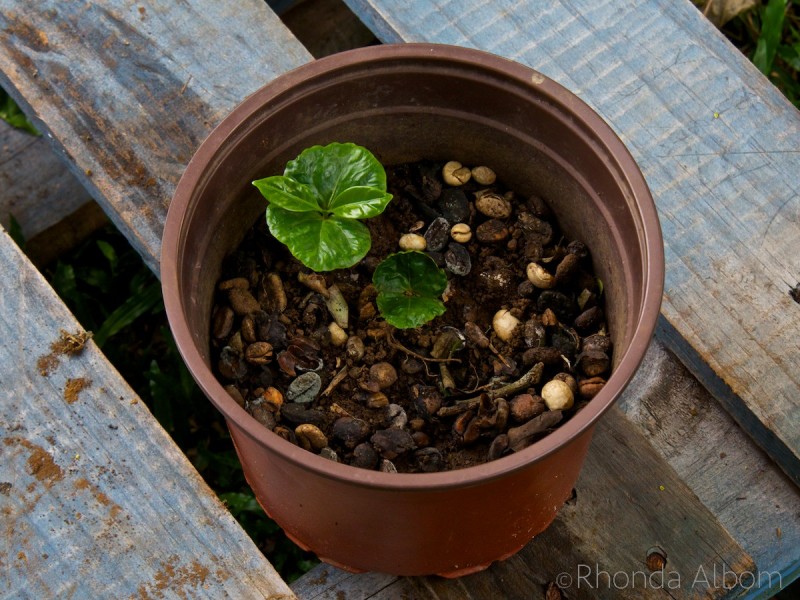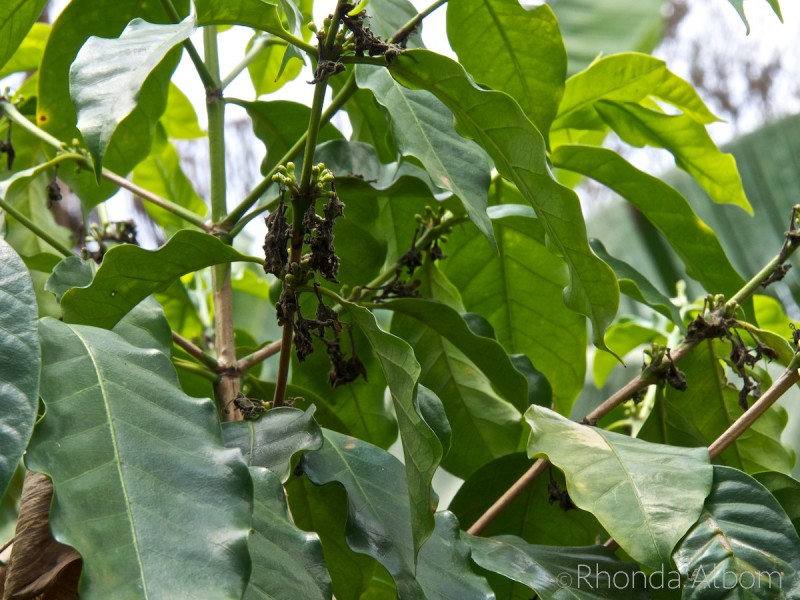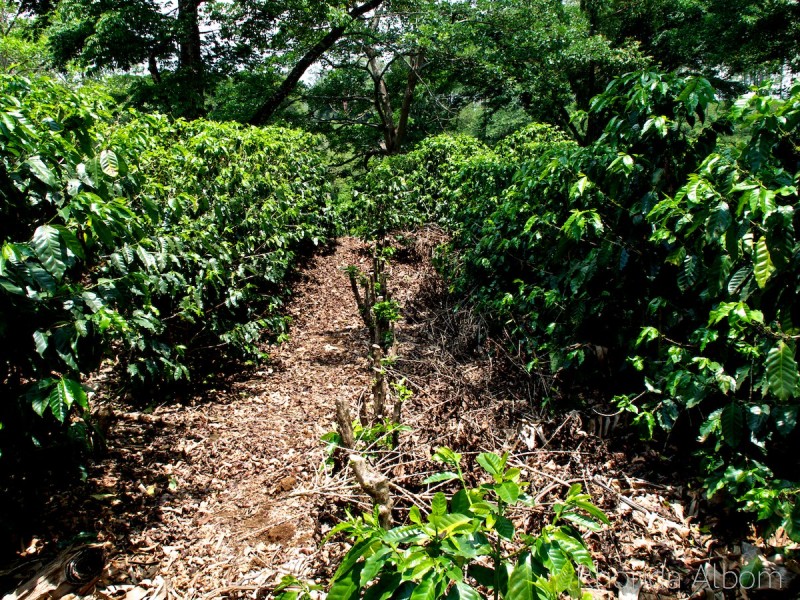 The centre bean is then dried either by heat for 28 hours or by air (for much longer). Air drying produces a higher quality bean.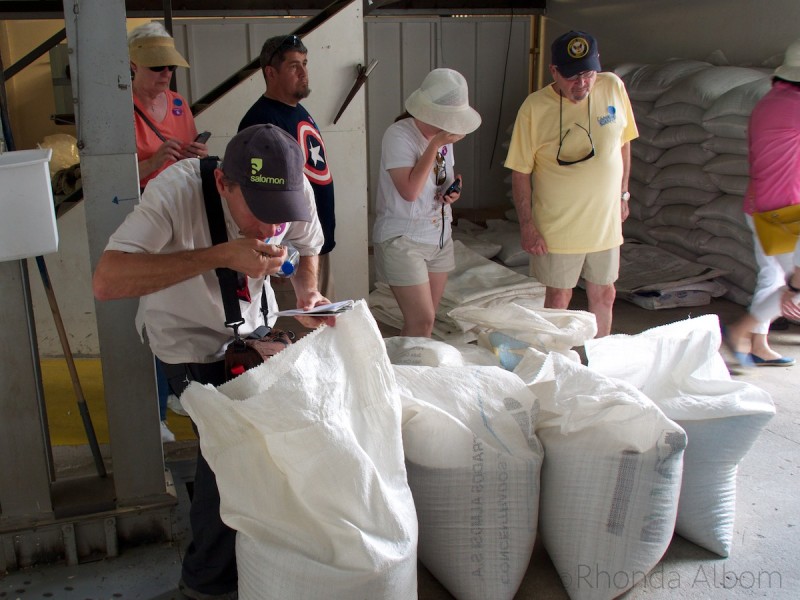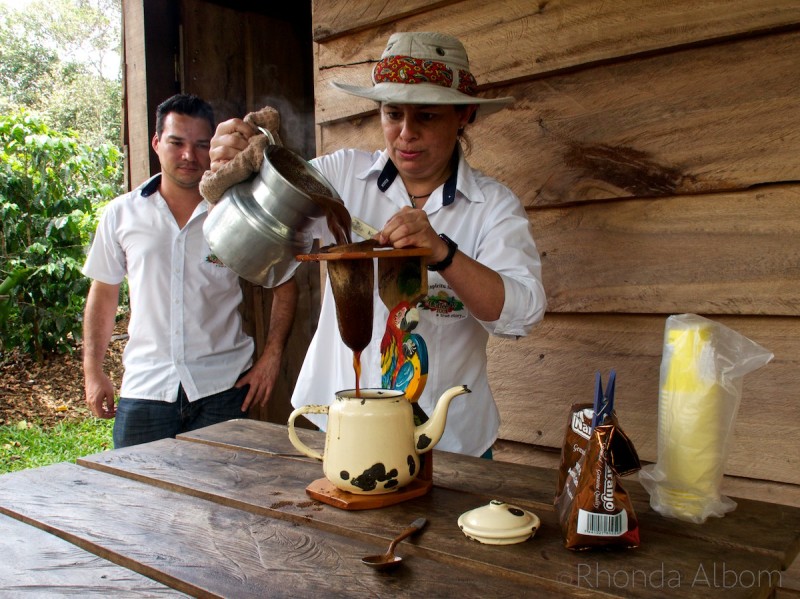 Sarchi Oxcarts
Take a Coffee Plantation Tour in Costa Rica
Practical Information: Coffee Plantation Tour in Costa Rica
While we took this tour as a cruise excursion, you can also visit book a coffee plantation excursion from Puntarenas independently.
Bring and use insect repellant as mosquitos are present during the daytime.
You can buy whole roasted coffee in the souvenir shop. We tried to save a bit of money and purchase the coffee from the local supermarket in Puntarenas, however, it only had ground coffee.
Higher altitude growing produces higher acidity, lower bitterness beans.
Most beans are formed in 2 halves but peaberry beans do not form 2 halves and are sought after for their higher quality.
Costa Rica was one of several ports on a cruise from Florida to Vancouver, Canada that passed through the Panama Canal. After Puntarenas, we were headed to Nicaragua, but weather cancelled that port. It happens to cruises. Our next port became Cabo San Lucas, Mexico. There is always plenty to do onboard, and our best advice can be found in these 25 tips for cruising that everyone should know.
If you are thinking about cruising, check out the latest deals at Princess Cruises.
Please Share
If you found this interesting, please share it on Pinterest and your other social media: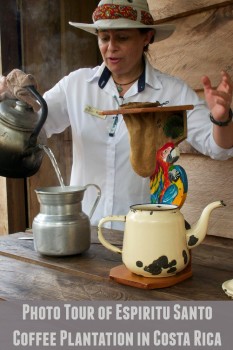 Read next: 20 Picturesque Cruise Ship Ports Around the World
Have you been to a coffee plantation? Where was it, and did it give you tastings as you went through?
Disclaimer: Although we were treated as VIPs onboard the ship, We paid full price for all excursions. The opinions expressed here are strictly my own.