Like most families traveling on a budget, we are often asked:
Did you win the lottery?
Are you printing money in your attic?
Do you have a budget?
How can you afford to travel so much? What is your secret?
Here are the short answers: I don't play the lottery. I don't have an attic. Our travel budget matches our home budget, plus the expense of getting there. Read on, it's not really that difficult.
Our secret is simply that we are travelers, not tourists.  As travelers we participate in local life, learning about local culture by doing.  We cook our own meals, we make our own beds, we wash (often by hand) our own laundry.  Of course we visit tourist attractions and see the sites, but we also spend time with locals, doing local things.  We fumble through the language issues, we make mistakes.  We join community programs, we make friends where we can.  We are there for the longer haul.
When we vacation, it is generally short – a week or two.  We stay in posh hotels, or not, but we are outsiders enjoying what our destination has to offer without getting our hands dirty.
How To Find Cheaper Airfare
Regardless of whether we are traveling or vacationing, getting there is always the biggest expense. We now have a few tricks up our sleeves.
We generally start all our travel with a long-haul flight as we live in New Zealand.  Our typical travels will involve multiple destinations, as the bulk of the expense comes from that first flight. As we move around, we use the internet to look at travel options which are usually car rentals, trains, or air travel.  We fly if we are going long distances, over oceans or when it turns out to be the cheapest option.
Recently we discovered Cheap Flights. It is quick and easy, finding the best deals on airfare for both international or domestic flights. I simply enter my start and end destinations and dates, and it instantly returns a lists of the lowest priced ticket providers for the segment, offering me a variety of airlines, stop over options, costs and travel tips for my destination.  Working with nearly 300 ticketing partners, Cheap Flights is our newest secret to traveling on a budget!
Our other primary travel budget saver is Home Exchange.  We swap house and car with someone else.  So far we have done this successfully in Colorado (5 weeks), Costa Brava, Spain (10 weeks) and La Coruna, Spain (2 weeks).  Our recent house swap offers have been from South of France, Spain, California, Tel Aviv (this house could only accommodate 2) and Singapore.
Here is what we look like traveling:
Here is what we look like vacationing (only we are older now):
Here is what we wished we looked like for either (we got a business class tour of "upstairs" on the new Airbus A380):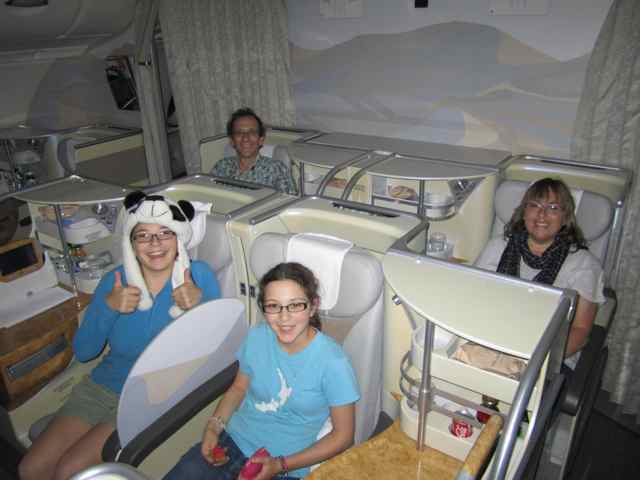 Our Secret to Traveling on a Budget
In case you missed it, our secrets are simply:
Once there, live like locals, spending no more than we would if we were home.
Do you travel on a budget, or do you head off for vacation fun and worry about it later?  Have you tried Cheap Flights yet?  What about Home Exchange? What is your best secret to traveling on a budget?
All photos on this page ©Rhonda Albom 2003-2013. All Rights Reserved.
Disclaimer: This is a sponsored post. Occasionally we accept compensation in the form of payment or product for reviews. However, the opinions expressed here are strictly our own.
Seven ridiculously simple tips that WILL improve your photos
Whether you shoot with a phone or a DSLR, let me share my secrets.
Subscribe to Albom Adventure's Travel Tips newsletter and download our free ebook: Take Better Travel Photos By Rhonda Albom