We are back in Spain, barely.  We are just over the Portugal boarder in a town called Vigo, which we selected for it's close proximity to Ceis Island, home to one of the most beautiful beaches in the world.
The ferry leaves Vigo at 9am and 11am if you want to make it back the same day. Unfortunately we forgot to set an alarm and we slept in until nearly 10 am. We need to pack, check out, eat breakfast, buy ferry tickets, get to the ferry early and  . . . no chance.
Time for a change in plans.
We drove to the beach in Vigo. Sarah (our tween) wants to tell you about the beach:
After parking our car (which took 20 minutes) we stepped onto the sand, so fine and soft that it made Palomos' sand look like rocks (small rocks).
Putting our towels down, I ran to the water with Melissa following me, but a bit slower.
A few minutes later I felt something prick me. I thought it was just some of the pieces of sand floating around and I ignored it.
Apparently, I was wrong. The sand didn't get me, the invisible sea lice did.
Sadly my camera is not waterproof so no pictures underwater, but mum did take a few shots of the beach and some shots at the awesome baby pool nearby before we were forced to leave. To get in you have to walk though a icy cold shower thing which was fun.
Have you been bitten by sea lice recently? 
*Portions of this post written by Sarah, age 12*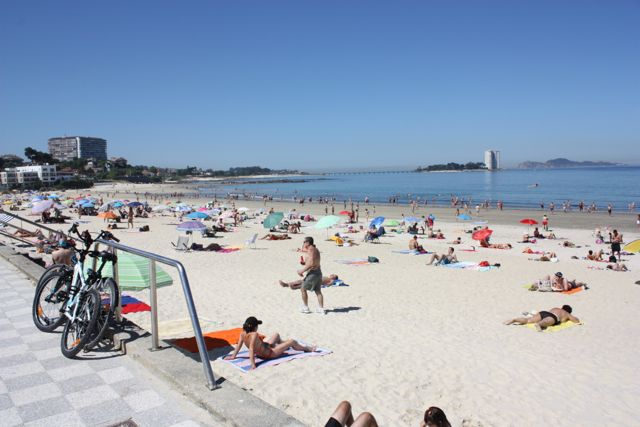 At the end of the day, we couldn't find our way out of town.  No kidding.  When they say all roads in these medieval towns lead to the church, what they don't tell you is the flip side, no roads lead anywhere else. We were trapped in Vigo like Chevy Chase and the roundabout in European Vacation.
So after driving around the same sites too many times, I got out and asked a policeman for help.  Somewhere between what the policeman said, what I heard, what I told hubby, and where hubby actually turned, there was a bit of confusion.  Next thing we know, the policeman has hopped on his motorcycle, caught up to us and was escorting us out of town.  Here he is (shot through the windscreen):
Vigo Travel Tips:
Set an alarm if you want to get up in time to get to catch the Ceis Island ferry.
If you are looking for inexpensive accommodation near the port (which is not walking distance to the beach, but perfect if you are headed to Ceis Island) check out Hotel Del Mar.  Don't expect much, but it was clean.
When you feel little biting stings in the water, get out.
If you are headed to the beach, remember the pool is for little kids, and if you don't have any with you the life guard will blow her whistle, point and shout at you in Spanish until you leave.
Program your GPS or study the map before you start driving, especially on your way out of town.
All photos on this page © Rhonda Albom 2012
Have you been to Vigo Spain? Did you cross to Ceis Island? Is it wonderful?
Albom Family Travel Counter:
We are nearing the end of the fourth month of our 250 day overseas adventure. We are currently traveling through Spain for two weeks between two home exchange houses – the first in Catalunya, the second in Galicia. Our key travel stops are in Spain are Saragosa, Madrid, Segovia, Toledo, Cordoba, Granada, Seville, and Vigo. In Portugal we will visit Evora, Sintra, Obidos, and Alcobaca.
Seven ridiculously simple tips that WILL improve your photos
Whether you shoot with a phone or a DSLR, let me share my secrets.
Subscribe to Albom Adventure's Travel Tips newsletter and download our free ebook: Take Better Travel Photos By Rhonda Albom