Valparaiso street art is a bold and dramatic example of personal expression. It is different from other cities. Not so much in its style but in its artists' passion, respect, and backstory.
Unlike the rest of Chile, where street art is illegal or restricted, the Valparaiso government almost encourages this freedom. As a result, Valparaiso is a vibrant, colourful city offering some of the world's best street art.
Valparaiso street art is a bold and dramatic example of personal expression, featuring emotional, entertaining, and political artwork.
Where to find street art in Valparaiso
Street art in Valparaiso is seemingly everywhere. However, there are some more famous areas, as well as some that are generally considered safer than others.
Valpo, as the locals call it, is built on 42 hills ("cerros" in Spanish). Each one is a neighbourhood, and as a result, each neighbourhood is unique. One of our favourites for Valparaiso street art is Cerro Concepción. Here the art blankets the walls of this winding pedestrian passage (Pasaje Gálvez). It's also the neighbourhood of a Chilean cooking class we thoroughly enjoyed.
Murals cover previously unpainted legal walls (and many that are not legal) throughout the city. Never forget to look up for more Valparaiso street art examples, as it's often above a roofline.
Dramatic and vibrant, these are a few of our favourites: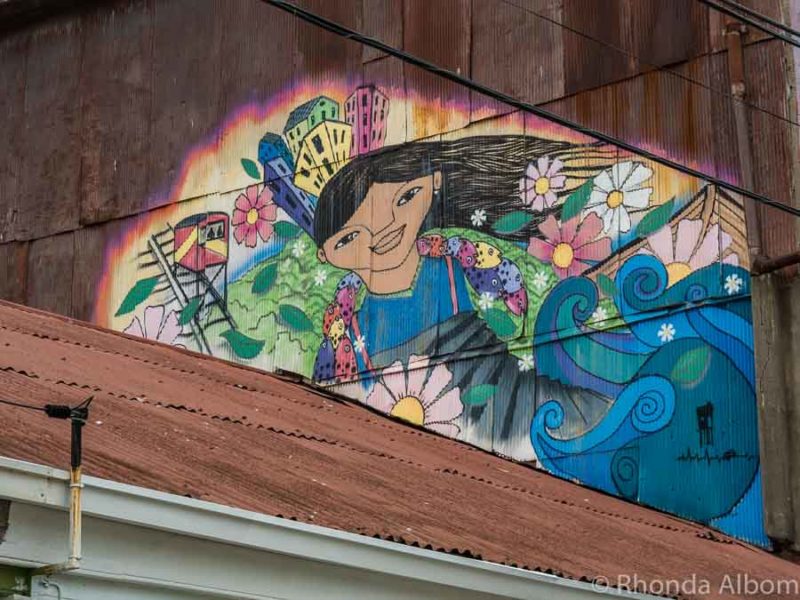 Explore Chile with us
Valparaiso street art tour
If you wander in the safer neighbourhoods of Cerro Concepción, Cerro Alegre, and Cerro Bellavista, you can easily tour Valparaiso street art on your own. However, if you want a bit of history and don't want to miss some of the most famous pieces (we missed the piano steps), a dedicated street art or graffiti tour is the best option.
We took a city tour with Tours4Tips that naturally included some street art as it is so intricately ingrained in Valpo culture. In retrospect, I think this well-rated private walking tour would have been a better option for us. It visits more streets art that we didn't see as well as other historical locations.
Vibrant staircases in Valparaiso
What really caught me in Valparaiso is the stair art. I have seen this style before, but always as a one-off. Being built on so many hills, Valparaiso is like San Francisco with staircases everywhere you turn. However, Valparaiso steps are painted, tiled, or otherwise decorated.
Unlike the famous Selaron Steps in Rio de Janeiro, in Valpo, the top side of nearly every step we came upon was undecorated concrete. I don't know if this is because walking on the art would eventually destroy it, or just a way to offer encouragement to those heading uphill. Either way, the effect highlights an incredibly talented group of artists.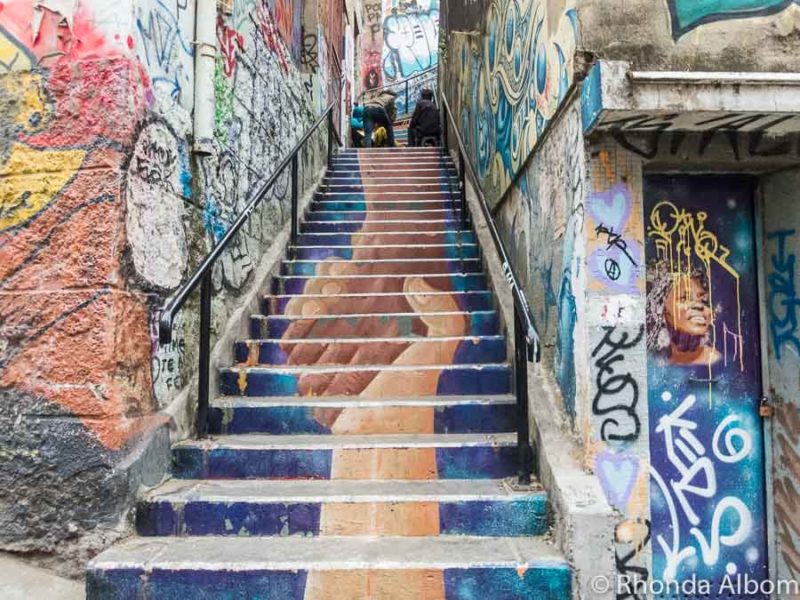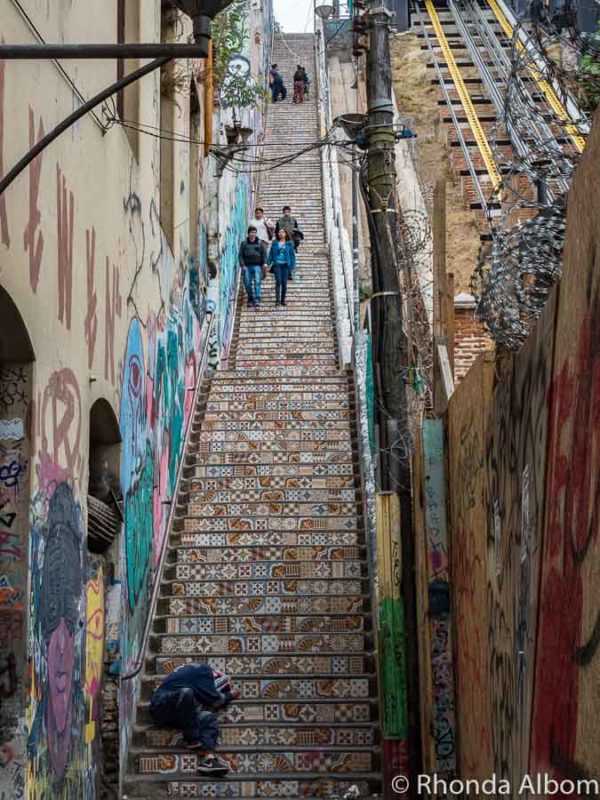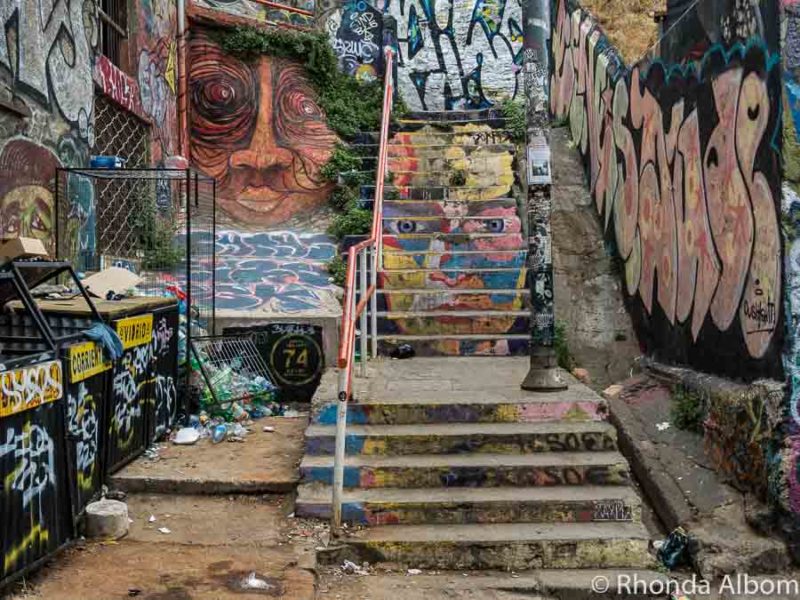 A brief history of Valparaiso street art
Any summary of the history of Valparaiso street art will start with Pablo Neruda. The Chilean poet brought mural artists to the city. Then, in 1973 under the military dictatorship of General Augusto Pinochet, street artists in Valparaiso were forced underground and risked "disappearing" if caught.
It was especially dangerous to those who painted political messages. In 1990, with the return to freedom, the Valparaiso city government legalized street art. Today, the city attracts creative artists from around the world.
Respect amongst Valparaiso graffiti artists
Our city guide discussed the strong respect between creative people. She added that as street art and graffiti gained popularity, many homeowners found their homes tagged.
The solution was to commission a mural, thus "protecting" their home from graffiti. An unwritten rule, artists find their own spots, rather than clipping another's work. Interesting, there is no overlap between the mural and tagging.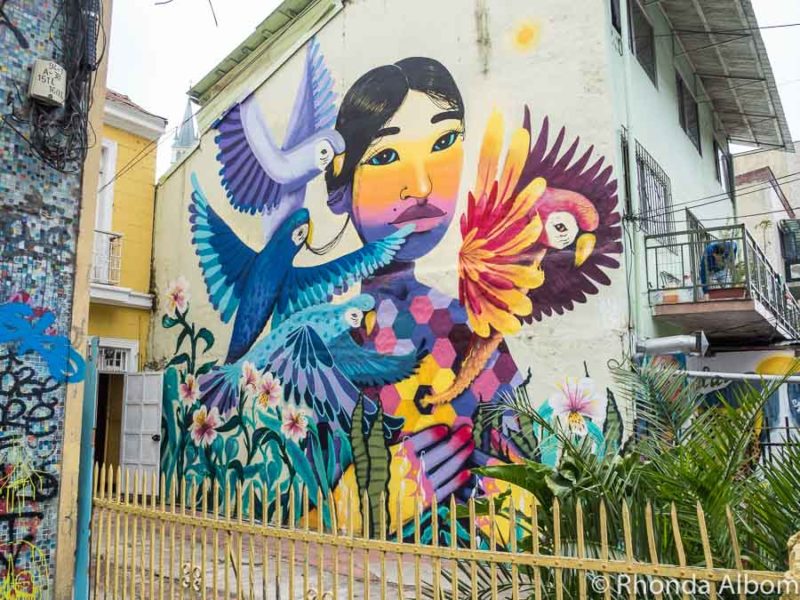 More street art in Valparaiso
Here are a few more of our favourite images: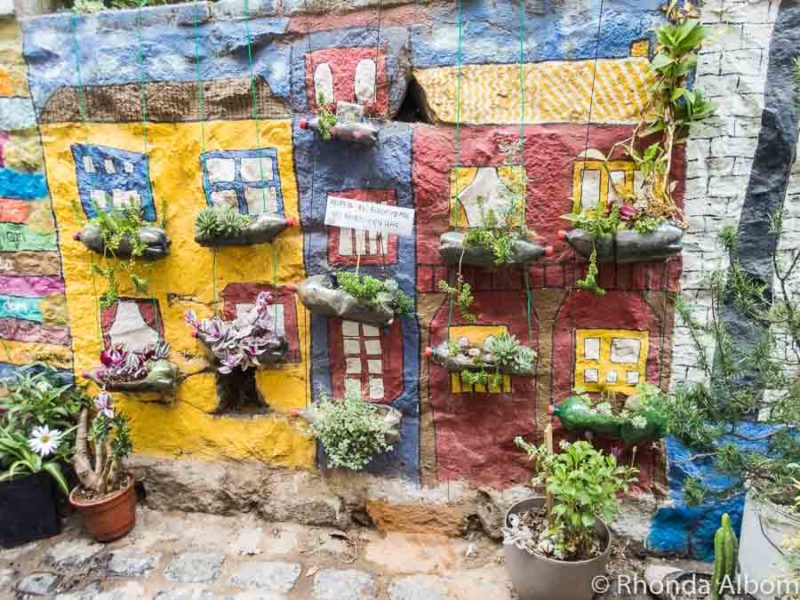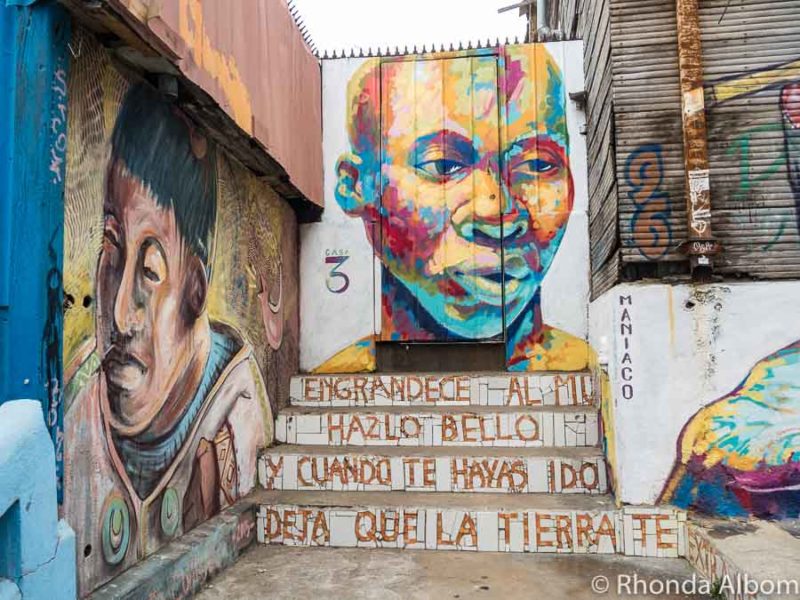 Tips for searching for Valparaiso street art
Bring a camera. I shot the street art on this page with both my Olympus OMD-Em5 and a few of the shots on the predecessor to the Olympus TG-6. The first is a mirrorless technology camera with interchangeable lenses. It's the perfect travel camera. However, when heading into less safe neighbourhoods or underwater, I want my waterproof, crushproof, portable camera that easily tucks away in a pocket when not in use. Both cameras can shoot RAW format.
Take extra safety precautions if you are looking for street art in the Van Buren District or on Cerro Polanco.
Street art fans, don't miss this collection of South American graffiti and street art images.
Don't miss the other amazing things to do in Valparaiso.
Valparaiso as a day trip from Santiago
A port city, Valparaiso is a destination on its own or a day trip from Santiago, Chile's capital city. We spent several days in Valparaiso and could have easily stayed longer. However, if you're based in Santiago or have limited time, a day trip might be the perfect option. Based on reviews, we believe this Valparaíso and Vina del Mar Tour is the best of the Valparaiso tours from Santiago.
This full-day tour includes a visit to a winery in the Casablanca Valley. It does quite a bit including museum visits and several rides on funiculars in addition to discovering the Chilean street art that made this town famous. Be sure to read the reviews before booking.
Save on your trip with these resources
These are our go-to companies when we travel. We believe this list to be the best in each category. You can't go wrong using them on your trip too.
Flights: we use Expedia for the best and cheapest flight options.
Accommodations: we use Booking.com (hotels), VRBO (self-contained), or Hostelworld (budget).
Cars (gas or electric): we use RentalCars to search for deals and dealer ratings.
Campervans or Motorhomes: we use Campstar where Albom Adventures readers get a 3% discount.
Motorcycles: we have heard good things about BikesBooking.
Private guides: we love the private guides at Tours by Locals.
Travel Insurance: while not required, we always opt for travel insurance and start at InsureMyTrip to compare coverage plans.
Check out our travel resources page for more companies that we use when you travel.
Save for later
If you enjoyed this collection of Street Art in Valparaiso Chile, please share this article on Pinterest.
Don't miss our tips for first-time visitors to Chile or our five-country South America itinerary.
Which do you prefer, the Valparaiso street art or staircase art?