We loved China (most of the time), and have come up with a list of our best travel tips on China. Vising this Asian nation was interesting, frustrating, exciting, dirty, crowded, historic, loud, colorful, stinky, inexpensive, polluted, multi-cultural, modern and ancient all at the same time.
If you are headed to Asia, here are. . .
Note: Based on world conditions, we advise checking official channels including cancellation policies prior to booking. Also, with often reduced capacity, booking ahead becomes more important.
My best travel tips on China:
The hotels have "taxi" cards with their name and address, and sometimes a map – always keep one with you, so if you are lost, you can get help.
Remember to have the hotel write in Chinese the name of your destination, in case you need to take a taxi.
Bring toilet paper with you everywhere you go. When you enter a public toilet block, look on the wall for a wheel of toilet paper as there won't be any in the stalls. (We didn't notice these for the first week, and we talked to other people who never noticed them.) Also, some toilets have ratings.
Boil water at night, leave it in the jug and it will be cool and safe to drink in the morning.
Bargain for everything in the markets. Once we understood how much they mark up for foreigners, we cut the price to at least 25% of what they offered. When they say no, turn and walk away. They will usually meet your price.
When you are walking down the street and being bombarded by peddlers be sure to keep a close grip on your belongings, walk away and if they won't' leave you alone, say "boo-ya" which means "not interested" (I think that is the literal translation).
Learn how to say thank you in Chinese, it is very much appreciated "shi shi" The best pronunciation lesson we had was to think shit, shit and leave off the "t". I know it's naughty , but it works.
Spend the money for a certified guide at your first Buddhist temple, the Great Wall of China and any other historical places you want to understand.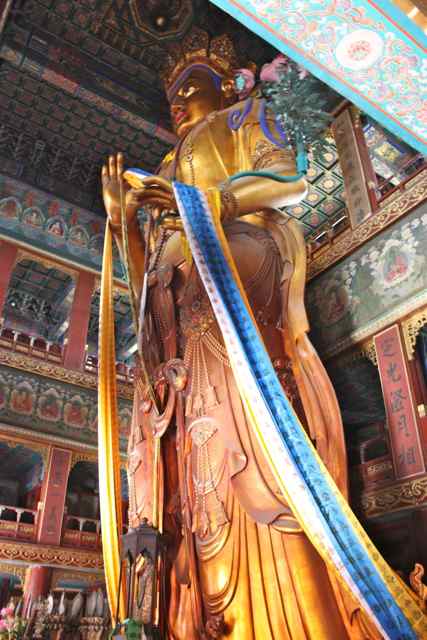 Be aware that in Beijing, taxis often will not pick up foreigners, so be prepared to wait awhile to find one that will.
The subways' are crowded but easy to take. We recommend them over taxis when it is possible. We tended to take a taxi out to somewhere as the hotel could get them, and take public transportation back.
Pick pockets are a huge problem in crowded tourist areas. Always have a hand on your bag (never carry a backpack on your back, and don't hold the strap to your bag, hold the bag itself.)
Carry your own water, and don't drink anything served with ice as it will melt adding the water you don't want to your drink.
Don't eat street food, unless you are told it's okay by someone other than the seller.
Allow lots of extra time for traffic.
People wear long pants and closed shoes. I can only imagine this is due to the ever changing weather, although the shoes might be related to the dirty ground.
A few surprises, leading to more travel tips to China:
Toddlers urinate and defecate in the streets.
Some public ladies bathrooms have squat toilets and no walls – just a room full of squatting women.
Often there is one western toilet in a public bathroom (although it is usually gross), either labeled as disabled, or the last one in a row.
Used toilet paper is left in the bin, not in the toilet, so the bathrooms stink.
People push.
If the price is too good to be true, the product is most likely fake.
Adult men spit.
Smoking is allowed in restaurants, plus many cab drivers smoke and on all three of our China domestic flights people smoked (it wasn't allowed, but you could smell it.) I asked someone about it and the reply was, "It's not allowed to smoke on the plane, but my dad likes his cigarettes, so he just goes to the bathroom."
Cities we have visited
Shanghai (with a road trip to Suzhou)
Chengdu (with a side trip to Haunglonxi and Leshan)
Xi'an
Did you find these travel tips on China useful? Which do you think are most valuable?
All photos on this page © Rhonda Albom 2012