We get asked all sorts of interesting and fun questions about our travels.  One that comes up often: Does the toilet water spin the opposite direction when we cross the equator?
Living with a rocket scientist has its advantages, we know the answer, and it applies to more than just the toilet water:
The change of direction is an optical illusion of sorts.  The earth, and therefore the water, always spins the same direction, we are just looking at it differently. That's my interpretations, hubby offered a much longer, very scientific explanation.
Better seen in graphics.  Here is the spinning earth.
To see the illusion for yourself, take a globe, or any ball and spin it like the earth in the image above. Now look straight down at it, as if you were in the Northern Hemisphere.  It will be rotating anti-clockwise (counter clockwise).
Continue spinning it and raise it over your head and look up at it (as if you were in the Southern Hemisphere) and it now appears to be spinning clockwise.  Only your perspective has changed.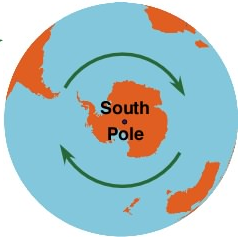 The short answers:

Does water spin the other way when you travel over the equator?

No, it is us that have moved, the water stays the same.
Have you seen the toilet water spin the opposite direction? Did you know why? Did I spoil the fun?
Don't miss our two favourite science projects:
Image credits:  Whirlpool photo: Creative Commons Attribution by Gordon Wrigley: North and South Pole Image Credit: Pidwirny, M. (2006). "Earth-Sun Geometry". Fundamentals of Physical Geography, 2nd Edition. Viewed 23 June 2014. http://www.physicalgeography.net/fundamentals/6a.html
Seven ridiculously simple tips that WILL improve your photos
Whether you shoot with a phone or a DSLR, let me share my secrets.
Subscribe to Albom Adventure's Travel Tips newsletter and download our free ebook: Take Better Travel Photos By Rhonda Albom