Steinlager 2 is a New Zealand icon and a piece of history. Sir Peter Blake skippered Steinlager 2 to an unprecedented victory, winning all six legs of the 1989/90 Whitbread Round the World race, both on handicap and line-honours. We all have our heroes, and Sir Peter Blake is one of mine. Maybe that's why I was so excited to step aboard the Steinlager 2.
Whitbread Round the World Race
The Round the World Race is a gruelling challenge for any competitor. To date, it has been run a dozen times, every three years since the first race in 1972. The original sponsor, the Whitbread Brewing Company, named it the Whitbread Round the World Race. In 2001, ownership of the race was taken over by Volvo (and Volvo Cars), and as such it is now called the Volvo Ocean Race. The next race will start in Alicante in 2021. Previously, it has had between 4 and 10 legs.
The 1989 race is the only one to have had all legs won on both handicap and line honours by the same yacht and skipper. During his short career, Sir Peter Blake has also won every major open water race. His life was cut short when he was killed by pirates while on an environmental exploration in the Amazon.
What are legs, handicap, and line honours?
Legs: the race segments. Each team races one leg at a time. There is a short rest period between the legs, and they all begin the next leg together.
Handicap: a multiplier to equalise different classes of boats, thus allowing them to race against each other. Recalculating the results using a predetermined mathematical equation based on yacht class creates a handicap result is attributable to the crew's skill rather than the boat class.
Line honours: the first boat over the finish line.
We Got Onboard the Steinlager 2 at the Auckland Boat Show
About Steinlager 2
The Steinlager 2 is a maxi ketch that was purpose-built for the 1989/90 race, with extensive input from Blake. Built from composite with a fractional rig (the foresail does not reach the top of the mast). Yachting Magazine named it "Yacht of the Year" in 1990.
It's lightweight and minimal extras were apparent in the cabin. Bunks were three high with the exception of the two in the front. The crew onboard give the term "travelling light" new meaning as each team member brings only one change of clothes.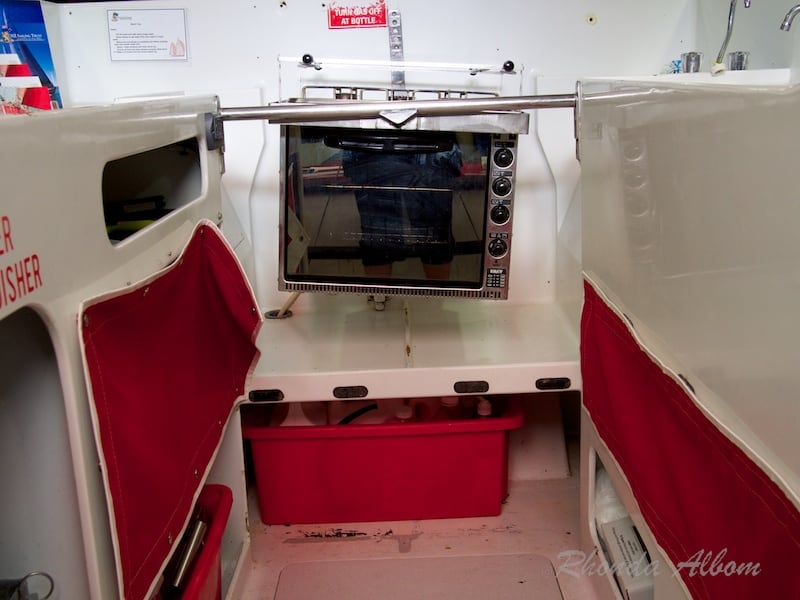 Steinlager 2 Life at the Extreme
Sailing in Auckland on Steinlager 2
We often have affiliate partnerships with companies that we trust and recommend. We receive a small compensation if you make a purchase using these links. In some cases, the links can save you up to 70%.
Inspired by the adventurous spirit of Sir Peter Blake, the Steinlager 2 is currently used for youth development programs. Whether it be young people striving for their gold Duke of Edinburgh Award, or naughty kids who just need a bit of team building skills, the five-day programs are life-changing.
New Zealand Sailing Trust manages Steinlager 2.
If you are not a youth and want to get out on a racing yacht, two former America's Cup boats go out nearly every day. Once on board, you have the opportunity to participate in all aspects of racing, or simply sit and enjoy the view.
If you want to learn more about Sir Peter Blake, visit Blue Water, Black Magic exhibit at the Auckland Maritime Museum.
Sir Peter Blake, Steinlager 2, and yacht racing, in general, are important to New Zealand.
A final thought from Alistair, "The Steinlager 2 is a bit of New Zealand history, and we want as many people to experience it as possible."
This is the book if you want to learn more about Blake: Sir Peter Blake: An Amazing Life
Want to chat about New Zealand?

We invite you to join our virtual community on Facebook:
Explore New Zealand, and share photos and stories, or ask questions and get advice from a community of like-minded travellers.
Have you seen the Steinlager 2? Would like to sail or race on her?
More from Auckland you might like: