Today I attended Aethercon 2015, the annual steampunk convention in Auckland, New Zealand. Last year's steampunk convention was my first exposure to this genre, or subculture. This year I was better prepared, as I had a basic understanding. In its most simplified form: steampunk is a genre of science fiction, based in Victorian era that typically features steam-powered machinery rather than advanced technology. It is based on literature of science fiction authors such as H. G. Wells
and Jules Verne
.
The afternoon's highlight was a costume parade followed by a costume contest. As each contestant sauntered or strode the catwalk, the announcer read out their character's name and often an elaborate backstory. Already impressed by the attention to intricate costume details of so many of these steampunkers, I sat in awe as I listened to the imaginative story lines that accompanied their creations. Here are a few of my favorite entries: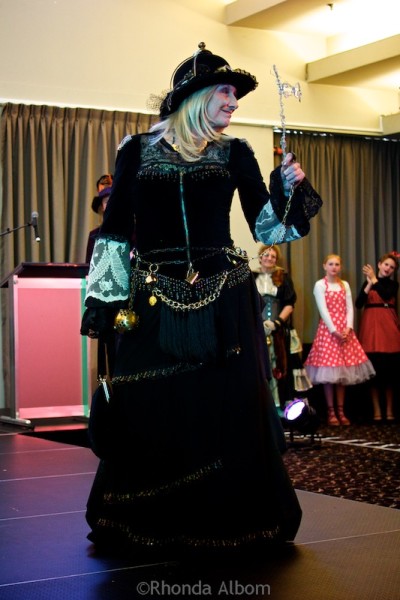 Still confused? Imagine for a moment that you lived in the Victorian Era and looked to your future. Without the electronic advances in technology that we have today you would imagine what you know – steam powering all sorts of new inventions. The Victorian Era is seen in the clothing, the science fiction is represented by the gadgets.
The steampunk convention was much more than just contests; there were booths of costumes, accessories, costume weaponry, food, workshops, and tonight there is a ball (which I am not attending).
Photographers were everywhere, many dressed in steampunk, others just carrying a camera. And everyone in costume was happy to stop for photos. My two final favorites:
The rest of my photos will make it onto my Facebook Page later in the week. If you want to know more about steampunk check out Steampunk NZ.
Will you attended a steampunk convention this year? Will you dress up or go as a spectator?
If you enjoyed this post, please pin it: