Here's a new idea. Imagine me mushing, flying across the snow being pulled by my team of dogs. Maybe it's for a short trip, or possibly I will attempt the Iditarod, and sail across 1000+ miles of open snow to Nome.
Let me make it easy to visualize:
OK, stop laughing now. I could be a musher if I set my mind to it. The only problems are that I am not that fond of the cold, I am not really great with animals, and I prefer to sleep in a bed. Yes, this picture was a set up, although the dogs are actually working Alaskan huskies at Denali National Park.
Did I mention that we are now in Alaska?
Three times each day there is a free sled dog demonstration which was fascinating. We took a free bus from the visitor's center and were greeted with an opportunity to see and touch the dogs.
They were housed in a variety of kennels based on their personality. Those dogs who like to eat gravel and stones found themselves fenced on concrete slabs, while others were tethered to a house in the gravel. Socialization of the animals is important, and they know the boundaries where they will encounter humans and where they are safe from us.

Check out the eyes on this  magnificent dog:


Despite the fact that Alaskan Huskies are not a recognized breed by the American Kennel Association, every baby Alaskan Husky we saw was adorable. The three at this kennel were no exception.


The ranger talked to us about the importance of dogs to assist in transportation and monitoring during the winter months. She explained that Alaskan Huskies love to run. It's what they do. And it was obvious. When it was time for the sled demonstration the dogs knew it. You could hear and sense their excitement, as if they were a class of kindergartners waving arms to be picked for the last pony ride.
The dogs were selected, harnessed and ready to take the Ranger for a ride. One of the younger dogs misbehaved a bit, driving the ranger and sled into the bush, and easy recovery for the mushing crew.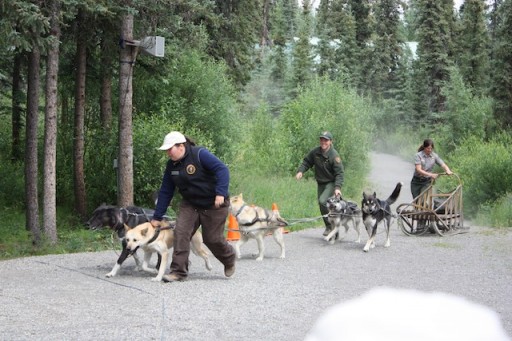 Afterwards, the dogs were chained in their basic positions, and we were allowed to stand on the sled for mushing photos.
Which is your favorite dog photo? Would you ever go mushing?
Except where noted, all photos on this page ©Rhonda Albom 2013. All Rights Reserved.
Puppy photo ©Sarah Albom 2013. All rights reserved.
Follow Our Overseas Adventures
We are currently touring in the US and now in Alaska.
Seven ridiculously simple tips that WILL improve your photos
Whether you shoot with a phone or a DSLR, let me share my secrets.
Subscribe to Albom Adventure's Travel Tips newsletter and download our free ebook: Take Better Travel Photos By Rhonda Albom