If you dig deep enough, I imagine every hotel has a story to tell; however, few are as intriguing as San Francisco's Sir Francis Drake. Centrally located on the cable car line in Union Square, it was the ideal place to stay today, but even more so during prohibition.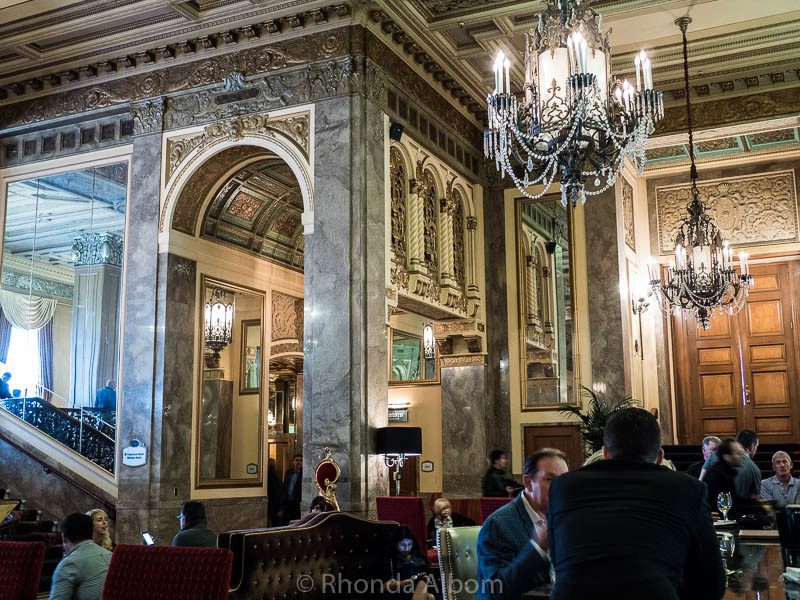 From our Arrival . . .
Passing through the doors, the Sir Francis Drake Hotel captivated my imagination. It's a classic.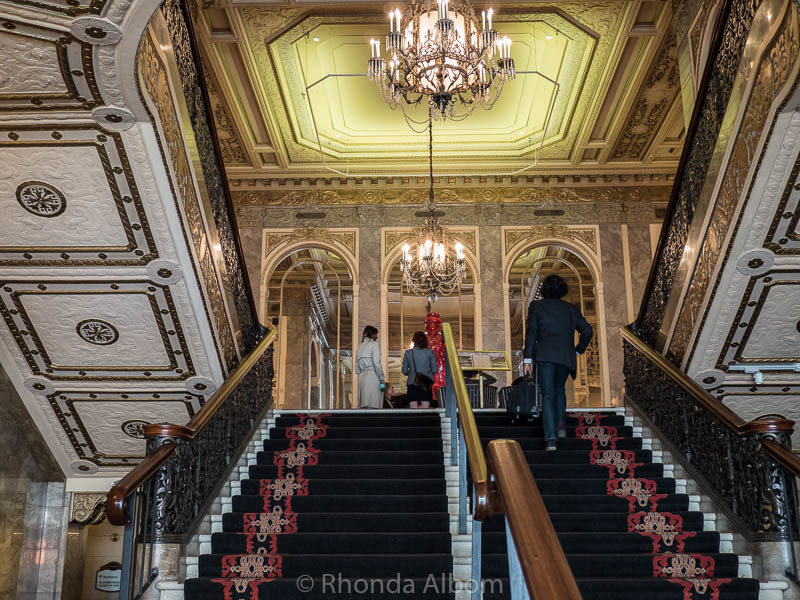 ⇒ Check availability at the Sir Francis Drake Hotel
A valet escorts us to our room. As we enter the elevator bay, not a word is spoken of the secret prohibition room that is situated right over our heads.
Note: Based on world conditions, we advise checking official channels including cancellation policies prior to booking. Also, with often reduced capacity, booking ahead becomes more important.
Bullet Holes in the Ceiling of the Sir Francis Drake Hotel
It's only later that we are told about the bullets still embedded in the upper lobby ceiling following a late 1920s wedding. "Was it a shotgun wedding?" I had to know. It turns out it wasn't nearly that interesting. Rather an excited and happy father celebrating the marriage of his daughter during a strange era that revolved around organised crime and hidden alcohol.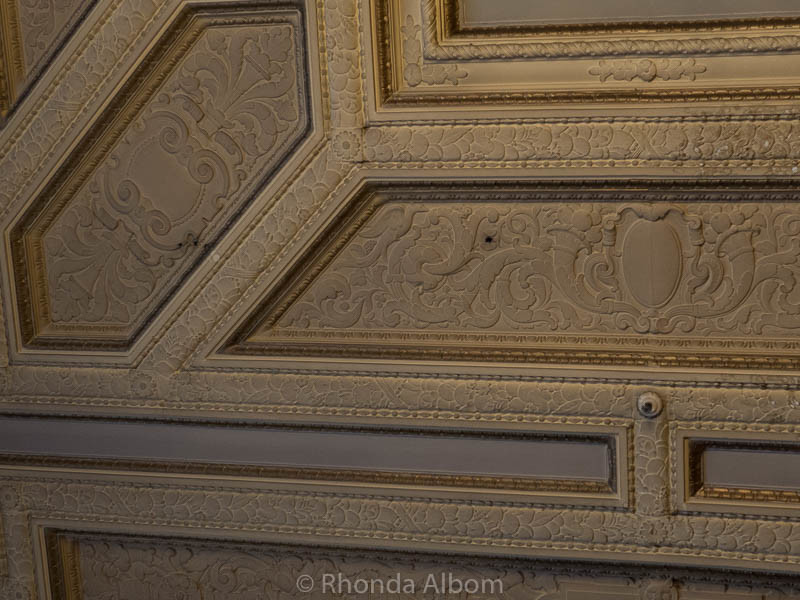 The Secret Prohibition Room in the Sir Francis Drake Hotel
Finally, it was a slow hour, and time for our private tour of the purpose-built prohibition room that isn't found on any blueprints of the hotel. Constructed in 1928, the Sir Francis Drake is the only San Francisco hotel built during prohibition, and its owners recognised the opportunity.
Using a hidden keyhole on the original 1928 elevator, our guide took us up (effectively taking that elevator out of service for a bit). As we entered the prohibition room, he set the mood with an old record player and "speakeasy-style" music from the era. He explained the process that brought booze from Canada via bootleggers to the Moss Beach Distillery.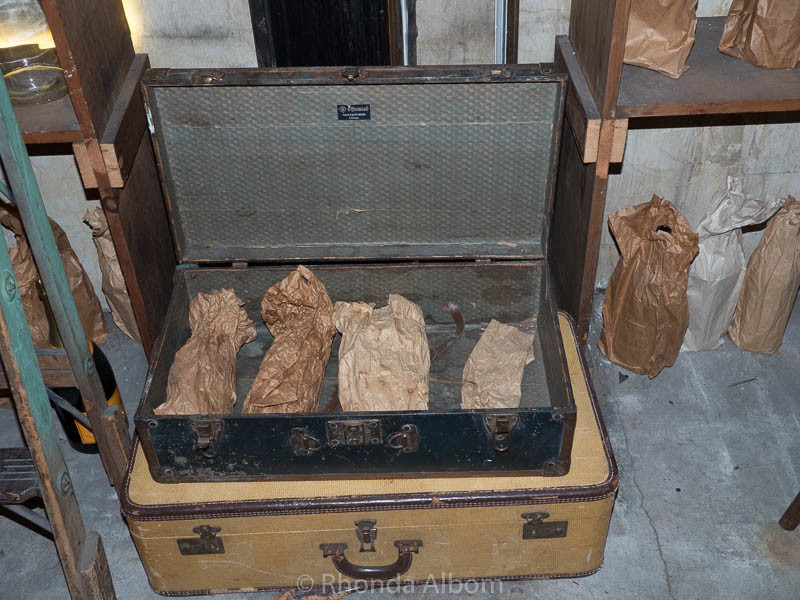 Using the same elevator that we had just been in, it was brought up and stored in this room. A few of the current lobby sprinklers cover the old peepholes that allowed the bellman to keep watch.
The bellman also delivered the booze through small hollow doors that open on both sides, in the same manner as room service orders or dry-cleaning was sent up.
Our Room in the Sir Francis Drake Hotel
In case you are wondering, we loved our stay at the Sir Francis Drake. Our room was tastefully decorated and overlooked Union Square. We were located on an allergy-free floor, although like all Kimpton properties it is a pet-friendly location. We had a Grand Guestroom, and in similar fashion to the Kimpton properties we stayed at in Seattle and Portland, there was a bathrobe and yoga mat in the closet, interesting items in the mini bar, a fabulous hour-long wine reception at 5 pm nightly, a gym, and staff that treat everyone like they are special. The only downside was our bathroom that lacked a place outside of the shower to hang a towel, and barely had a counter large enough for our toothbrush.
Practical Information on the Sir Francis Drake Hotel
The Sir Francis Drake is at 450 Powell Street in the Union Square neighbourhood of San Francisco, right on the cable car line. If you get a CityPASS, not only will you get into many of the classic San Francisco destinations, you will also get unlimited access to the cable cars.
For reservations, visit their official website or check for deals at Booking.com.
Be sure to join the (free) Kimpton Karma Club. Once a member you get free internet, accumulate points towards free nights, and can raid the mini bar to the tune of $10.
We try to stay in Kimpton properties whenever we are in the states. If you want to get into the prohibition room, just ask nicely. It's off the grid, and won't be offered, but it's not a secret anymore.
⇒ Check availability at the Sir Francis Drake Hotel
Sir Francis Drake Hotel Entertainment and Food
Scala's Bistro, the attached restaurant severed a delicious breakfast and decent coffee.
The Starlight Room on the top floor is open for "cocktail culture, retro swank, and a buzz-worthy ambience" from 5 pm Tuesday to Saturday, closing at midnight during the week and 2 am on Friday and Saturday for dinner and dancing.
Sunday's a Drag is a hilarious drag show complimented with a delicious brunch. The Starlight Room is the perfect setting to spend a few hours. Get there early for the best seats.
Have you stayed at the Sir Francis Drake Hotel? Did you know there was a secret prohibition room? Have you had your photo taken with Tom Sweeney?
If you enjoyed this article, please share on social media, or pin it: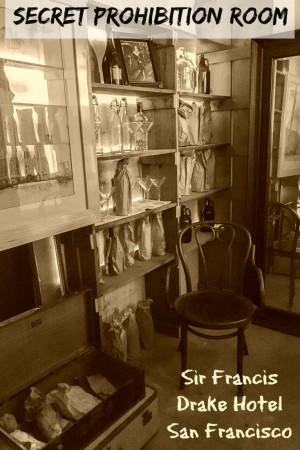 Disclaimer: As media guests of the hotel we were provided with a few extra benefits. However, the opinions expressed here are strictly my own.