It was many years ago, before I had children, even before I met my husband. I was on a SCUBA diving holiday with my best friend in Bonaire, a Dutch island about 50 miles north of the Venezuela coast. That's me in red and black: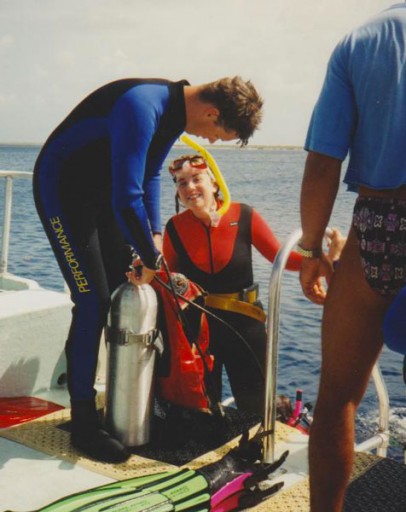 Someone even got a shot of me under the water:
I have only vague memories of the moment I knew I was in trouble, reaching out to my buddy but then spotting the boat out of the corner of my eye. I made it on board and eventually to the partially open-air hospital. My initial doctor spoke very little English but did manage to instruct me to. "Take off a lot of your clothes and sit over there."
He confirmed what we already knew; I needed to see the hyperbaric specialist as I most likely had decompression sickness (the bends). Unfortunately, the specialist was home with his family. I doubt he was happy to be called in on his day off, but he came.
He took me into another exam room for standard neurological tests. I had to stand with my feet shoulder-width apart, arms out to the side, eyes closed and alternating one hand at a time touching my nose. Seems normal enough, except he made me do this naked.
Suddenly the silence is broken with an announcement over the loudspeaker in a language I don't speak, followed by encouragement from my doctor, "Keep going."
Next thing I know a few other people walk into the room and say something to the doctor whisper, giggle and leave.
All the while there I am still touching my nose, left, right, left, right . . .
Then more people come in, whisper and leave – although some stay around.
"Keep going."
Left, right, left, right . . .
Eventually, I went into the hyperbaric chamber. My doctor (the one who made me stand touching my nose) is the barefoot man on the chair. The spots on the floor are dirt.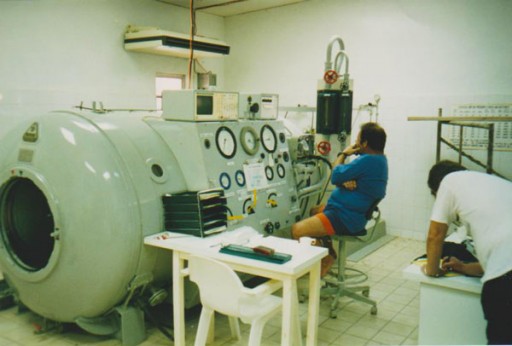 I don't speak the language so I can only guess, I think he announced, "Naked women in exam room 4."
I didn't let this incident stop me completely. We let both of our girls get their Open Water certificates in while we were in Fiji a few years ago. They have also been SCUBA diving in Palamos, Spain and have taken surfing lessons in Essaouira Morocco.
Note: Based on world conditions, we advise checking official channels including cancellation policies prior to booking. Also, with often reduced capacity, booking ahead becomes more important.
A Reminder to Consider Travel Insurance
This is not our only visit to an emergency room when we travel. We also needed medical attention in the USA, Australia, Germany, and on the island of Samoa. We are always thankful that we carry Travel Insurance, and additional extreme sports cover when we are diving or doing other things excluded by our main policy.
Albom Adventures readers can Save 5% on Travel Insurance with World Nomads* when you Use this Code: ALBOMADV
*For our Canadian and US travellers, unfortunately due to financial services laws, we cannot provide a discount. This promotional code cannot be used with any other discount offer, including World Nomads Members' discount for travel insurance policyholders.​
My question to you what do you think: What did he say over the hospital speaker?
All photos ©Albom Design 2013. All Rights Reserved.