I was homeschooled in New Zealand, so going to school is a new concept for me. School in Argentina occurs in two segments – in the morning, or in the afternoon. Some students have to go to both segments, but this doesn't occur in my school. For my school, the students in 3rd, 4th, and 5th grade go in the morning from 7:45am to 12:45pm, and the students in 1st and 2nd grade go in the afternoon from 1pm to 6pm. We also have gym for an hour in the afternoon on Tuesday and Thursday. I'm in 4th grade, or Cuarto, with kids between 16 and 17 years old. Fifth grade, Quinto, is the last year of school.
Students in schools here stay in one classroom, and the teachers move around to each class. The grading system is based on numbers from 1-10. A passing grade is above 5. Small exams are taken in each subject throughout the year to determine the grade, and if a student is failing a subject they have to take a large exam in February. Students can fail up to 2 classes before having to repeat the year. I'm in public school here, and it's quite relaxed. I'm in a Humanistic course, with subjects like Physiology and Science of Communications. I have 11 subjects.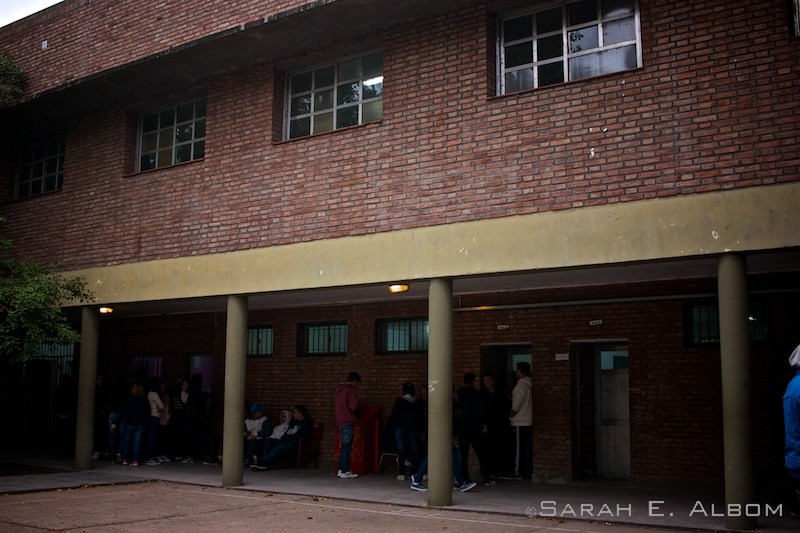 The Argentinian school day is divided into three parts of 1 hour and 15 minutes, 1 hour and 20 minutes, and 2 hours. Between them are 10-15 minute breaks. Since school is in the morning, we don't have a lunch break. Normally, we buy snacks like biscuits, alfajores, or small candies from the school kiosk.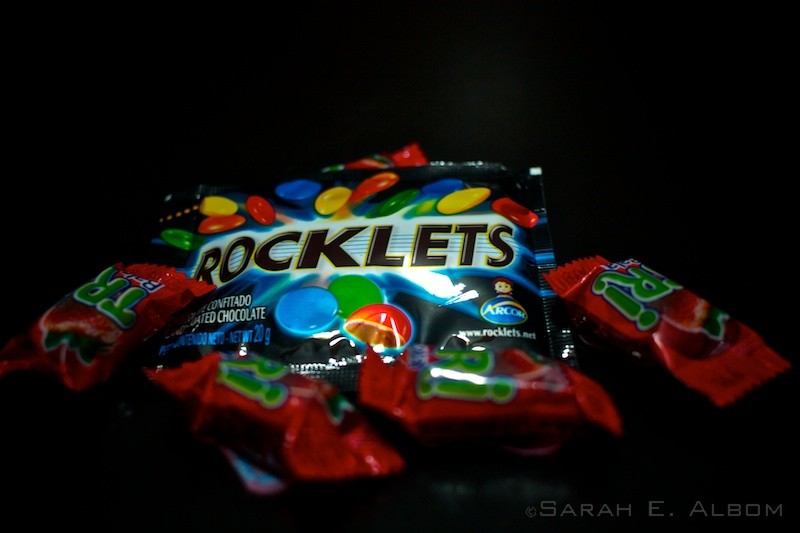 My class has 25 students. Seats aren't assigned, but we sit in the same general spot throughout the year. Our school doesn't have heating, making it quite cold in winter, but it does have fans for the summer months. The teachers are really friendly with the students and we'll often all have large conversations once we've finished our work.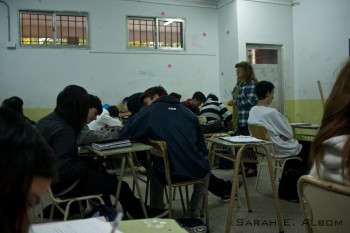 There's a lot of graffiti at school, both on the walls and on the desks. It's very common to find English phrases scrawled next to you, as well as being on shirts and jackets.
School in Argentina starts at 7:45am, when everyone gathers in the courtyard to raise the Argentinian flag. The school doors close while this is happening, and anyone arriving late needs to wait till after the flag has been raised to go into the school. If it's cold or raining, we normally stand in the hall inside and face the courtyard while someone outside raises the flag.
At school in Argentina we use blackboards. There are few or no school computers. We don't use subject books – rather, we buy photocopies from the school kiosk when we move on to a new subject in the class. Everyone has a single folder for all our classes. There is one movie room in the school, which we use when we need to watch something for class. The power does cut out quite often, but the longest it's been off for any one time is half an hour. It more commonly cuts off when there's bad weather, as the power grid shuts it off to stop any electrical surges from happening. My biggest problem here are the teachers' handwriting. Everyone here writes in cursive, which I've never used before so it's tricky for me to read. Because of this it's also hard for me to be able to tell what letters are being used.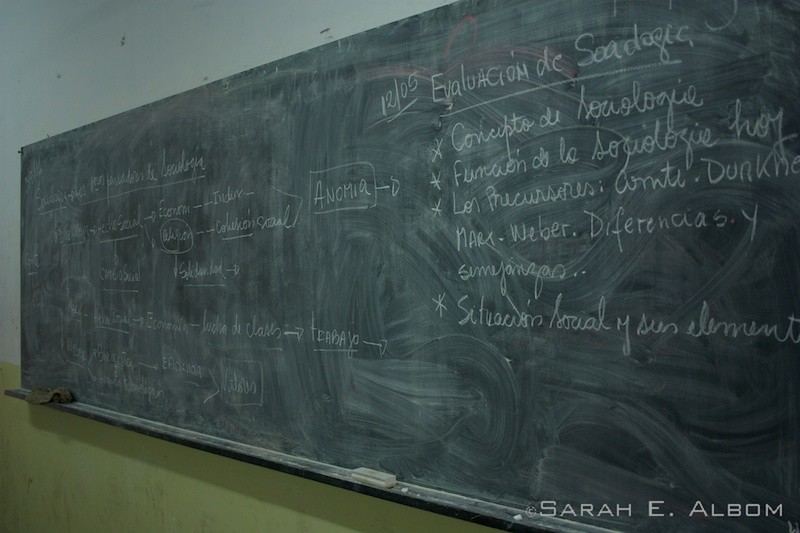 Note: Based on world conditions, we advise checking official channels including cancellation policies prior to booking. Also, with often reduced capacity, booking ahead becomes more important.
What do you think of school in Argentina?
Sarah's school is in Santa Fe Argentina.