The rain stopped just as we were approaching San Sebastian, the cultural capital of Europe (at least that is what they are claiming it will be in 2016).
We had decided in the morning to skip this beach town as the weather was so poor, but it was clearing and we were passing through. Imagine our surprise to leave the parking lot and within a few steps find an Aussie standing on a bridge holding a sign which read "Free City Tour." Sorry, I totally forgot to take the photo.
To make it even more bizarre, the small group of tour goers gathered around included only two women who started in Whangaparaoa (the peninsula in New Zealand where we live) and randomly two others from New Zealand, and a New Yorker from near where hubby grew up.
So we joined in. What a great choice. Leigh, our tour guide may have been from Australia, but he was full of interesting and accurate stories about San Sebastian, its people, its food and Spanish history.
The town is so much more than the surfing beach we came to see. It is a playground for the rich and famous, in the heart of the Basque region.
Of course there is a stunning beach, probably more beautiful with a blue sky, but we didn't get one that day.
The statue of Jesus sits on a hill overlooking the city.
Yummy pintxos (tapas in the Basque region) after the tour in a place recommended by our awesome guide Leigh. He even joined us and told us what was best. Leigh, if you read this, please add the restaurant name in the comments.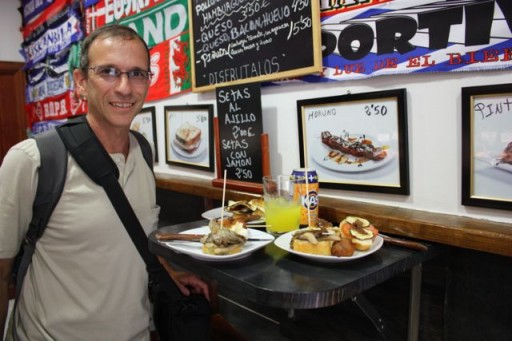 Every Spanish city centers around a cathedral. This is Santa Maria Del Coro.
Constitution Square is a main square in town, used for all sorts of community events. It was burnt down by the British in the 1800's and rebuilt to look exactly as it did before it was destroyed.
Since I am usually taking the photos, we don't have too many family photos.
All photos on this page © Rhonda Albom 2012
Note: Based on world conditions, we advise checking official channels including cancellation policies prior to booking. Also, with often reduced capacity, booking ahead becomes more important.
More on San Sebastian, Spain:
San Sebastian restaurants hold over half of the Michelin stars awarded in Spain, so if you enjoy a great meal, it won't be cheap, but this is the place to eat!
While in northern Spain, we also visited Comillas, Santander and Santillana del Mar
Have you been to San Sebastian?